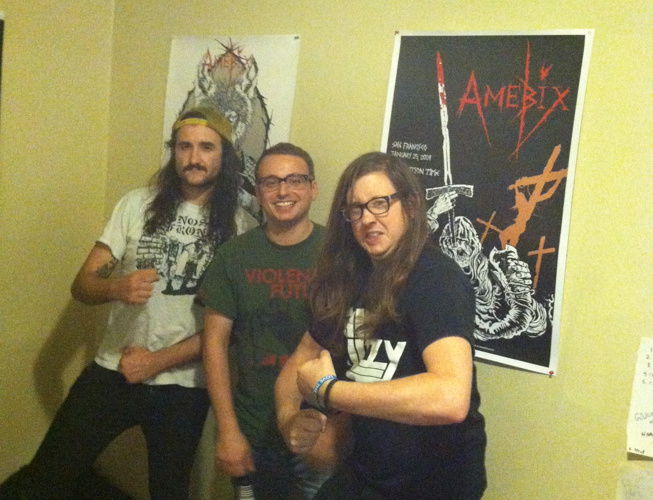 Just don't ask them to turn their vocals up.
Familiarity can breed contempt, sure, but it can also breed empathy and affection. That's why I generally try to avoid meeting people or going places. I may like them. The nice thing about U2 and the Clintons is that, more than likely, I'll never encounter them in real life, so I can hate them in joyful good conscience. I'm pretty sure that song "If Madonna Calls (I'm not home)" is about Junior Vasquez not wanting to talk to Madonna so he can continue to say mean things about her on his blog. So…I'm like that. I've made both Dinosaur Jr. (because I'm a jerk) and New Brunswick (because I'm a provincial jerk) cracks for years, so when I got invited to New Brunswick to interview SST worshipping, Dinosaur Jr.-influenced thrash weirdoes Kicking Spit, I was nervous about what was going to happen. And I was right. They were so gregarious and engaging that I wanted to both adopt and be adopted by them. I want to be Kicking Spit's dad and son. And I want to raise them and be raised by them at a house show in New Brunswick. This why you should never meet anyone ever.
When I first heard Kicking Spit, I was like "Dinosaur Jr. Gross." THEN, when I stopped being a stupid, I realized "Oh. Wait. First Queens of the Stone Age album with a little Exodus, Government Issue, and Sassy Magazine era Lemonheads thrown in" and was like "Yayyyy!" They don't sound like college rock as in "boring as fuck music that college kids like" but rather college rock like "Freshmen year: all you've ever known is Slayer and your cool roommate just gave you a copy of Sorry Ma, Forgot To Take Out The Trash and said, 'Our first practice is Tuesday. Here are my clippers.'" The guys in Kicking Spit definitely opted to keep their hair long and I could maybe pretty up the language so you take me seriously but, basically, that's my line of thought regarding their new album.
The men (Matt S., Matt T., and Mark B.) in Kicking Spit picked me up from the New Brunswick train station in their black Elantra. We then drove from one closed vegan restaurant after another until we found an overpriced Indian buffet in a strip mall.
Over lunch, the band happily complained about over produced modern punk and metal albums and justified their mixing choices when I, being an ingrate, questioned how low the vocals were. I mean-I like you, bands. I feel like you're not wasting my time and I want us to understand each other. Scratch that, I'm unimportant; I want to understand YOU better. Mix your vocals on top, bands. We, as a race (human), don't communicate via guitar leads; we throw words down, like, usually. Tell me what's on your mind, bands. I can take it. To counter my extremely well thought out argument (that I vocalized as a muttered "I wish your vocals were louder…I'm sorry") they pointed out that they wanted, first and foremost, to make a guitar record, and one that sounded live as fuck. So the vocals had to compliment the sound rather than dominate it. They then decided to take me to their punk house, Ray Cappo's Cantina (that some of the members share with awesome grind band Bible Thumper), so I could hear "Negative Feedback" in its intended atmosphere, on a mono record player, on the floor, surrounded by "Legalize It" and Amebix posters. Not to give anything away, but they were totally right. While I enjoy the record on the headphones of my Apple device; it sounds AMAZING through shitty record player speakers.
New Brunswick is an extremely fertile community for punk/metal bands. It's also extremely incestuous. It was explained to me that was one of the things that kept it so supportive. It's hard to stay mad or competitive if you're going to run into the same people three times a week at shows. I'm always a little distrustful when extremely nice dudes tell me that everyone else is nice too. I think they're projecting. But, as I decided long ago to reside in the backstabbing cesspool that is NYC rock, I'll allow them their co-operative narrative. It's given us Kicking Spit and Screaming Females and I can, you know, opt not to listen to the other bands that maybe bore me, so go with god, New Jersey utopians. As there are approximately 30 people who form the nucleus of New Brunswick awesomeness, every member of Kicking Spit is in approximately 30 bands. Matt Matt S. is in Easy Rider and Casual Fridays. Matt T. is in Lost Weekend and Dystrophy. Mark is in…Iron Reagan, ANS, Mammoth Grinder, Söft Dov, AND (with original Kicking Spit member and Screaming Females singer/guitarist, Marissa Paternoster) Noun.
Being extremely open and proud about their influences, Kicking Spit took their name from, as Mark explains: "You know those mini catalogues that came with SST releases? Folded up pieces of paper slipped into the vinyl packaging of each record? We wanted a name that would fit in/ look right in that catalogue. At the very least in the "Cruz records" section…We are nerds."
My kneejerk snark aside, bands like Kicking Spit are the reason I love the music I love. They operate entirely on their own terms while being nice guys, knowing full well that being kind and enthusiastic is a conscious choice, and not always the easiest one. They're noisy and melodic and idiosyncratic in a way that ensures that they will NEVER be wholly accepted by either tastemakers or hardcore dullards that, for whatever reason, consider "ignorant" a compliment. They are nerds perhaps, but, like "hipster." it's a word that means nothing anymore. I imagine on these gentlemen it just means they name their Dungeons and Dragons characters after Husker Du songs. This, obviously, means they are completely great.
Kicking Spit's new record, Negative Feedback, is coming out officially on August 27th. They are also touring, and will have copies of the LP for sale, starting on August 22. Be sure to go. Yell at them to turn the vocals up. They love that.
Best Music Writing 2013 consists solely of Zachary Lipez's Twitter feed - @ZacharyLipiez
Check Kicking Spit on tour!
August 22 - Ray Cappo's Cantina, New Brunswick, NJ with Black Wine, Biblethumper, Brick Mower, Trash Ride, and 3Jane
7pm/$5
August 23 - Death By Audio, Brooklyn, NY with Shellshag, Black Wine . Nuclear Santa Claust
8pm/$8
August 24 - Casa Fiesta, Washington, DC with Mobius Strip, Joy Buttons, and Aloners
8pm/$7
August 25 - Skullfest, Pittsburgh, PA with Asylum, Paranoias, and Dirty Work
2PM
August 26 - Gnarnia, Chicago, Il with Per Aspera, OK Sara, and L. Mounts
7pm/$5
August 27 - Quarters, Milwaukee, WI with Salted, Strange Matter, and Failed Mutilation
9pm/$6
August 28 - The Bunker, Grand Rapids, MI with Pagan Piss and No Bails
10pm/$5
August 29 - Parts and Labour, Toronto, Canada
9pm/$5
August 30 - Luneta Cafe, Ottawa, Canada with Organ Eyes, Yes, Please & Thank You, and Chain Rule
7:30pm/$5
August 31 - Spaced Mountain, Boston, Mass with Meth Valley, Fleabite, Julius Earthling
7pm/$5
September 1 - The Glitterbox, Buffalo, NY Aaron and the Burrs, Black X, and Fleshy Mounds
6pm/$5
September 2 - Golden Tea House, Philadelphia, PA
7pm/$5