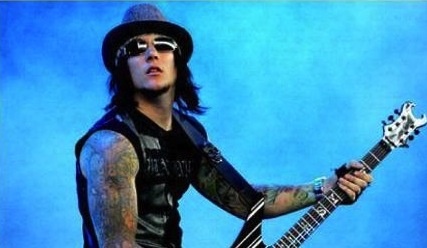 Guitarists who are all about the fast and furious.
A lot of things from the eighties look really stupid now: Zubaz pants, Miami Vice, and The Noid to name a few. However, regardless of how ridiculous a lot of the metal acts of that era looked, there's no denying that those teased-hair enthusiasts could play their instruments. While about a million musical trends have occurred between then and now, there are still a fair number of players keeping that shred ethic alive well into 2014. Just remember, practice makes perfect so if you want to do some freeboard flying, you're going to have to put in a lot of hours. Hey, look on the bright side, these days you don't need to invest in any spandex. Unless, you know, you want to.
DragonForce's Herman Li and Sam Totman
The eighties may have been the pinnacle of shred guitar glory, but don't tell that to Herman Li and Sam Totman from DragonForce. The band's only remaining founding members have some of the fastest fingers around right now and have found a way to incorporate arpeggios, tapping, and dive-bombs into a unique style of playing that sounds as much like the soundtrack to a video game as it does a metal anthem. Hopefully their music inspires you to put down the Guitar Hero and pick up an actual axe. Just be prepared to bleed.
Avenged Sevenfold's Synyster Gates
There are plenty of things you can say about Avenged Sevenfold's music, but one thing that's hard to protest is the fact that Synyster Gates knows his way around the fretboard. This self-taught guitarist got his start playing jazz and classical, however these' days he's known for carrying on the shred torch with Avenged Sevenfold. (Seriously, what's the last concert you saw that featured an interlude where the rest of the band left the stage for an extended guitar solo?) We could do without the eyeliner but, hey, maybe that's part of where Syn gets his powers. We'll never know.
Buckethead
Like Synyster Gates, Buckethead's eccentric persona sometimes overshadows his playing (as do his Knunchuck solos) but the reality is that he's one of the most talented guitarists around today. Despite keeping his identity secret, Buckethead has mastered a wide variety of genres. However, the key to his playing is the speed that he's capable of when he gets warmed up. He's also unbelievably prolific, having released 75 studio albums to date full of shred-worthy rockers. Oh and he also played in Guns N' Roses for a little while which we're sure made for some pretty incredible stories.
Alexi Laiho
If you're not familiar with Children Of Bodom, boy, are you in for a treat. While the band are incredibly tight in their own right, the songs revolve around frontman Alexi Laiho's ability to fly around the fretboard, throwing in the occasional pinch harmonic or finger-tapped arpeggio for extra melodic measure. Thankfully Laiho is also tuneful enough to create solos that have distinct arcs instead of just cramming in as many notes as possible. Whatever you do, don't be discouraged, if you practice every day for the next 15 years maybe you'll be able to play on a level similar to Laiho. Hopefully, you're independently wealthy enough to afford that luxury.
Zakk Wylde
Despite spelling both of his names wrong, Zakk Wylde is a powerhouse when it comes to the guitar. Known for his bullseye Les Pauls, Wylde has played extensively with Ozzy Osbourne and his own project Black Label Society, both of which showcase his Southern-style of shred. We're not sure where Wylde gets his secret powers from but his beard is physical evidence that he may be part viking, which would explain his dexterity as well as his love of metal. Plus, he's played with everyone from Black Veil Brides to Ludacris in order to spread his shred to as many genres as humanly possible.
In case you missed it, Rob Delaney interviewed other notable shredder, Matt Pike of High on Fire. They talked about suicide and shitting yourself.