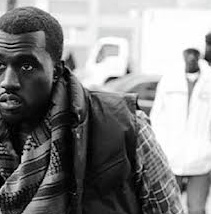 "Swerve?" Big Sean shivered. He was alone, adrift in the Arctic Ocean. The nearest a$$ was hundreds—nay, thousands—of miles away. A walrus hooted beside him."
It's been over two years since Kanye West released his batshit maximalist magnum opus, the much-acclaimed My Beautiful Dark Twisted Fantasy. A major part of the legend that already surrounds MBDTF is its recording process, which found Yeezy inviting dozens of his contemporaries and forefathers to Hawaii for intensive studio work, rounds of 21 at the YMCA, and group breakfasts that probably made your foodie friend's favorite brunch taste like burnt toast and runny eggs with a side of Sunny D by comparison.
A lot has changed for 'Ye (and all of us, really) since the halcyon days of those MBDTF recording sessions. Kanye released Watch the Throne with Jay-Z and the G.O.O.D. Music compilation Cruel Summer, routinely rocked a Givenchy leather kilt, and shacked up with the girl of his dreams (TK). Not only that, but Kanye's set to be a father, assuring that his name would live on even if he spontaneously combusted in an explosion of pure hubris.
It's tough to predict Kanye's post-MBDTF solo output no matter what. How will 'Ye manage both his own iconic career and the welfare of a dozen subordinates? Your humble co-authors stumbled across the answer during one fateful Gchat: With Cruel Winter on the horizon, it seems that Kanye might look to pull a 180 from the tropical paradise that birthed MBDTF, plumbing the coldest, darkest depths of the Earth in order to plumb the coldest, darkest depths of his soul.
The polar opposite of Hawaii can be found in Omsk, Russia, in a remote Siberian recording studio. What will 'Ye and company do as they strut through the permafrost, over the frozen tundra and into the annals of music history?
RICK ROSS FIGHTS A POLAR BEAR
After building up North America's most extensive fur collection, Rozay embarks on a quest for the finest fur of all: polar bear. He journeys to the Siberian coast alone with only a bowl of lobster bisque and a satchel of crab meats, hoping to prove that nothing, not even the raw power of Mother Nature at her most intense, can hold him back. Ross spies a small polar bear and pounces, trying to use his size advantage; what he doesn't know is that Mama Bear is watching the attack unfold. Were it not for the timely rescue effort of Gunplay aboard a snowmobile powered by pure cocaine, we may have lost the Boss forever.
BIG SEAN GETS STRANDED ON AN ICE FLOE
"Swerve?" Sean shivered. He was alone, adrift in the Arctic Ocean. The nearest a$$ was hundreds—nay, thousands—of miles away. A walrus hooted from the water beside him, his whiskers wet and glistening in the moonlight. "Oh God..."
PUSHA T MEETS THE RUSSIAN MAFIA
Though Pusha left the full-time coke rap game behind a few years ago, Russia never forgets. Upon arriving in Moscow, Pusha is kidnapped by the Brava and is left to roll around the city, stuffed into a burlap sack on an empty Metro train. Luckily, his brother/Clipse partner No Malice is on a guided tour of the town's Orthodox churches, and while traveling to tk he discovers Pusha and saves him from certain doom. In return, Pusha convinces Kanye to produce his brother's next solo mixtape.
2 CHAINZ, 4 RUBLES
Though he spared no expense flying him out to this frozen wasteland, Kanye only needs 2 Chainz for one guest verse and a few ad-libs. As you might expect, the ad-libs were "Yeeeaaah" and "Skkkkrrrr"(tk). But in an exclusive scoop from the Russian future, we've secured the opening lines of his verse:
2 Chainz/polar bearz
Shakin' snow/all from my hair (TROO)
This time/not a metaphor (Tell 'em!)
Fuck around/find out what the pickaxe is for(CHYEAH)
DRAKE'S KINDA COOL TO THE WHOLE RUSSIA THING
Kanye and Drake haven't worked together for years; you might say their relationship has seemed a little frosty as of late. When Drake learns that the entire rap world has headed for the frozen steppe, he purchases his own St. Petersburg penthouse and spends his days recording icy R&B while gazing out at the Leningrad skyline, a crumpled and faded picture of Aaliyah in hand. Though every rap blogger worth his salt mocks Drizzy for his move, he slowly realizes that Russia's blue-grey chill and crushing isolation have granted him a new inner peace. He begins to record under the moniker Drehzny and becomes the only member of the Russian R&B community.
David Turner and Jamieson Cox are both four-time Olympians. They're on Twitter - @dalatudalatu and @jamiesoncox