Kanye's like Jim Jones at Jonestown, but his agenda actually makes sense: one writer's story of seeing Yeezus live and being taken by fate to the room Whitney Houston died in.
My phone died a few songs into the Yeezus concert. I couldn't take notes. I couldn't take pictures. A masked Kanye West was baring his soul on a makeshift mountain structure in Staples Center and I had to commit everything to memory, but even as I sit here and the details blur, with Yeezus, the experience stays with you.
The Yeezus tour isn't an explicit crowd pleaser. It's more like Kanye's personal exaltation. In the process, his demons are exorcised. The concert's like watching a horror film, its chilling sense heightened by last Saturday's show's proximity to Halloween. Many in attendance were wearing costumes, and the eerie atmosphere crept into the general spirit of the night.
I went to the Touch The Sky tour. People were wearing Lacoste polos with popped collars, excited to see the most interesting new artist maximize his mantra. I went to the Glow in the Dark tour. People were wearing Shutter Shades, blasting Graduation in the parking lot.
I'd been at Staples Center for the Watch The Throne tour nearly two years prior. The sociability that Kanye recently credited Jay Z with bringing to situations was very much present. Jay Z and Kanye...on tour...together. It was a celebration. It was like waking up on Christmas morning when you're six. There was a certain energy that I was aware of in all of those instances, and it's missing now.
Yeezus is like a funeral for Kanye's frustrations, as held in a haunted house. Goths. Men in skirts. Ambitious layering. Merchandise emblazoned with skulls and Confederate flags. Over the course of the night, even amongst a sea of 20,000 people, I ran into at least a dozen people I knew. Everyone was wearing all black. We were all there to take it in. Yeezus is an embodiment of Kanye's very public pain and losses that haven't been on display since his last solo tour. You walk in and see how his image has changed. It's stark. It's grim. It's real. It's different.
Kendrick Lamar's reached dazzling heights this year, but in the presence of Kanye, his star is dimmed. "m.A.A.d City" has made people go more insane in the club at 3 a.m. than it did in this arena. Yes, thousands of people sang along and went crazy and it was cool, but there was another major event to experience soon after and the anticipation was palpable. Ominous selections from Burial's Untrue played over the sound system as concertgoers filed out to get drinks after the opening act. Tension peaked when the lights dimmed and after an hour or so of waiting, it became apparent that Kanye was going to emerge.
"YEEZUS. YEEZUS. YEEZUS."
The chants weren't deafening, but noticeable. As Kanye was summoned to the stage, the spectacle began.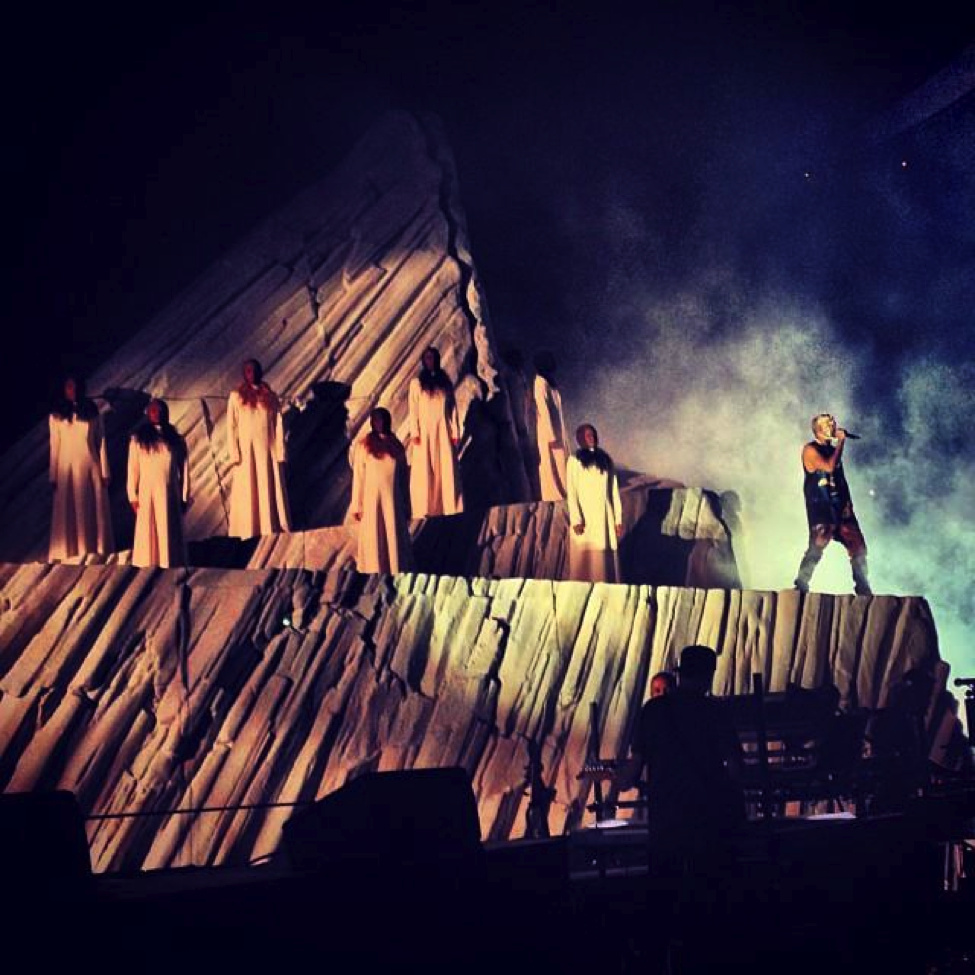 "On Sight" was first. On that record, Kanye asks: "How much do I not give a fuck?" From the get go, it was clear that nary a fuck would be given that night.
This show is about Kanye. It isn't about the crowd. It's not the Graduation era when he explicitly made music with a sound he dubbed "stadium status" after touring with U2 and the Rolling Stones, and learning how simple lyrics paired with massive sonics allow more people to connect with his music. Of course, that consciousness is forever embedded in him, but Kanye's said it himself—he's hit a glass ceiling. What do you do to broaden your appeal at that point? You don't. There's not too many more people who Kanye can reach, so it doesn't feel like he's going into this performance to win people over.
That barrier is the catalyst for the Yeezus tour experience. It's a concert where the headliner doesn't show his face for the better part of two hours. He's completely alone onstage for the majority of the time. When other people do appear, it's a dozen naked women who carry him, a beast who looks like the Mothman, or Jesus. In this space, blasphemy rules with a self-aware wink. It's creepy. It's rock. It's punk. On the night I saw the show, Kanye's strife was compounded by the fact that it was in "the city that took [his] mother, but also gave [him his] child." Either you're put off by the extremes or absorbed into them, but Kanye doesn't care either way. Kanye climbs a twisted path on his makeshift mountain like the angels in the "Crossroads" video and screams about fucking your Hamptons spouse.
His rants turn the attention to the audience for a second. They're an extension of the message he's been trying to get across this entire year. The Grammys are fake. MTV is fake. Nike is this close to being fake if they don't let him design the next season of NBA jerseys or something. He told us that, because of social media, we have the power, not the corporations. He mobilizes the troops, but it's not long before it's back to him. Kanye says verbatim: "Any time you feel like you can't do something, just take the small ten percent of the level of confidence that I got every motherfucking day and feel like you can overtake this shit." Ten fucking percent. Kanye's like Jim Jones at Jonestown, but his agenda actually makes sense. This Kool-Aid isn't going to kill us, it'll only help us ball harder, just like the other Jim Jones preached.
More songs were performed. They sounded good. Outfits were changed. They looked nice. There was a light show. It was trippy. But you expect that. The tone of the Yeezus tour makes you feel weirdly detached, even in the overtly traditional "concert moments" of pure exuberance where you and other 18,000 people are waving your hands in the air, it feels bigger than that. This is a guy who's onstage comparing himself to Walt Disney and Steve Jobs and Ralph Lauren and Tupac Shakur in front of 18,000 people. It invades your psyche.
The show closed with "Bound 2" and I walked out with my friends, all of us repeating "Jerome's in the house, watch your mouth" over and over as we walked the streets of Los Angeles, until we got to my car, my phone still dead, rendering me unable to text anyone about what I'd just witnessed. Kanye West doesn't even have a phone. His impulses are channeled into art for our consumption, not text messages.
In my car, it was time for something different. You watch Blue Valentine with your girlfriend, and you try to have a lighter conversation after. That's what we had to do after Yeezus. Because my phone was dead, I couldn't play "Do My Thang" from Bangerz for the friends who were talking shit about Miley during small talk at the concert. The only CD in my car was Drake. Talk of returning to Staples Center in a month for Would You Like A Tour? ensued. Dropoffs were made. Yeezus still occupied my mind, but "Worst Behaviour" was loud in my car.
A block away from my apartment, I was waved down by a girl. She was wearing all black. I passed her up. The waving continued, stronger now, with vigor and desperation, and I wanted to be a Good Samaritan. I reversed, and she came up to my window, "You like Drake?" She and two friends were in town from Orange Country celebrating a birthday and their cab driver had gone into cardiac arrest. That would explain the ambulances and fire trucks on my block.
They were staying at the Beverly Hilton, about a mile from my place, and needed a ride. "You know that's where Whitney Houston died?" I said. They'd already planned to check out her room. I told them to hop in. This is how Saturday nights after Yeezus are supposed to be—abrupt, fortuitous, like the album. I mentioned that I'd just come from the concert and they dissed it. Us Yeezus-goers are really like a cult in 2013. You don't get the default "I love Kanye" reaction from people anymore, and perhaps that's a product of his music growing so increasingly dark, or vice versa.
I left my car with the valet. The girls were loud in the hallway, and we received a noise complaint the instant we got to their room. We shared a beer. R. Kelly and Jay Z's "Fiesta" remix was on the radio, and suddenly we weren't strangers anymore. The best songs on Kanye's latest album don't do that; they make you feel alone in a room full of your best friends. We all sang along. Songs like "Fiesta" are crowd pleasers. This was a moment we couldn't have shared if I was playing "Guilt Trip" from Yeezus.
It wasn't long before I was ready to leave—the girls were smoking weed and still being loud and I got paranoid because I'm black and could easily be scapegoated if things went wrong with three white women I didn't know. (I've never been arrested because I'm a neurotic, cautious psycho like that.) The situation reminded me of the "Black Skinhead" lyrics Kanye was just screaming a couple of hours earlier: "They see a black man with a white woman they gon' come and kill King Kong." I waited until my phone had a respectable amount of charge and left.
Whitney Houston was still on the mind, though. I'd never been to the hotel before. I went to room 434, where she died. What should've been a relatively pedestrian hotel hallway experience felt like a scene out of The Shining.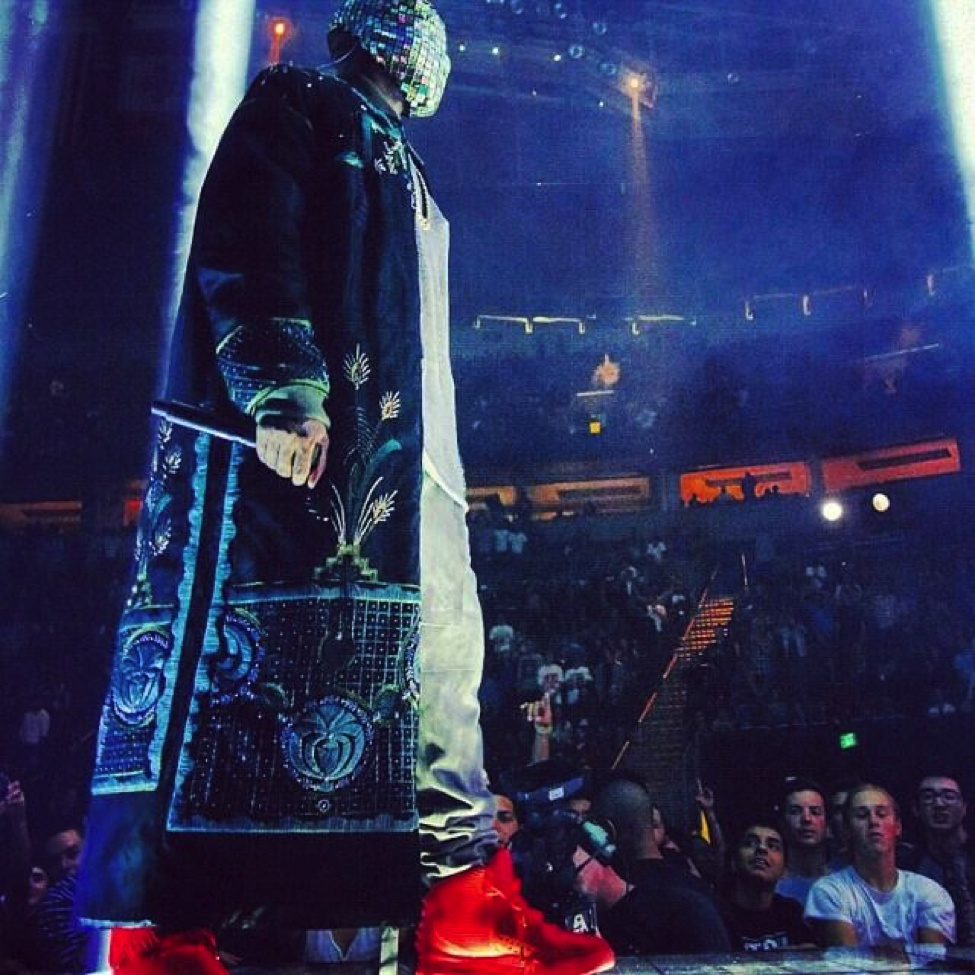 This is how Yeezus makes you feel. The concert was a larger than life moment. A cultural permeation. It put me in a headspace to look at room 434 with a heightened sense of appreciation, Kanye's rants speaking to many of the same problems that plagued Houston's life and death. I stayed at the door exactly as long as I needed to. I was looking at death, and almost scared to be there, but the grandiose nature was alluring.
Back in my car, and with enough juice on my phone to listen to something besides the Drake album, I turned the Bluetooth on and like an omen, my system automatically starting playing Yeezus. This may have more to do with how Bluetooth connection triggers iTunes, but it still felt like Whitney and Kanye's ghost was haunting my speakers. I couldn't take anymore of it.
Driving through Beverly Hills on the way back home to West Hollywood, I put on "This Is How We Do" from Katy Perry's new album, Prism. This is exactly what Kanye was avoiding when he skipped performing songs like "Gold Digger" at that night's show. As he put it in yesterday's interview with Power 106, "That don't sound like how my outfit look." The Yeezus tour isn't a light ride and there was no plan for it to be. Kanye's done appeasing. In the same interview, he expressed how he knows starting Yeezus with "Blood on the Leaves" would've made more people like it. You're either with it or not, and plenty aren't. Even at the Staples Center, the reception was overwhelmingly positive (of course), there were still people who paid their hard-earned money to see Kanye, sitting down, leaving early, and whispering, "This is weird." That's his aim.
You're either the hotel room a legend died in, or you're Katy Perry on the drive away from that. The Yeezus tour was the former, and those few hours stand as an idiosyncratic, sardonic moment that offers more than you can get at most concerts, rap or otherwise. It scares people, but it intrigues them. Lou Reed passed the next day, and a night at Yeezus reinforces that all Kanye wants is to get the same near-unanimous tribute to his brilliance when he dies that Lou did. Kanye sounds arrogant calling himself a "creative genius" now, but people forget that Johnny Rotten of the Sex Pistols called himself "the most prolific, genius, poet of our times" in an interview 35 years ago, and changed rock music forever shortly thereafter.
We know, from every interview Kanye's given and rant that he's gone on, that he wants to change the world, too. Critics expect that to only be accomplished through music, but Kanye's sights are on design, and other avenues beyond the recording studio. Kanye West has the opportunity to influence art on the same level that Lou Reed did. Lou Reed loved Kanye West; he understood exactly what he was going for, because fundamentally, they fulfill the same cultural archetypes—the outsider, the destroyer, the one who pushes us to question everything we know. Why wouldn't our Lou Reed be an egoist, a child of hip-hop arrogant enough to think he can both save it and destroy it by simply being himself?
The apprehension of our society to accept that triggers thoughts of the sample from "On Sight": "He gives us what we need, it may not be what we want." But it's probably Kanye's hope that after a night like what he gives on the Yeezus tour, convictions and passions on full display, that you reconsider exactly what you need and what you want.
Ernest Baker is a writer living in Los Angeles. He's on Twitter - @ernestbaker