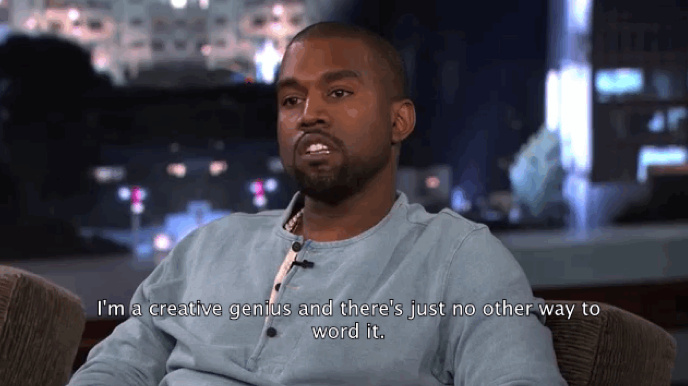 While there's some standout quotes from every Kanye interview ever, his vision has always been the same. It all just depends on if you're keeping up with him.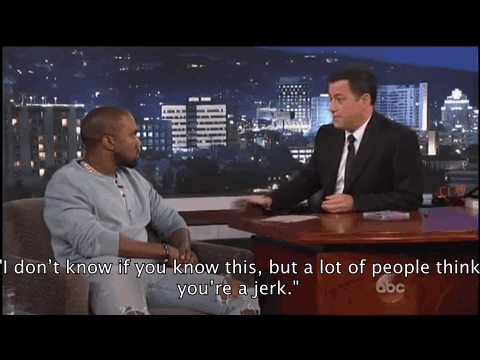 This week, Kanye West's Late Registration closer, "Gone," made its debut on Billboard's Hot 100. It is, lest we forget, eight years old.
The song's seen an unpredictable ascent on the pop charts due to a change in Billboard reporting that accounts for YouTube views. A woman quit her job by making a video of herself dancing around her office to the Late Registration the night she resigned. It was massively successful, and now the song soundtracking it is a Top 40 hit.
That's a nice footnote in the greater narrative of how hits are made in the post-YouTube era, but Kanye isn't trying to just share his agenda through cute viral videos. In his own words, his "Truman Show boat has hit the painting," and he has a lot more that he feels he has to offer the world, in design, fashion, or sonically. It's the frustration of not being able to that is manifested in moments like this week's aberrant Jimmy Kimmel interview, where he was visibly frustrated by his own ideas, and his creative "ceiling."
Instead of bluntly telling Kanye, "I just don't get it," most resort to mocking his ambitions, and it's this exactly that frustrates him. He knows that his ideas aren't always taken as seriously by others as they are by him, and that could be why he ignored press for four years. That also explains the confused backlash to his Zane Lowe interview from last month, and even this week's on Kimmel.
This is an issue Kanye's been dealing with for years, as evidenced by his lyrics on, aptly, his new but late hit, "Gone":
"I'm ahead of my time, sometimes years out / So the powers that be won't let me get my ideas out / And that make me wanna get my advance out / And move to Oklahoma and just live at my aunt's house."
He'd echo the sentiment of physically moving to avoid nonbelievers years later on "New Slaves," rapping: "I'll move my family out the country / So you can't see where I stay / So go and grab the reporters / So I can smash their recorders." But what the ideas he wants to pursue are beyond rapping. A decade ago, it was about his raps—he paraded around in pink polos [Pink-ass Polos with a fucking backpack / But everybody know you brought real rap back." he'd later rap on Yeezus' "I Am A God."] but in 2013, it's fashion. It's not as if he's not trying, though, because now you know—if you've watched any of his recent interviews—he went to Fendi first. Kanye knows that better than anyone that once you make it past one hurdle, it's not going to stop there: first it was rapping, then it was the labels, then the media, the paparazzi, the art world, the fashion world and so forth.
But regardless of how hard he's trying, he's not planning on stopping. He explained this back in November 2010 during an interview with KDWB and paid homage to Michael Jackson—just like he did with Lowe and Kimmel.
"I feel like fighting that battle that Mike had. I fight it with explanations, people say, 'Oh you over explain yourself.' There's things that won't ever be explained within my time."
Anyone who has followed Kanye's career—musically and in the media—knows for a fact that what Ye has preached lately, how his frustrations have taken over the handful of media appearances he's made, is nothing new.
And he's never wanted to follow society's rules. Even his mother, the late Donda West, spoke on what the College Dropout meant to her, and her son.
"It was drummed into my head that college is the ticket to a good life... but some career goals don't require college. For Kanye to make an album called College Dropout it was more about having the guts to embrace who you are, rather than following the path society has carved out for you."
Kanye's remained consistently determined over the years. Don't believe me? Let's break down some of those quotes from his Wednesday night appearance on Kimmel, and compare them to things he's said over the years. It's all there—his paranoia, his frustrations, his fear he's hit his own personal glass ceiling, and his singular vision that makes him unlike any other rapper out there.
Kanye knows how often people talk about him:
On Kimmel: "I can go and let out everything that I feel about every single bogus weekly cover, every skit, every single rumor in barber shops, everything that people feel is okay to treat celebrities like zoo animals, or act like what we're saying is not serious."
On "Everything I Am" off Graduation: "People talk so much shit about me in barbershops / They forget to get their hair cut"
And he knows he's the chosen one:
On Kimmel: "I'm not running for office, I'm just here to make good music, and make people feel good."
In KDBW interview Nov 2010: "You can't choose to be the number one rapper in the world, you can't choose to be the president. People choose you."
Breaking into fashion, after music, isn't easy for him:
On Kimmel: "You need that production…but currently in fashion, there's no black guy at the end of the runway. And that's what I meant when I said the Truman Show hit the boat."
In Clash Music 2008: "I have that opportunity to put my name on something and people will buy it, but I want to create something that has its own voice and other designers can look at it and be inspired by. I wasn't put on this earth to make money—I was put on this earth to make magic. I was put on this earth to make music and art. "
Plus he's aware of his importance in the media:
On Kimmel: "For me, I'm a creative genius and there's no other way to word it. I know you're not supposed to say that about yourself, I say things the wrong way a lot of times but my intention is always positive…"
In Guardian Aug. 2005: "Earlier today I said a lot of things but those cocky-sounding statements just look better in black and white. That's why they always use them. And I always give it to them. That's why my interviews are so valued. That's why I should get paid."
Kanye's music "speaks to your self-esteem" so he knows a thing or two about it:
On Kimmel: "I refuse to follow those rules that society has set up, the way they control people with low self-esteem with improper information, with branding, with marketing.
I refuse to follow those rules. It's about truth, it's about info, awesomeness."
On "Ego" Remix AND "Last Call": "Now I can let these dream killers kill my self esteem / Or use my arrogance as steam to power my dreams."
Those Gucci slippers? He's already rapped about them:
On Kimmel: "I spent two of my checks when I was in telemarketing when I was 18 years old, on Gucci slippers, before there was H&M and Zara, you couldn't just find cool stuff when you were growing up."
On "Touch the Sky": "I'd do anything to say I got it / Damn, them new loafers hurt my pocket"
He'll make Michael Jackon comparisons but grapple with the term "God" forever:
On Kimmel; Michael Jackson had to fight to get his videos on MTV because he was considered to be urban. This was Michael Jackson. When I'm in Paris, and I'm sitting at fashion week for nine years, and South Park makes fun of our outfits, and people don't understand why we are there….I still can't break that wall down. At a certain point, it's like Michael Jackson trying to get his videos on. "
In The Fader, Dec. 2008: "I think there hasn't been a Michael Jackson since Michael Jackson, but when stuff like that happens, it's little pieces of what he had, his level of influence. And it's like that's either the one-off or it's the beginning of a lot of it….Michael Jackson is the god of all pop music of all time. And it's blasphemous to compare yourself to god, but that was very Michael Jackson-esque."
No matter what he's doing, he wants to reach people:
On Kimmel: "It's bigger than who I am in my presence, living. It's about when I was on Earth what did I do to help?... At what point did I hit a glass ceiling where people said you're a celebrity you can't help in this box?"
On MTV in Jan. 2006: "I have one of the biggest voices around, so I'm not trying to hurt people I'm trying to help people and teach."
And he's the vessel; the nucleus, if you will:
On Kimmel: "People told me I couldn't rap. People had all this advice for me. And I wouldn't even say I'm a rapper, I'm more of a messenger than a rapper."
In The Fader, Dec. 2008: "I'm like a vessel, and God has chosen me to be the voice and the connector."
He's a genius:
On Kimmel: "I'm totally weird, and I'm totally honest, and I'm totally inappropriate sometimes. But for me to say I wasn't a genius, I'd be totally lying to you and to myself."
In Rolling Stone, Sept. 2007: "If you read books—which I don't, none at all—about how to become a billionaire, they always say, 'You learn more from your mistakes.' So if you learn from your mistakes, then I'm a fucking genius."
But his intelligence only helps him tackle the media:
On Kimmel: "I just thought it was so amazing that I was saying this in real time, in real life, because in my position, you're not supposed to say anything…I feel like media does everything they can to break creatives, to break artists, to break people's spirits. And I feel like I do everything I can to break media…"
On Hot 97 w/ Funkmaster Flex (2010): "The media is scared of me. They're scared of a black man with this taste level, with this connection, with, like, Pusha, Jeezy, Ross, and sidebar: I'm sitting at this fashion thing. So what they'll do is, in order to take that power away, they try to turn me into a demon. And it's happened so many times through history. They knocked the nose off the Sphinx, you know? They trying to tell you aliens built the pyramids."
So, has he reached the ceiling?
On Kimmel: "I could rap all I want, but without that Rocafella chain, without Damon giving me that chain, I couldn't make 'Jesus Walks.' Now even as a celebrity, blah blah blah, I've reached a ceiling."
In Details, 2009: "Someone could be a better rapper, dance better. But culturally impacting? When you look back at these four and a half years, who's the icon at the end of the day? Who broke down color barriers? What other black guy would a white person use as a fashion reference?"
Bonus: He's also done this face before:
There's an audience that Kanye reached on Kimmel that spans beyond Twitter and internet users who tuned in last month to every single segment of his Zane Lowe interview. Kimmel's audience is far beyond the scope of Lowe, but maybe not the New York Times, of course. Yet, less than 24 hours after his interview, everyone compiled Kanye's best quotes on Jimmy Kimmel—just like they did with Zane Lowe, and Jon Caramanica, and on Twitter, etc. And while there's some standout quotes from every Kanye interview ever, his vision has always been the same. It all just depends on if you're keeping up with him.
Lauren Nostro's the nuisance child who's got the game in a stupor now. She's on Twitter - @LAURENcynthia