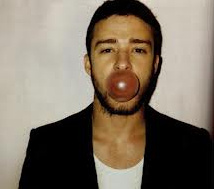 JUSTIN PLEASE LET IT BE NEW MUSIC PLEASE PLEASE PLEASE WE LOVE YOU.
Has it really been six years since FutureSex/LoveSounds? It can't have been six years since FutureSex/LoveSounds. And yet FutureSexLoveSounds was released in September of 2006, and right now it's January of 2013, so that means FutureSex/LoveSounds is six motherfucking years old.
Anyways, if you go to countdown.justintimberlake.com you'll find that he's posted a video (that you can also stream above) of him walking through a studio and giving a monologue about how he doesn't do this whole music thing too often, but he's doing it again.
AND THEN WE'RE LEFT WITH A COUNTDOWN.
THREE DAYS.
UNTIL WHAT, JUSTIN? WHAT??
We can only assume that Timberlake is gonna put out the best song we've ever heard in three days, but even if it's just some bullshit like another trailer for an album, it's gonna be a great reminder that Justin Timberlake is still the king of pop and the rest of you wannabes pretty much automatically have to fall back even if he so much as thinks of opening his mouth.
ALSO: Billboard reports that Timberlake's next album will feature wall-to-wall Timbaland production, which if true would just be DFHJKLHJKLFDSKLHJDFSHKJL, y'know?
Drew Millard, they call him candle guy. But only on Twitter - @drewmillard