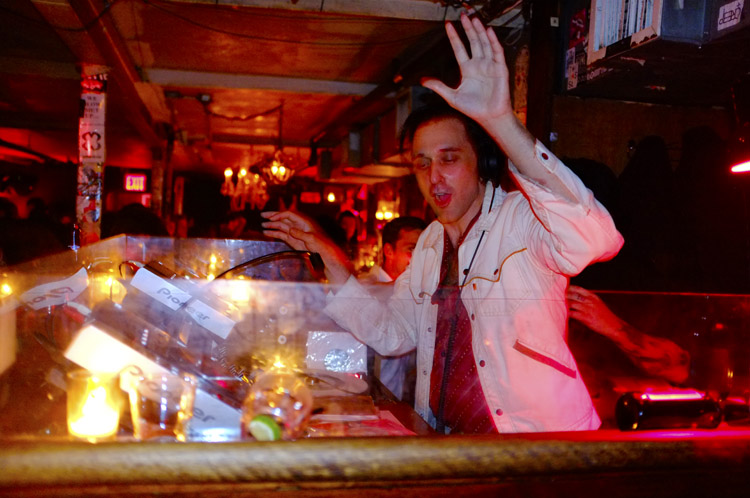 New York's best DJ is back and making up for lost time.
Jonathan with Carly and OJ from Xray Eyeballs.
Back in December, Jonathan Toubin was run over in his sleep by a cab that crashed through his hotel room wall. It kinda drove everyone in New York insane with fear and grief. Somehow our collective wishing and praying for his swift recovery worked, and he's recuperated months ahead of schedule.
A few days after he got back into New York he invited me to party for his pals at Home Sweet Home's upstairs bar. It was so good to see that guy again and the positive energy was filling up the room like an invisible gas. Jonathan mostly hung out at the back and friends would come over and greet him and hug him. He's eager for people to stop thinking about his accident when they see him, but I think it's going to take a couple months. Around midnight Jonathan descended into Home Sweet Home's basement bar and DJed in New York for the first time since he went on tour in 2011. Then, this past Sunday, there was a second, much larger Welcome Back event at Brooklyn Bowl. All the best people in Brooklyn were there, everyone felt good about life and everyone danced. I took a bunch of photos at both nights, and I thought I'd share.
Here are some photos I took at Home Sweet Home: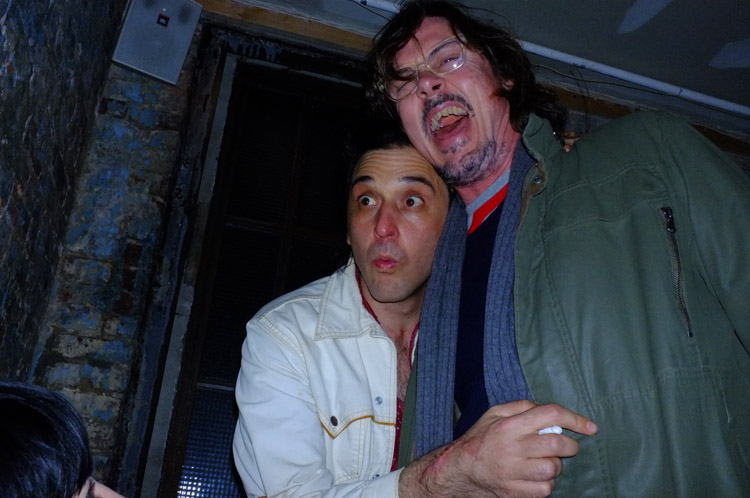 Here's Jonathan with Gibby Haynes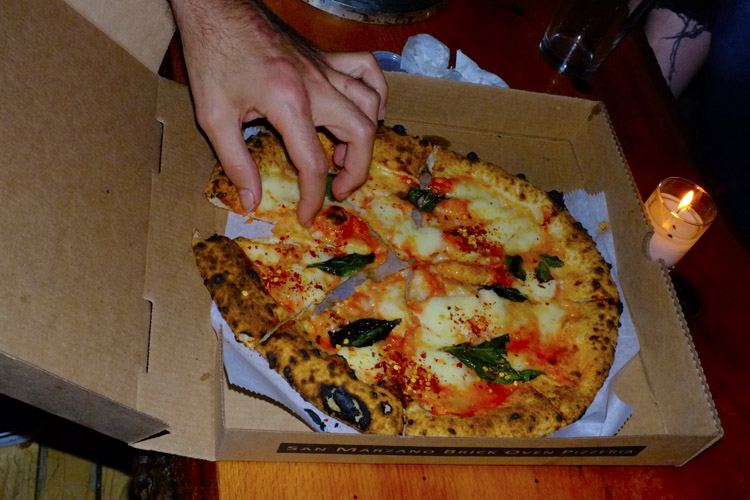 The Home Sweet Home staff brought Jonathan gourmet pizzas. Here he is reaching for it like his hand is a pizza spider.
Jonathan holding hands with a friend.
This is Jonathan's girlfriend, Lenaya. She stayed in the hospital waiting room during Jonathan's stay there. She's ridiculously sweet.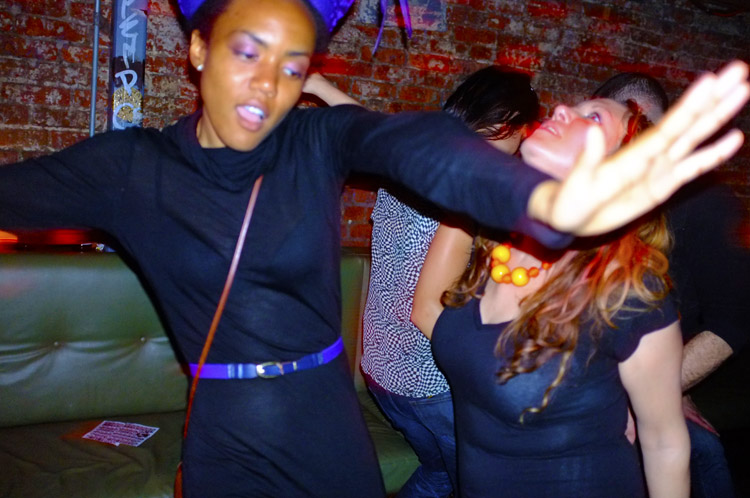 This is Elona and BA dancing around to Jonathan's DJ set.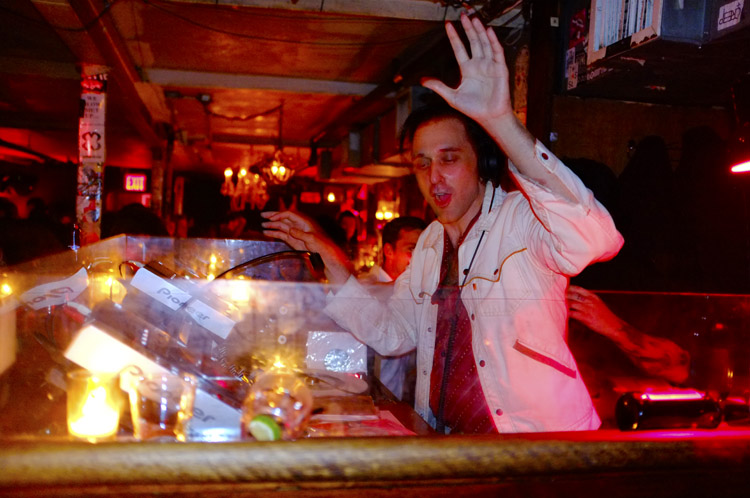 Here's Jonathan doing the swim.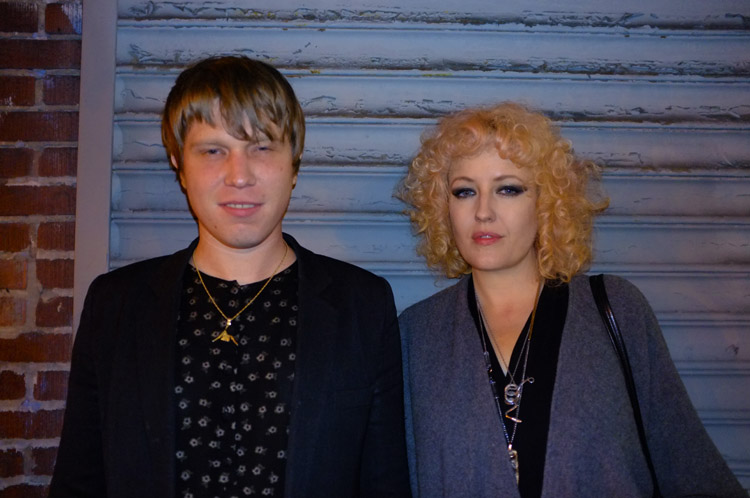 Cam and Vashti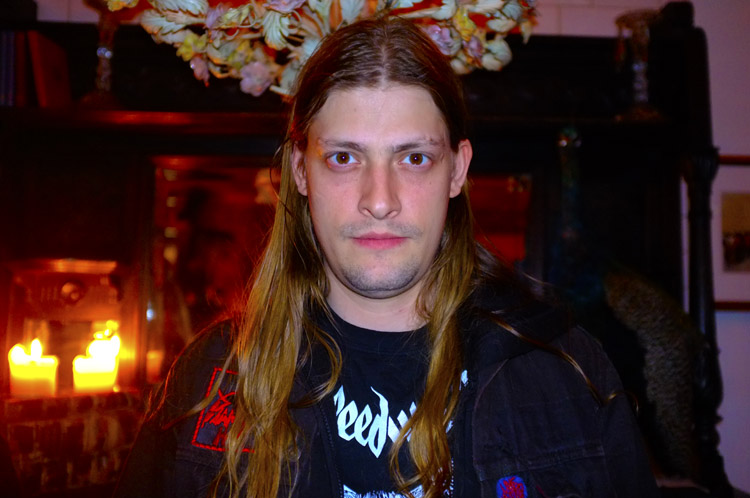 Jake Boyle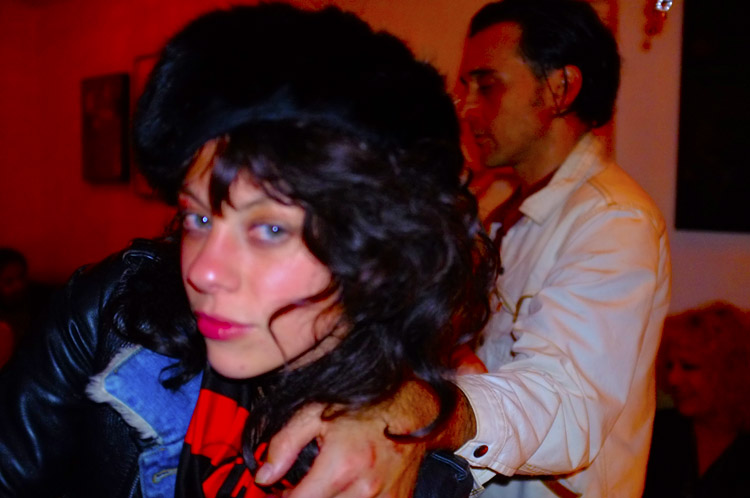 Laura Leigh caresses Jonathan's hand.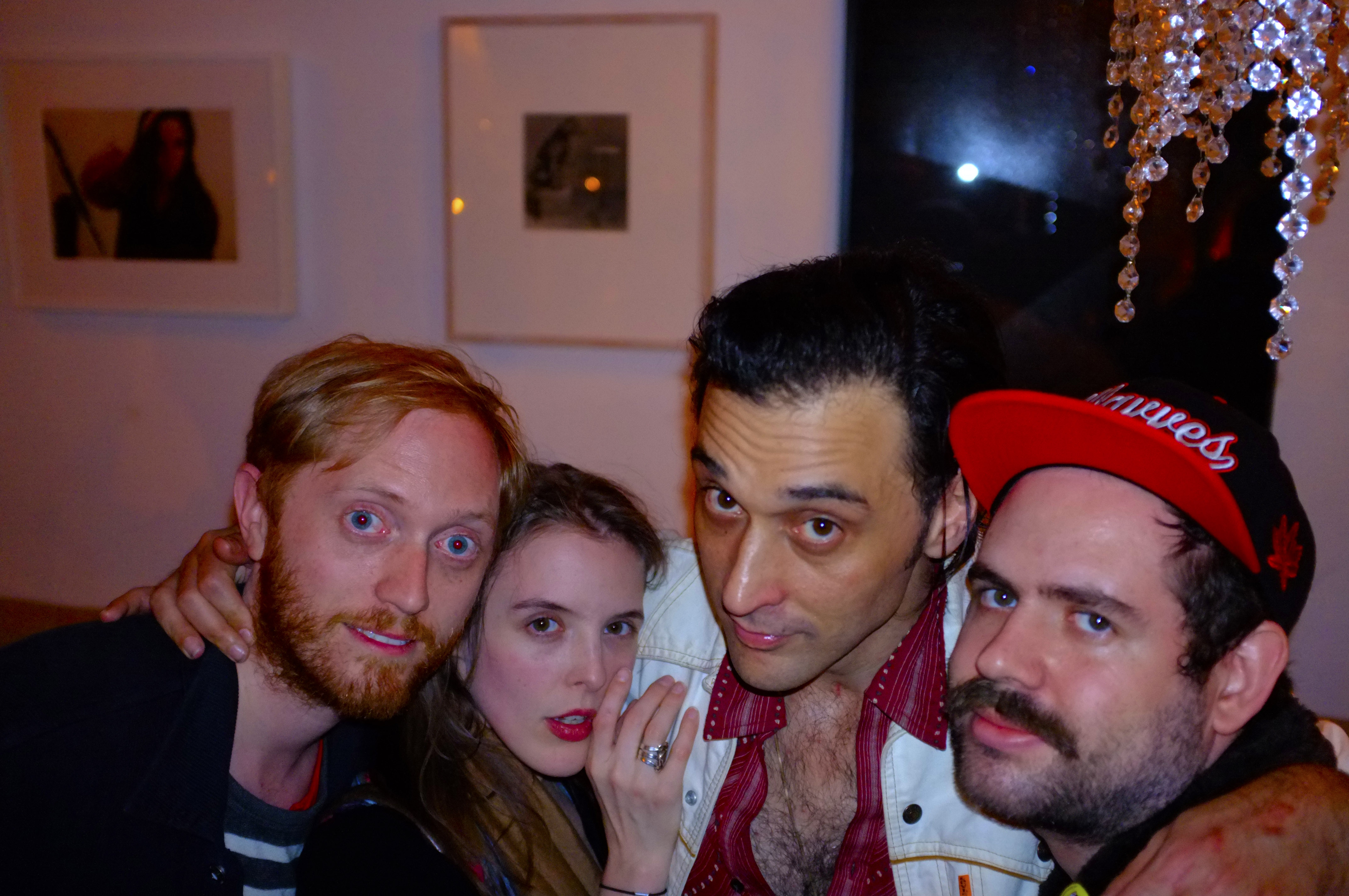 Here's Jonathan, some other folks and me.
Here are the photos from Brooklyn Bowl: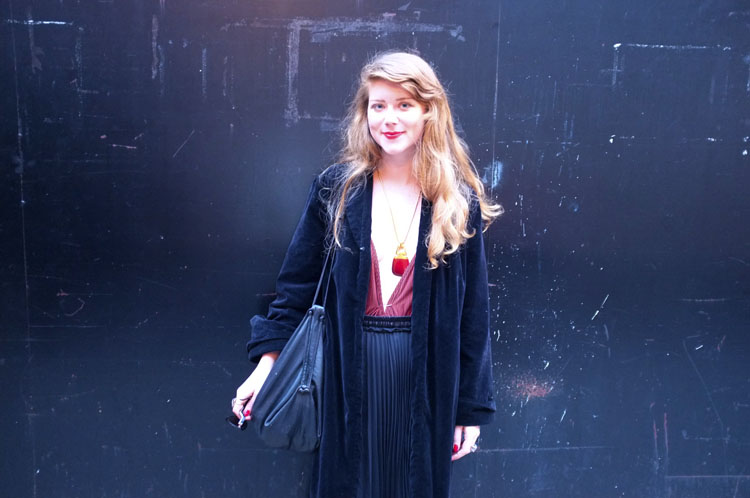 Lenaya
Oweinema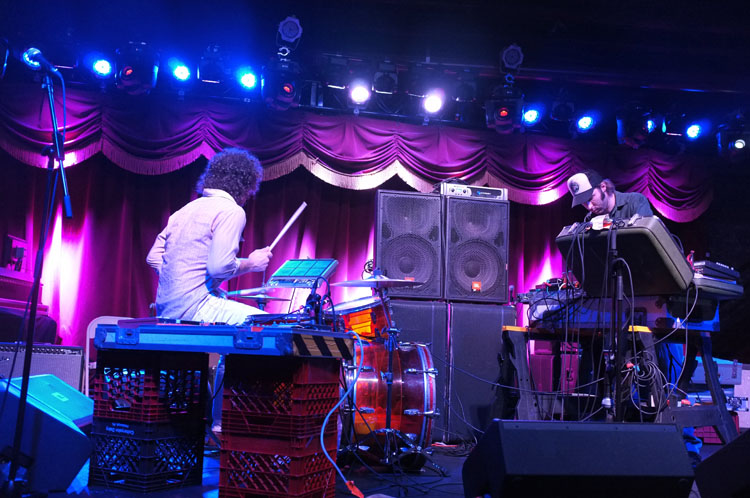 Expensive Shit played first. Someone told me that they're band name was Expensive Shit and I thought they were making fun of them for having all these electronic gizmos but nope, real name. They were good.
No Re-entry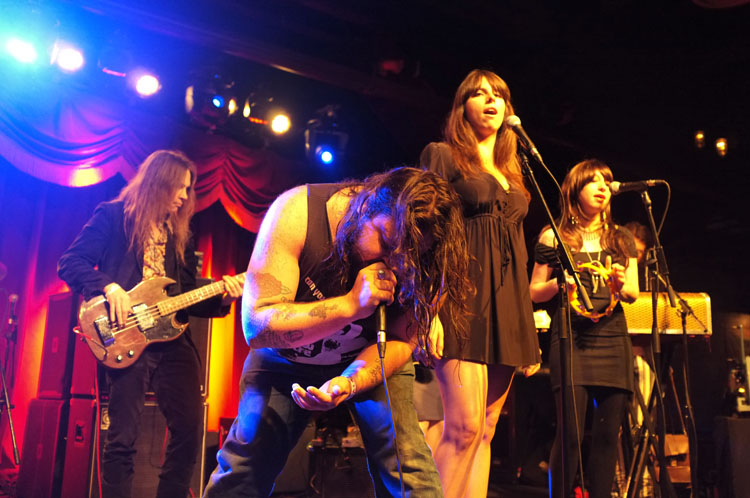 This is the Andy Animal Family Band. They were incredible.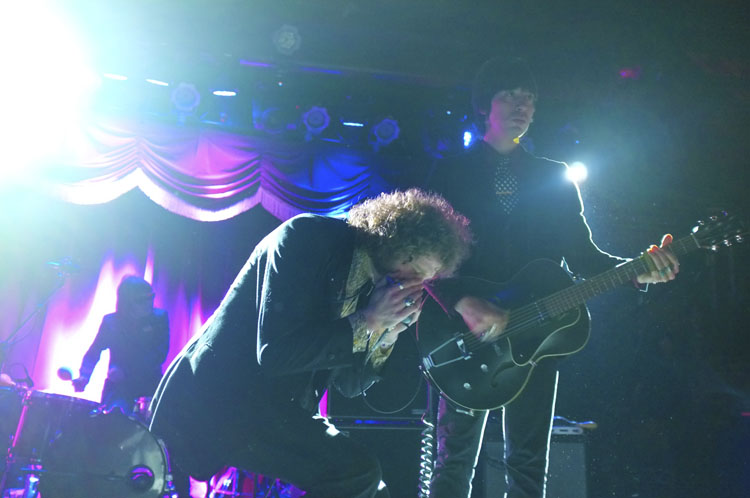 This is Daddy Longlegs. I've known the main guy for a while but never saw his band cause the word "white blues" gives me the creeps. This was something else though and the exception to that rule.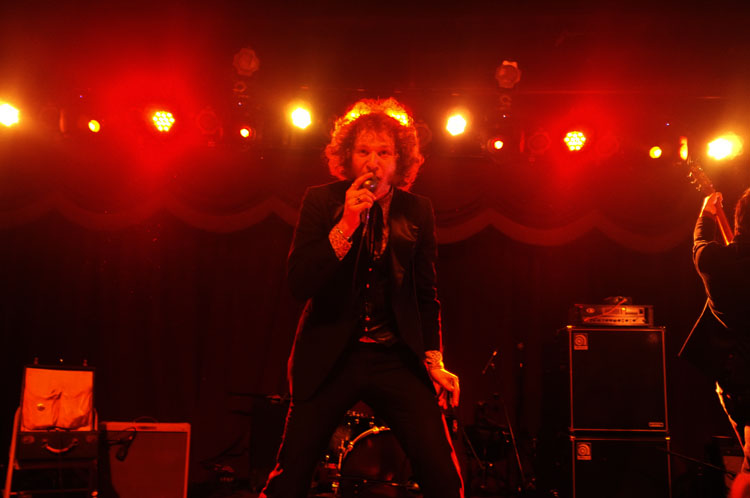 Seriously, go see Daddy Longlegs.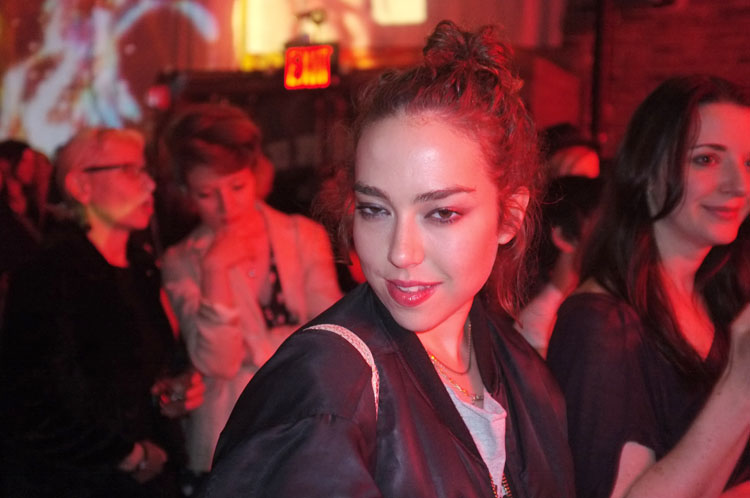 J.R.'s so pretty.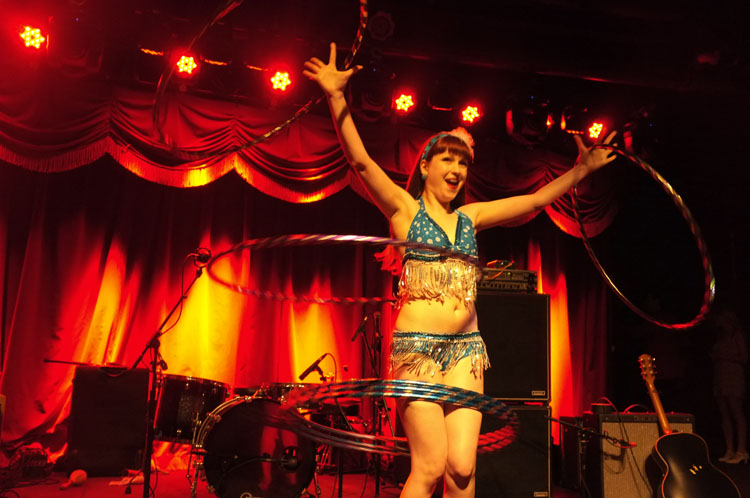 This lady did a hula hoop routine while this phantom lurker assisted her.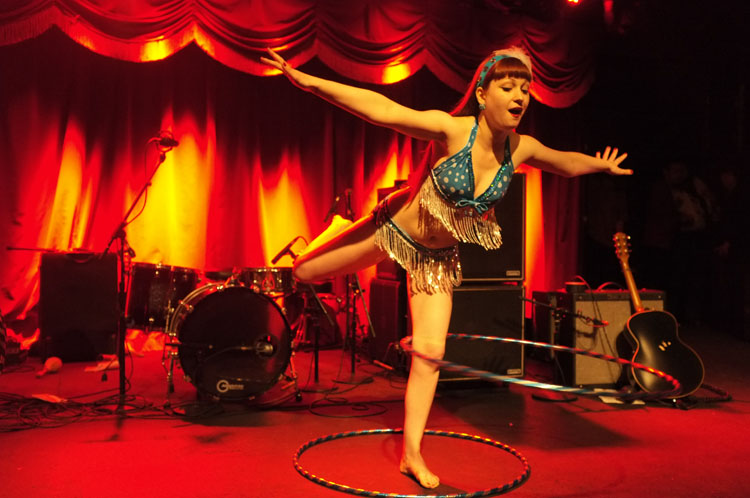 It was pretty incredible.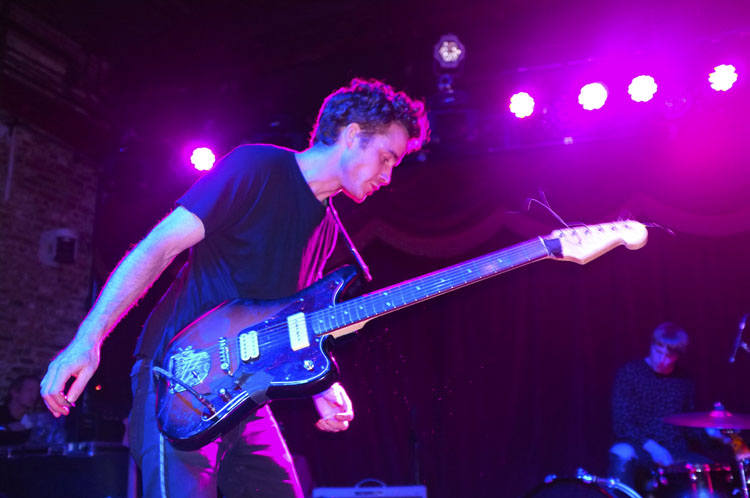 The K Holes played next. I love them. This is Jack Hines just swinging his guitar around willy-nilly.
This is Julie from the K Holes. She's Jack's hot wife.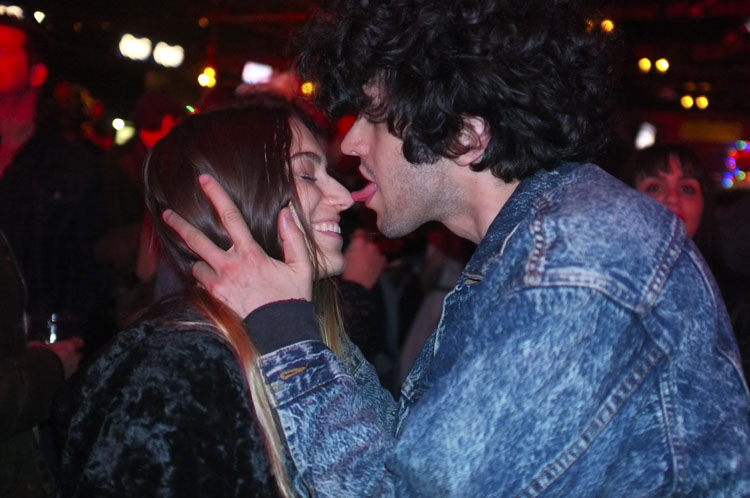 I danced around like crazy with Stephen from Bosco Delrey when the K Holes were joined onstage by Kid Congo Powers and Mick Collins. We were flopping on the floor. Here he is licking his girlfriend Bunni's nose.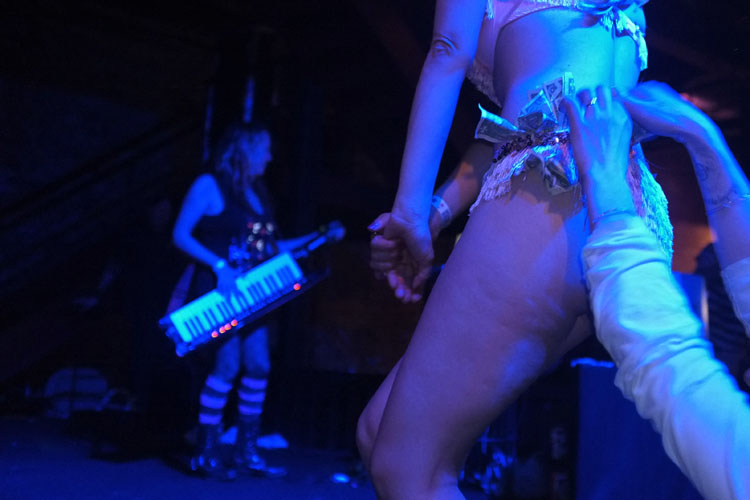 Anna Copa Cabana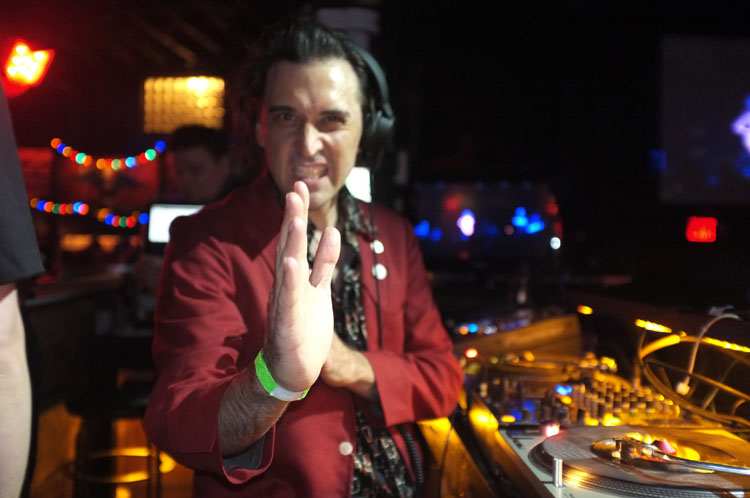 Back In Action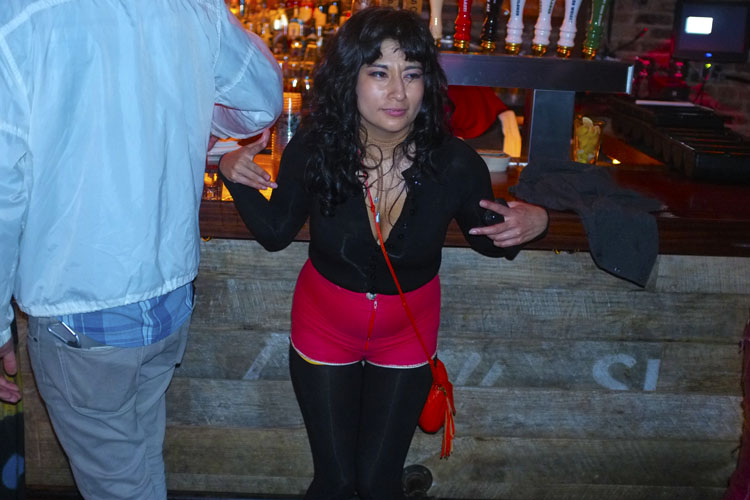 Here's my little drunk pal, Claudia wearing the hottest thing I've ever seen a girl wear. My ideal woman is Mickey Mouse.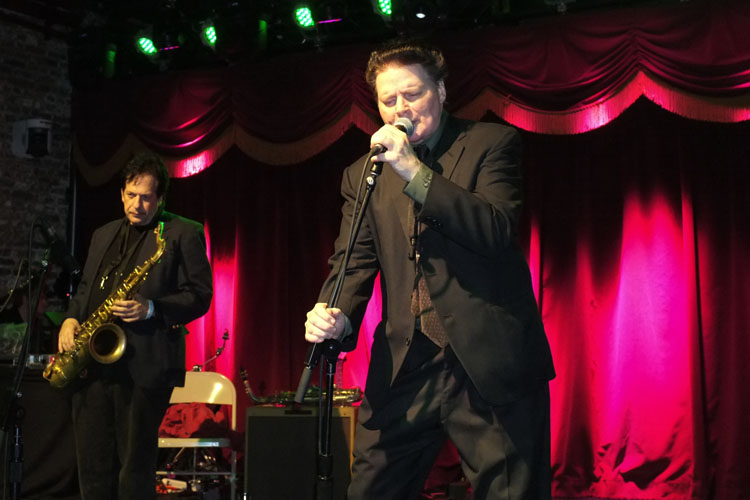 After a DJ set James Chance showed up and gave an amazing performance.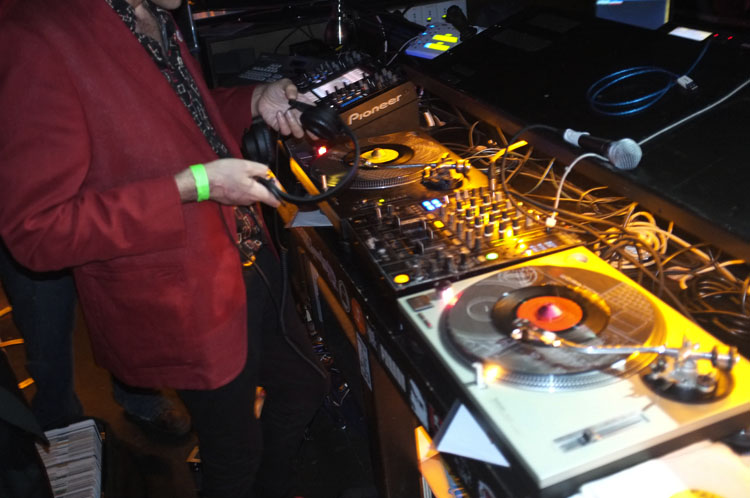 Go see JT DJ. We've been deprived of his soul and R&B parties for too long.