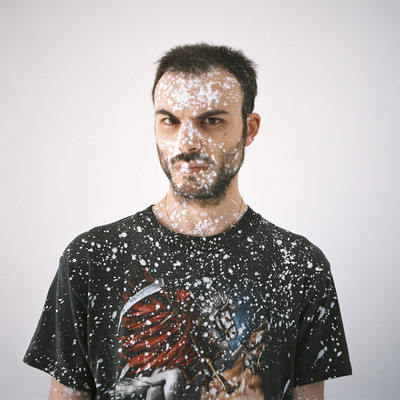 The French producer tells us about first kisses, breaking elevators, and out-of-body experiences.
Like an octopus in a cockpit, French producer Joakim Bouaziz does several things at once. He's a modular synth master with pop prowess: with one hand he turns dancefloors to rubble, while the other seven slide into your pleasure centers and start crossing wires. That's not to mention the decade he's spent cutting a swath through the French electronic landscape as the label boss of Tigersushi. We've been blessed with the premiere of the remix EP for his track "Your Love", featuring an extended dub and blistering remixes by Young Marco, Sam Tiba, and William Burnett. Don't miss his contribution to our Firsties and Faves series below.
First show you ever played?
In Paris for Le Bal Jaune, which is the annual party for the the FIAC art fair. Probably in 1998. I remember the Minister of Culture came by, and i was playing in front of a weird video with a guy bleeding. Before that I used to play some drum & bass and house records at my school parties but that doesn't count as an official show.
What music would you hear out when you first started going to clubs?
Before going to clubs I was going to see bands. I remember seing Neil Young in Paris at Le Zenith. At one point he told his band Crazy Horse to leave stage and performed a 15 minute set alone with his guitar in from of 5000 people. So impressive. I would also go see some hip-hop stuff (company flow, Wu Tang..). The first major club experience I remember was going to Rex Club in 1996 or 97 to see Daft Punk play with Dj Sneak. Mindblowing.
First kiss?
She was blonde. On a cheap Eurolines bus to London. Maybe 1993?
First transformative psychedelic experience?
I haven't done strong psychedelic drugs. But I had an "out of body" experience one morning, I was very hangover from some nasty home-made prune liquor and I was laying on my bed listening to the Motorbass album when I felt my body floating above the bed. I wish I could do that on demand.
First hero of yours you ever met?
Must be Carl Craig when I went to the first DEMF festival in Detroit in 2000 or 2001 with I:Cube and Gilb'r.
First time you decided you would make music as a full time living?
I can't say there was a precise moment for that, it all came seamlessly.
Favorite "non-musical" sound?
A small river.
Favorite piece of musical equipment?
My new Eurorack modular synthesizer, a work in progress.
Favorite song of yours?
"Fantomes."
Favorite show you've ever played?
Could be a DJ set at the MIS museum in Sao Paulo, outdoor, in the afternoon, until sunset, with 3000 Brazilians all dancing and smiling to slow disco. A rare moment.
Favorite recurring dream?
Unfortunately since I'm 25, I haven't been able to remember most of my dreams. I hope I have recurring sex dreams though.
Favorite piece of clothing you own?
My turkish Fez hat.
Favorite tour story?
There's a few ones. We have our Spinal Tap moments when I tour with the band. Especially that time we were on our way to a live show in London at Cargo, and for some stupid reason, we all decided to jump in the hotel elevator. Of course, five guys jumping simultaneously in an elevator will block it. The hotel called the firemen to get us out of the elevator that was stuck between two floors while the venue was calling to know what the hell we were doing. We barely made it on time.
Favorite diva vocalist?
Stevie Nicks.
Related:
Listen to Principles of Geometry's Meanstream EP