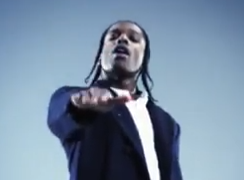 Now that the "Fuckin' Problems" video dropped, he just might.
At this point, we all know who A$AP Rocky is. He's one of the most famous rappers in New York's freshly-revitalized scene, he's headlined his own national tour with our main man Danny Brown, and his mixtape LIVELOVEA$AP is one of the more cohesive, sonically luxurious offerings to hit Livemixtapes in the past couple of years. But Rocky still hasn't had a hit, an honest-to-gosh track to become a problem on rap radio. If there were any justice in the world, "Goldie" with its monstrous Hit-Boy beat, quotables upon quotables from Rocky, and its accompanying video that featured Rocky and his dude A$AP Yams stunting in front of the Eiffel Tower, should have been the one to push him over the edge and into ubiquity. But it didn't, and it sucks.
When you've got a genuinely good song with major label push that still can't crack the Top Ten, there's a sure-fire way to give yourself a second shot: Make a song with Drake and 2 Chainz. So that's exactly what the Pretty Motherfucker did, linking up with rap radio's reigning kings as well as Kendrick Lamar, rap radio's heir apparent, for "Fuckin' Problems." They're doubling down on the track's music video, with its minimalist-but-still-very-obviously-big-budget aesthetic that mirrors Rocky's style perfectly. As of now, the song is ranked at 14 on the Billboard Hip-Hop chart, so it seems like Plan B where he got 2 Chainz and Drake to make a song with him is paying off. Have the stars aligned for Rocky to become a genuine mainstream rap star? I kinda hope so because his music is the shit. Either way, the "Fuckin' Problems" video is really good and Drake's part is the best even though the rest of it is really good too.