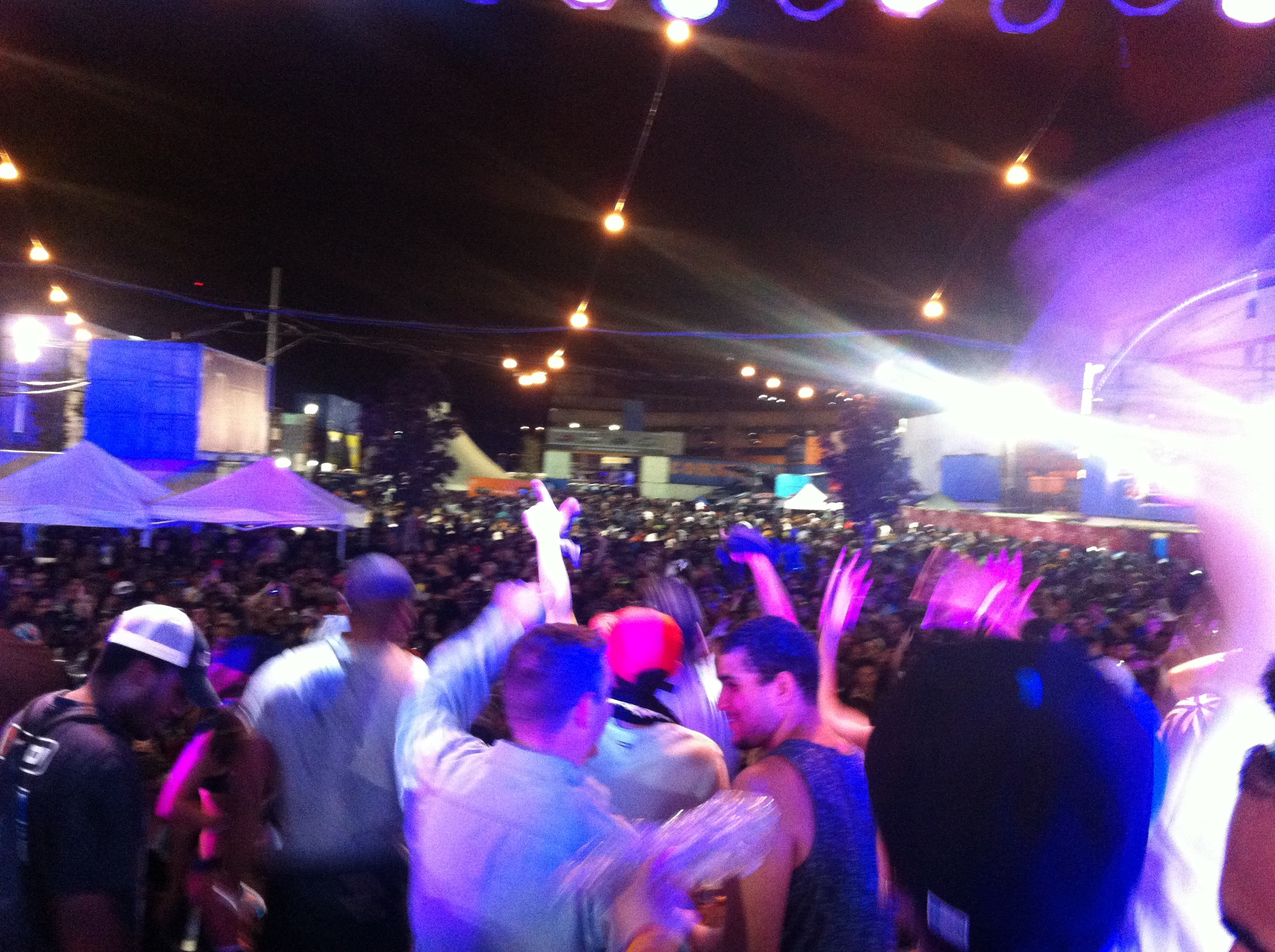 We went to Trillectro with the intent of finding Terio, the six year-old Vine sensation. We ended up finding him, just not where we were looking for him.
Marcel Marshall came bustling in to the restaurant with a document in one hand and a cellphone in the other on Monday. The piece of paper was a regulatory permit needed for the hip-hop/EDM festival set to take place 5 days later. On the phone he'd just gotten word that a special guest had confirmed an appearance. Marshall was grinning so hard he could barely contain himself. "Yo, we got him!" he told his business partner. Terio, the six year-old Vine dance sensation, was coming to Trillectro. And I had to find him.
Fast forward to Saturday and I'm at the venue first thing. Armed with an all-access pass, a VIP bracelet, and a slew of other wristbands, it was time to put in a plan of attack. Terio was supposed to come, but that was all I knew. About an hour in, I was told that he would be part of DJ Carnage's set, who was set to close the show.
The search for a dancing six-year-old had now become and all-day affair. So I killed time.
Mind you, Trillectro is a music festival in its second year, complete with popular and underground acts. If I'd sat and looked at the stage for 9 hours, I would have been entertained. But nobody in their right mind goes to a festival to do sit in one place.
What became obvious is that the fashion selections on the day would be a major storyline. Beyond the usual lot of bros in a variety of relatively recent throwback jerseys, there was a large component of "I'm at festival therefore I must dress like I'm a fringe freak all-day every day" types.
As @BimTheVillain put it, "Mild sidenote, yesterday there were too many cats trying to outwierd each other." 100%.
So, after about 4 hours of spending time milling between food trucks, the VIP area, and the stage and catching a couple good shows (Misun and Phil Ade were both tremendous), the plan was set in motion. I'd post up in the artists lounge and intercept Terio and his handlers before they got on stage and things got too hectic.
In meantime, I passed out cards left and right to people who I knew wouldn't start some crazy rumor chain that if they saw Terio to text me. His appearance was supposed to be a secret and I didn't want to be responsible for an uprising should he not show. The goal, I'm told, was to get him to dance on stage with John Wall, who earlier in the month had shot a parody video of himself doing on of Terio's dances.
Posted up in the artist's lounge with homies Rembert from Grantland and Jamie, a DJ from a local internet radio station, we held court. And we met some other rather awesome individuals. Cory Townes, a freelance music writer was stunned by the overall vibe there. "We don't have anything like this in Philly," he said. "This atmosphere is intense, but real cool, too." Cory is a cool guy and we all talked for at least an hour. Then, because of an eager follower/fan, he was forced to reveal his identity. Townes is DJ Jazzy Jeff's son. "People have been asking me about it all day," Cory added.
He then regaled us with tales of how that modest legend preceded him when he first got to college. The stories went from typical whispers of a star's son being among the dorm halls to full-blown tall tales of him arriving to school in a tricked out Bentley. I made the requisite joke about throwing groupies out of his dorm like Uncle Phil did Jazz, which I immediately regretted, but Cory gave me the courtesy laugh on. He told more stories about having conversations with his dad about trying to get into the DJ game and what that was like. Dude is fascinating.
But I was still on a mission. In the interim, various local stars were on parade. A$AP Mob, Raheim DeVaughn, Tabi Bonney, Wale, John Wall, Travis Scott, and Fat Trel were all milling about at one point. The one tour bus back had a constant flow of artists and women, standard operating procedure.
Around 6 p.m., I waded back out into the crowd which was now so thick that I began to lose faith in finding a six-year-old within it. Many people had brought their kids, which was different from the year before, but those kids were there early.
In fact, when Shy Glizzy performed his song "Shooters," he had two little kid with Super Soakers blasting the crowd while the hook went "My clique full of shooters." Well played.
I had a quick chat with my buddy Tittsworth who was hanging out a merch tent. We talked about the show, he met my sister who was there at this point, and then excused himself. "Hey, I'll be right back, gotta go handle something right quick." What he went and handled was his set on the side stage directly across from us, which rocked. "Wait, that's that guy were just talking to? He's nice," my sister said.
Tittsworth and the author.
A couple more rounds of the business card plan were deployed, still to no avail. I'd been there 7 hours and had no idea where this kid was. The crowd was heavy, but still thin enough to reasonably negotiate without major problems. Between the crowd, the stage and reading t-shirts, I'd probably heard the word "turn up" about a 5,000 times at this point. And turnt up the crowd was indeed. As @gabrielleisback tweeted, it was "tier 1 ratchet messes as far as the eye can see."
So, thinking that a last ditch effort in the artist's lounge was my best plan before hitting the stage, I went for it. That turned out to be a huge mistake. The proverbial floodgates had opened back there, and not only were they out of booze, but it was a sea of hangers-on and extended entourages. The only saving grace was Jamie introducing me to Kokayi, a rapper who I first heard of when he was blessing stages locally during my high school years.
Then, the sun went down. My sister left, Rem was trapped in the packed-to-the-gills VIP area, and Jamie had met up with friends. I was on a solo mission, in the dark to find this kid. Checking my tweets, there were sightings. Apparently he was here, somewhere. But this is why you don't bring children to festivals. Once you lose them, they'd be impossible to find. And if you don't know where they are in the first place, forget about it.
I negotiated my way on to the stage, which was an exercise in itself, even with an all-access pass. Following the ASAP Ferg performance with ASAP Rocky, the stage had apparently become somewhat of a free for all, which was fine, but still crazy.
Still, no Terio. Not on stage and not anywhere in the vicinity. So, I made the best of it. I stood right next to DJ Carnage and watched him rock a frenzied crowd of thousands for a half hour. His table was shaking, the stage was shaking, his turntables were shaking, he was jumping up and down like it was nothing.
At this point of the day, going on a couple cupcake, tacos, beers and cigarettes only, I hit a wall. The lights were flashing, my mind was spinning, as the Beastie Boys once said. I had to leave. It was 9:30, the show was ending at any point, and I didn't want to be around when a sea of wasted concertgoers all let out into the street. My mission, as I chose to accept it, had failed. At least for that night.
On my way home, Rem texted me a photo. It was an Instagram shot of Terio outside the afterparty. By this point I was too tired to haul myself back downtown to potentially miss Terio because it was past his bed time. I went to sleep. I found out later he was there until 3 a.m.
The next morning, while drinking coffee and barely being able to feel my legs, I get a random text message. It came from a number I didn't know and its only contents were another number I didn't know. It HAD to be Terio. The business card plan had worked. Even if 18 hours too late.
The man I got on the phone was a guy who said, "I go by Dooney. I'm his exclusive manager." He explained how the appearance came to be. He drove from Miami to Atlanta to pick up Terio. Then they drove from Atlanta to D.C. "We were pushed it, all the way, man."
But things didn't exactly go as planned. "We never made it to the stage. [Later] we just stayed outside of the afterparty. We went to see the White House and stuff. We all had fun, we enjoyed it."
As for what's next for Terio, who knows. Dooney seemed a bit overwhelmed with it all at that point. "Man, it's just so much stuff out here. Too much. From reality shows to Ellen Degeneres, it's so much," he pointed. "It's a lot."
When the conversation ended, I was a little disappointed. Dooney said he wanted to keep in touch. I concurred. A few hours later, I got an email. "The Real Terio (@OfficialTerio) is now following you on Twitter!" it said.
I had finally found Terio. Just not where I was looking for him.
Clinton Yates is a newspaper columnist in D.C. He likes rap, rock, reggae, R&B, and remixes—in that order. He's on Twitter - @clintonyates