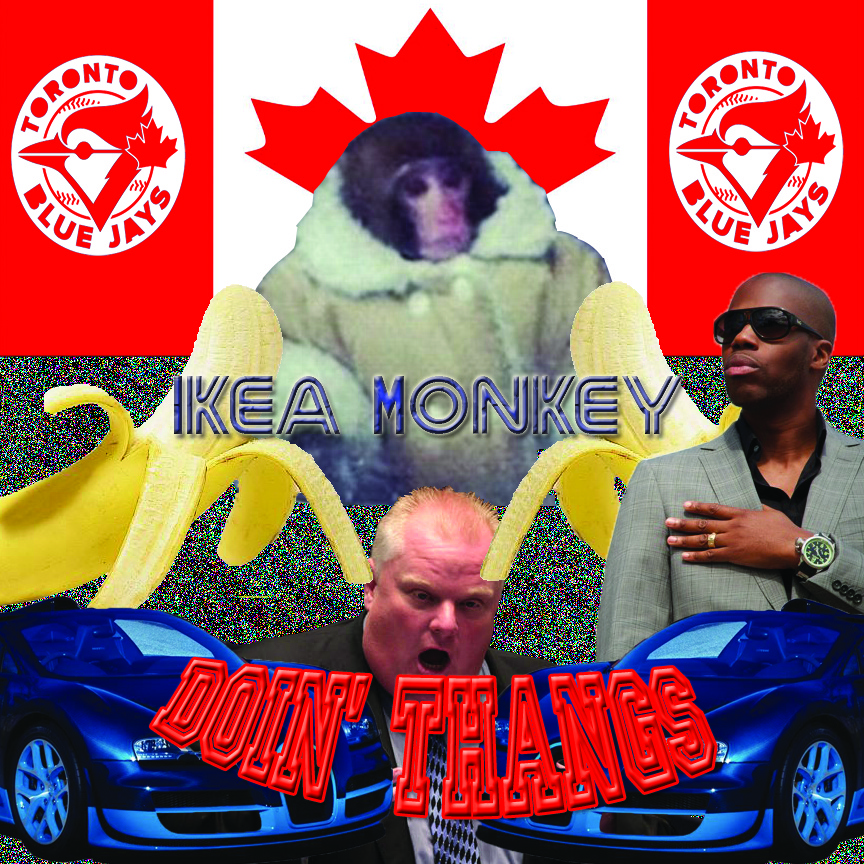 In 2012, Hogtown pooped out more great music than was previously thought possible. Here's a rundown of the best of the best.

Illustration by the insanely talented .
Since moving to Toronto two summers ago, I've been gobsmacked by the amount of amazing music cranking out of this city. For an outsider, it may be tough to look past the glut of nice-guy barista-rock, or humblebrag raps from a former Degrassi kid. Truth is, there's a whole other universe waiting to be explored. It'd be impossible to cram all of this cross-pollinating, genre-agnostic activity into a single mix, but I've tried to provide a sampling of the sounds from (or close to) 2012. Here's to the hustlers making it happen this year, and beyond!
I present to you: IKEA Monkey Doin' Thangs:
IKEA Monkey Doin' Thangs Tracklisting
1. U.S. Girls - "Island Song (Onakabazien Remix)"
2. Tenderness - "Cruel As The Grave"
3. Slim Twig - "Hover On A Sliver"
4. Carl Didur - "I Hear A New World"
5. Cellphone - "One Last Shot"
6. Hot & Cold - "No Dreams Tonight"
7. Sexy Merlin - "See You In The Dark"
8. HVYWTR - "Dirty Tricks"
9. Kanada 70 - "Ignore Dub + Molle"
10, Claudio - "20Wenty"
11. Man Made Hill - "Morbid Rhapsody"
12. Wolfcow - "Supernatural Grill"
13. The Soupcans - "Shocked!"
14. Thighs - "Teeth"
15. Hussy - "Scratch"
16. Moonwood – "Drawing Water From A Poisoned Well"
17. Doc Dunn - "Young Tecumseh"
18. Not The Wind, Not The Flag - "8"
19. Isla Craig - "Messages"
20. Black Walls - "Pines"
Follow Jesse on Twitter - @wipeoutbeat