Yes, you have Godsmack jokes. But do you have Godsmack feels?
On Wednesday, the city of Boston celebrated what will be known henceforth and unto eternity as Godsmack Day.
Mayor Martin Walsh was on hand to read an official proclamation at the Faneuil Hall Newbury Comics store, recognizing the band's years of success as musical ambassadors of our fine city to the world at large. And, if you're anything like literally every other person who's been made aware of this news, your first instinct will probably be to make all sorts of great jokes. Like this one, for example: The continued existence and popularity of Godsmack in general. Haha, nice. Or, you might've been inspired to make a crack about the line of fans stretching down the block looking like parental visiting hours at a methadone clinic. Maybe, like me, you happened across a performer in the tourist-heavy area outside the store wearing a kilt and struggling to get up on a stilt unicycle while playing the bagpipes and thought: This, this right here, is the only possible thing that is a better metaphor for Boston than something called Godsmack Day. My pals David Thorpe at the Village Voice and Michael Marotta at Vanyaland have done a pretty good job covering the rest of the bases so far.
It was fully my intention to go down to the ceremony and record signing on Wednesday afternoon to take lots of funny photos and goof on the whole charade in general. But then something weird happened. I sort of got inspired.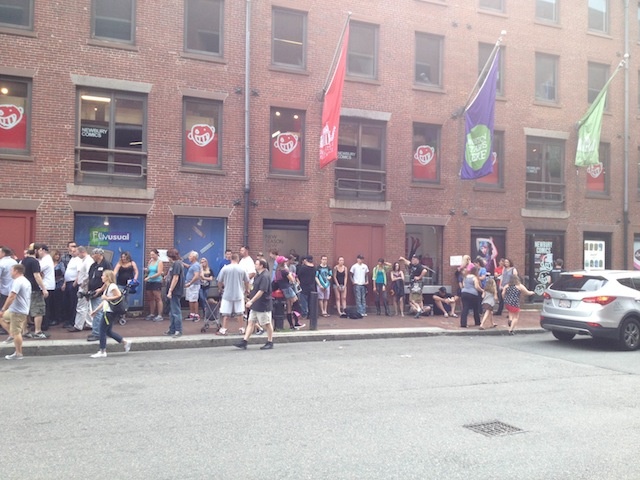 Mike Hsu from WAAF, the area's leading butt-rock station, introduced the proceedings, and reminisced about the band's early days. "One day, one of our DJs said 'Hey, these guys seem to be making a lot of noise around town. And we started playing them, and it was great seeing you guys getting to bigger rooms... Then you're in arenas and you're in the stratosphere, but always coming back to Boston, and keeping your roots in the area."
It's a story the band recount themselves on "1000hp" the title track from their recently released album.
"Time to rewind, back to 1995 when we were nothing," Sully Erna growls over the band's trademark wallet-chain-core. "Walking through the streets of Boston, no one listening. No one caring about the empty rooms we played. Until they all showed up one day, then we took the stage and everything changed. Turn that shit up louder."
Hsu ceded the podium to Walsh, pointing up some of the mayor's bonafides as a music fan and supporter of the arts in the city.
"I was out in the hallway talking about the old days, talking about the different venues we used to have here where startup bands would actually be able to perform in and be recognized. We talked about The Channel, talked about the Rathskeller, two places that aren't here anymore," he said, referencing the clubs where everyone from the Pixies to Converge played early shows. "One thing in Boston we want to do is try and bring back some of that tradition and culture we have here... So many great performers started their careers here right in the city of Boston or in this area, the greater Boston area, and went on to do unbelievable things. We need to continue to do that, and push that so young people, young talent have the same opportunities your band did."
He went on to read the official proclamation, which you can see below. But it's probably worth pointing out that, although this might all sound like boilerplate bullshit coming from a politician, as cynical as I am about politics and music in general, Walsh actually seems to be putting his money where his mouth is when it comes to changing Boston into a more arts and culture friendly city. So far, he's made good on a campaign promise to appoint a member of his cabinet who will serve strictly as a sort of Arts Czar for the city, a job, as the description reads, that will "serve as a network builder, connecting artists, arts and cultural organizations, local businesses, schools, and institutions of higher education with residents, ensuring that all residents are active participants in Boston's rich cultural community." Seems like a no-brainer, but no such position has existed before.
Walsh has also set up a Late Night Task Force with members of the arts and entertainment communities in the city in order to explore ways to make the city more culturally-vibrant, particularly later at night, and has expended significant political capital in his push to convince lawmakers to allow bars and clubs to stay open later, (which has so far been stymied of course), and pushed for more liquor licenses to be distributed in underserved parts of the city. A couple years ago at the Rock and Roll Rumble, the annual battle of the bands here put on by radio station WZLX, then state rep Walsh was on hand to kick off the proceedings. I remember thinking it was corny at the time, but Walsh, by all accounts, is a pretty legitimate music fan. Sure, you might not exactly like his taste—I'm not a Godsmack or Dropkick Murphys fan by any stretch of the imagination myself—and you might have a good case against a city official chipping in on a public relations campaign for a record release, but the fact that the mayor of a major city even listens to hard rock or punk, and is invested in its welfare in the first place is itself pretty cool.
(Check out this Marty Walsh For Boston campaign ad the Dropkicks made for him during his run:)
Erna shared a few remarks after Walsh was done. "I was born and raised here. I believe we're one of the strongest cities in the world. I love the integrity and strength here. I love the work ethic here. And I believe there's a reason why Godsmack has gone on to become one of the best hard rock bands in the world. Because as Boston is a very hard working city, so is this band. It' s a real honor to be appreciated for all the hard work we do. This is a band that still plays our instruments and goes out there and sweats blood and tears for the fans and for the world. And it's just a really proud day," he said before presenting the mayor with a Godsmack touring jacket."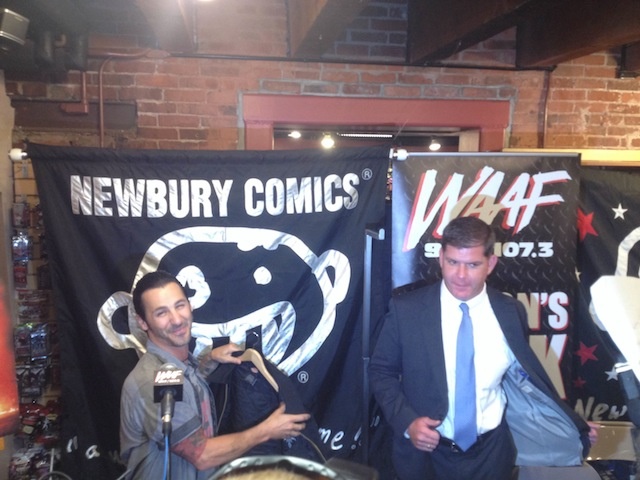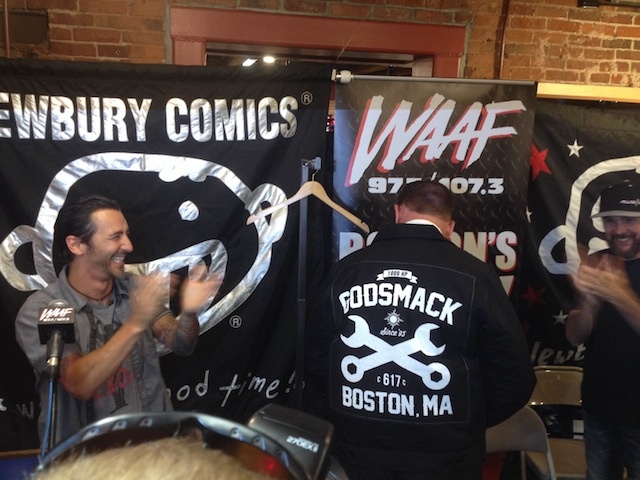 Erna, who said he's never met Walsh before, told the Boston Globe that speaking with the mayor was a chance to talk about a cause he believes in. "I'm actually trying to get a studio at Boston Children's Hospital," he said. "There's been such success with music therapy."
Yes, it's easy to make jokes about bands we all think of as corny—here's another one: Hey dude, we're supposed to be helping sick kids get better, not make them want to die—but in the music scene of any particular city, a rising tide lifts all boats. And Godsmack's success (three consecutive number one albums, 20 top ten rock radio hits and 15 in the top 5) is hard to deny. Why Godsmack Day? A better question might be what took so long?
Walsh:
Where as Godsmack is an American alternative metal band that came together in 1995 playing bars and clubs in Boston and quickly climbing to the top of the charts in the New England area. They got their first on air play at WAAF and their first retail sales at Newbury Comics. And whereas Godsmack went on to become one of the highest grossing artists in the United States, the band has released six full lengths album six number one singles, with 20 top ten hits, three consecutive number one albums, and four Grammy nominations. They won the Billboard Music Awards rock artist of the year in 2001, and whereas Godsmack has been a prolific and popular live act headlining in large arenas and playing in many tours and festivals from Ozzfest to Mayhem, to Uproar and Rock on the Range. And whereas the accomplishments are credited to Godsmack's talent, the artistic band, with members Sully, Robbie, Tony, and Shannon, and whereas to mark the release of the 6th full length album, 1000hp, Newbury Comics store is hosting Godsmack Day in their honor, therefore I, mayor of the city of Boston do hereby declare August 6 to be Godsmack day in Boston. I encourage my fellow Bostonians to acknowledge and applaud many musical contributions of the band offered by the music industry in the city of Boston and millions of fans throughout the world."
Luke O'Neil left his heart and wallet in Boston. Follow him on Twitter - @lukeoneil47
--
Also check out:
Kneeling at the Altar of Moz: Morrissey at the Boston Opera House, Reviewed
When It's Over: I Saw Smash Mouth, Uncle Kracker, Blues Traveler, and Sugar Ray in a Small Town in Wisconsin
Waitain Covered an Artisanal Flea Market in the Stench and Fluids of Death