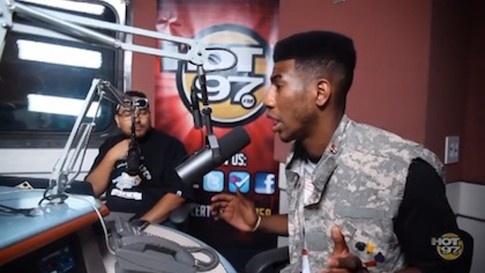 For a while, it was the only way I'd learn about what my former classmates were up to, until a bunch of them started getting Internet Famous. Or Regular Famous because they started playing for the Knicks and rapping.
Facebook's only valuable purpose is keeping tabs on people you went to high school with that you would otherwise actively avoid in real life. Your news feed is a deluge of mundane updates about their lives that makes it easy to neatly pigeonhole them into one of three categories: success, failure, or engaged. For a while, it was the only way I'd learn about what my former classmates were up to, until a bunch of them started getting Internet Famous. There's the dude who designs clothing for Lady Gaga—we had P.E. together a few times, he was pretty chill. The #1 Etsy Thug used to write a column for our school newspaper. Everyone's favorite teen fashion media baroness is admittedly way younger than me and so I graduated when she was still in middle school, but a bunch of my friends had her dad as an AP English teacher (and I did cop that Rookie Yearbook regardless). A girl who I ended up going to college with as well models for Playboy now. Some other kind of famous people went to my high school too, I guess. The newest addition to this list is Iman Shumpert, who's a shooting guard for the New York Knicks, and now also a rapper who goes by 2wo 1ne.
His debut mixtape Th3 #Post90s dropped last month. Surprisingly, it's nostalgic and 90's-referential without being derivative. Title track "Post 90s" fully interpolates Arrested Development's "Tennessee," but Shumpert's self-deprecation prevents it from becoming clichéd: "I been doing songs wrong/ since when Sisqo had recorded Thong Song/ I'm long gone." "Th3 Connect" is virtually identical to Run DMC's "My Adidas" but it's refreshing to hear new cadence and lyrical structure over such a timeworn beat. In an era where imitation is the overwhelmingly preferred form of flattery among internet-era rappers, Shumpert's awareness of this trend puts him a step ahead most of his contemporaries who often mimic their aesthetic influences without acknowledging them. "Post-90s, doing what they did with a twist/ Post-90s, making up for everything I missed," he raps on Cut Throat. Shumpert is an eager student of the decade he reveres.
The standout track on Th3 #Post90s is the de facto single" #anarchy episode VII," featuring PhlyyB (Another rapper from my high school! What a coincidence!). In the video, PhlyyB and 2wo 1ne communicate in Japanese using a pizza-to-sneaker phone, which is easily the greatest (non)invention since the original telephone. PhlyyB's bed is also apparently a pool table. The two rappers decide to go rapping together in Midtown, PhlyyB donning a leopard jacket and 2wo 1ne in a Carmelo Anthony jersey worn backwards, Kriss-Kross style. Shumpert compares his high-top fade to Johnny Bravo's, and wears one of his shoes like a hat (Get it? He's a sneakerhead!). It's an entertaining, high-spirited track with a great video, and a few more like it will propel Shumpert from Internet Famous to IRL Famous, although I guess being in the NBA might help with that too. Either way, I look forward to being like "Yo, I went to high school with that dude!" when it happens.
Shumpert's second tape Lyrics and Jump Shots, a joint effort with Billionz, dropped last week. Stream it below.

Download Mixtape | Free Mixtapes Powered by DatPiff.com
Gabriel Herrera pays attention to the Rap Internet so hard he could have balled for the L.A. Leakers. He's on Twitter - @gabrielherrera