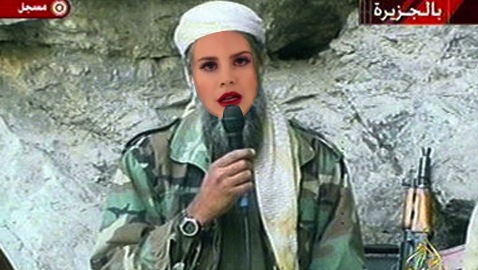 I'm Unravelling The LDR Conspiracy - I'll Be Robert Langdon, You Be Nicolas Cage.
Surprise! I'm joining the self-loathing ranks of those who have "an opinion" on Lana Del Rey.
A few weeks ago, when Lana shat all over SNL, her performance sent everyone from Brooklyn bloggers to NBC Nightly News anchor Brian Williams into rage-comas. But last weekend, SNL jumped to her defense. Kristen Wiig's spoof on Weekend Update turned out to be a spoof of the backlash surrounding LDR's SNL performance. A metaspoof, if you will. How very po-mo of you, SNL.
The skit feels forced. There's a palpably tepid response to Seth Meyers' "Lana, just so you know, I stood up for you, and I think you're great." This, in the wake of reports that LDR's management allegedly "encouraged" the censorship of a satirical Thought Catalog article, and evidence of "cyber-bulling" courtesy of LDR's YouTube channel, makes me wonder if the indie pop pixie muscled Lorne Michaels into this misguided attempt at solidarity.
Not that I'm calling conspiracy just yet, but let's look a little closer into this "Lana" character. I'll be Robert Langdon, you be Nicolas Cage in all those shitty movies:
1. Take "Video Games," scramble the letters --> "Me Diva Egos"
2. Take "Lana Del Rey," scramble the letters --> "Early [Bin?] Laden"

3. Take "Elizabeth Grant" (Lana's real name), scramble the letters --> "Blazing Theater"
Oh god. Born to Die? It's all making sense... They aren't postponing her tour to teach her the basics of performing in front of an audience, they're postponing her tour to plan THIS:
WAKE UP, SHEEPLE!!!!!!!!!!!!!!! "National Anthem"?? "Dark Paradise"?? "Summertime Sadness"?? I'm not trying to go all Loose Change, but is this a calculated move by Lana Del Rey aka Interscope Records aka Al Qaeda to chip away at every simple pleasure in life until all we're left with is Infidel Idol and an iTunes account? I can't say for sure, but I can say this much:
They can take our lives, BUT THEY CAN NEVER TAKE OUR FREEDOM TO TALK SHIT ON THE INTERNET!