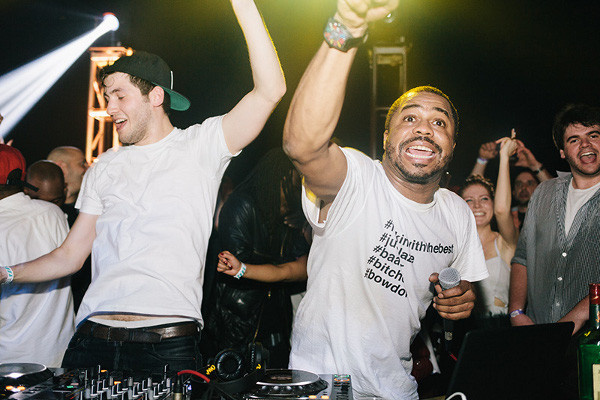 Wait, has Just Blaze been secretly building drops into his songs all along? (Yes. The answer is yes.)
First things first, Baauer is a talented producer and a great DJ who deserves everything that is coming to him. "Harlem Shake" was a huge track before it became an Internet sensation. It was peak-time staple for DJ's from Vegas megaclubs to sweaty warehouse ragers for almost two years. The subject of appropriation and the song itself is already fucking boring. And I'm already on record as feeling pretty optimistic about "trap" and its potential to be a creative nexus for dance music and hip-hop.
But when I saw Baauer and Just Blaze two Fridays ago at Webster Hall in New York, the homecoming show of their co-headlining tour, I felt a little bad for Bleezy. Before "Harlem Shake" became something your mom knew about, the bill was one of the more conceptually daring and exciting tours in a minute. The YouTube explosion changed the nature of Baauer's fame. It was still a cool show, but the sheer Cultural Importance of seeing that dude play that song at that moment outweighed the nuances that nerds like me were trying to vibe off of.
I don't think I have to give too much background on Just Blaze, but this is VICE and I don't take anything for granted anymore. If you don't know, in the early 00's, Just worked his way to the top of the production stable for Def Jam's sprawling empire. His earlier hits were a sharp take on shiny suit Neptunes/Trackmasters production, but his sample work became his defining sound. He produced a lot of your favorite rap singles from this era. He also handled most of Freeway's Philadelphia Freeway and if you haven't heard that, stop reading this and go fix that.
Just's East Coast pedigree makes him a kind of weird pairing with Baauer's very Southern-influenced music. Not that Bleezy's ever been uncomfortable with the South; he hit his stride as New York rappers were working hard to undo two decades of hating the South. He was great at making boom-bap that made sense on the same album as Timbaland and KLC, and his tracks for TI's King were high points on an already amazing album. And if the idea was to legitimize the controversial nature of "trap," there were way better rap dudes for the job.
But hearing a bunch of Just Blaze songs at what was basically a dubstep show made something very cool very apparent: he's been working builds and drops into his beats for years. Consider Jay-Z's "PSA" (which Just opened his set with). It opens with a loop of a low, sparse piano lick and no drums. Jay and Just talk some shit for a few bars, but basically nothing is happening for a good twenty seconds. And then Jay breaks it wide open: "ALLOW ME TO REINTRODUCE MYSELF…" etc. That's the drop!
Let's get a little nerdy for a second. Dance music is really big on building energy through contrast. Nothing is happening for a while, then a lot happens at once. It's as much a hallmark of big dumb progressive house as it is for deep techno. It didn't start with dance music (the Pixies, Smashing Pumpkins, My Bloody Valentine and, like, Beethoven also did this), but it's not something you see a lot in hip-hop. Rap relies more on song structure (verse/chorus) and chord changes (in more complex productions) than it does on contrast and energy. It's actually more focused on building a vibe through repitition; that's the draw of any track that you could describe as a "heavily blunted cipher" (ie the entire early Wu-Tang discography). Just Blaze doesn't lean too heavily on this technique, but he's got a handful of very prominent joints that sit quietly and then explode. The most effective besides "PSA" is the Hendrix flip on Fat Joe's "Hey Joe". That's some mosh pit shit!
So while Baauer poses goofily on the cover of Billboard, I'm still excited to see what Just Blaze comes up with as he dives deeper into the world of "trap" and dance music production in general. After all, it's been a weird couple of years for Just. His forays into the business side of music haven't gone that well—his Fort Knocks Entertainment label is best known for feuding with the once-promising Saigon and failing to get Jay Electronica off his couch more than once a year. He's still producing (Kendrick Lamar's "Compton" is top notch) but I could understand if dude is bored. I don't love "Higher," the much-celebrated collab with Baauer that set the internet on fire last month, but I'm glad it exists. I hope this is the beginning of a second act for one of the most important rap producers of the last decade.
And if not, well, at least I got to see him play "What We Do" for a thousand teenage ravers.
Skinny Friedman enjoys both the rap music and the dance music. He can be found on the Internet at @skinny412