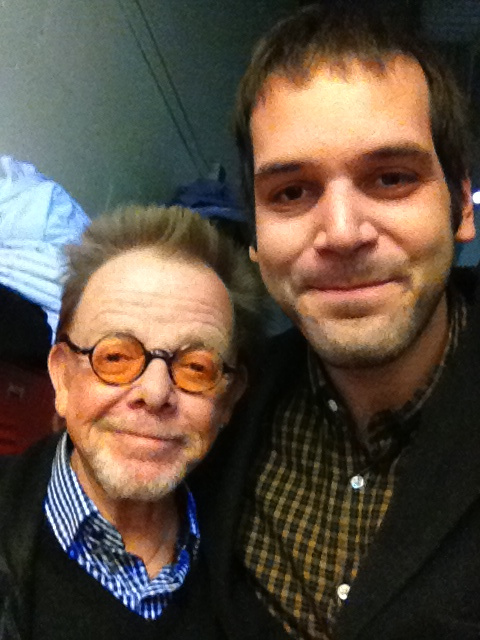 Today our arty sister site the Creators Project dropped an interview with this Oscar-winning singer-songwriter as part of their new series on Daft Punk's new record. I met him a few months back, and let me tell you, he's tiny.

Me and Paul
Noisey recently teamed up with Nitehawk Cinema in Brooklyn on a new screening series called Music Driven. It's a fairly simple concept: we host big brunch parties in Williamsburg where we screen the best music-related films around to hungover music and film buffs. This whole thing started earlier this year when I was asked to host a Q&A with the legendary, Oscar-winning singer-songwriter Paul Williams.
You might not know his name, but you absolutely know his songs—Williams is responsible for Three Dog Night's "An Old Fashioned Love Song," Bowie's "Fill Your Heart," the Carpenters' "Rainy Days and Mondays" (my personal favorite), and Kermit the Frog's "The Rainbow Connection." No small contributions there.
He's had as much of an influence on the development of pop music as anyone else I can think of, so I jumped at the opportunity to interview him. Nitehawk was screening a documentary about him called Paul Williams: Still Alive, which you should really watch, if only for the footage of Paul confronting old tapes of himself drunk and high on various talk shows in the 1970s. It's some of the most touching footage I've seen.
The night I was set to interview Paul, he showed up a little late and I met him downstairs in the bar. I'm 6"2, and let me tell you, this dude is tiny. Not a midget, but not far off. He was sipping a ginger ale, and I got a beer and felt sort of weird about it. We chatted for a while, mostly about Twitter. He'd just joined, and you should follow him by clicking right here. His tweets center a lot on the concept of recovery from addiction and finding meaning in his life, and it's absolutely inspiring when they pop up in my feed. During our Q&A, he kept stopping to thank me for interviewing him, saying things like "isn't it so great that Ben is here doing this interview?" I almost didn't have the heart to tell him that the nearly-sold out theater was there to see him, not just the film, and definitely not me.
Paul Williams interviewed for "Random Access Memories: The Collaborators"
It's that sort of deflection of attention that makes him such an endearing character—after a lifetime in the spotlight, he's taking a hard look at himself, and the world around him. So when our arty sister site the Creators Project dropped the latest in their ongoing series "Random Access Memories: The Collaborators," which focuses on the men and women who contributed to the new Daft Punk record, I did what any editor would do and told them I would "re-blog it." The video finds Williams revisiting the abuses of his former life, and gratefully thanking Daft Punk for including him on their fourth studio record.
Paul wrote and performed the lyrics to Daft Punk's "Touch," which is considered to be the apex of Random Access Memories. The track was composed of more than 250 studio elements, and works as an homage to classic science fiction. The record is coming out on May 21, but you can pre-order it right here. Also, click here to see more interviews from Creators Project's Collaborators series, including spots with Nile Rodgers, Todd Edwards, and Giorgio Moroder. And, why not, click here to watch Paul Williams dressed up as a monkey from Planet of the Apes back in 1973.
We should also mention here that the next edition of Music Driven is happening this weekend at Nitehawk, with a screening of Hit So Hard, a documentary about Hole's drummer Patty Schemel. You can find more info on that at Nitehawk's website.