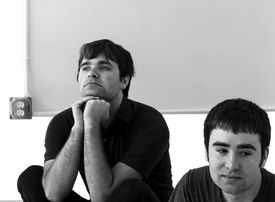 It's been 10 years since the release of 'Give Up,' which means it's also been 10 years since a scuzzy skateboarder penetrated me to "Such Great Heights."
It was recently announced that Postal Service are getting back together after 10 years, which means it's been 10 years since I lost my virginity to their one and only studio album, Give Up.
It was the summer of 2004. I was 17 years old and deeply in love with a skateboarder. We were together. This was real.
Skateboarder lived in a small ski town about two hours away from the city. Being a skateboarder in summer and a (professional) snowboarder in the winter, he had to live near the main mountain. That was were it was all happening.
My friend Kristi and I would get in her beat-up Tempo and drive to the ski town whenever we could. We had three mix tapes we played over and over, blasting Misfits, Pixies, the Concretes, the Shins, Bloc Party, and Patti Smith. We'd get caught in traffic with all the family vans going up for a lake holiday. We'd stick our heads out the windows and blow puffs of cigarettes smoke out of our mouths. When you are 17 years old, you think you own the world because suddenly you can drive a car, suck dick, and get drunk. You're green and happy.
Skateboarder lived in two bedroom house with four of his skateboarder friends. They shared the bedrooms—two boys in each one—which made sex, sleepovers, and the drunk weekends feel like hippy communes. They called the house "The Trail of Puke." Whenever we arrived for the weekend, the door was always unlocked. We'd wander in, trying not to kick over the graveyard of half-empty beers in the hallway, and drop our stuff on the floor. Having a car, dick power, and access to alcohol, but no real money, we'd have to go and visit the skateboarders at their crappy kitchen jobs at crappy restaurants. We'd knock on the back door and they would sneak us styrofoam containers of Fettuccine Alfredo or whatever else was on order that night. Through the back door, we could see the vats of disgusting pasta being stirred like poison in a witch's caldron. We'd drive Tempo back to the Trail of Puke and watch Kirsten Dunst movies until the boys came home from work and wanted to party.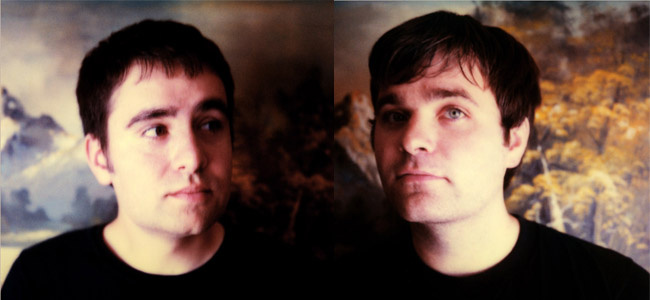 Skateboarder loved the Postal Service album. He played it constantly, especially when he was stoned and we were alone in bed fooling around. I hadn't had sex yet, but I wasn't about to let him know that. In my mind, it was none of his business, and I was in love; this would just be my greatest acting gig yet. Every time we went into the bedroom and took our clothes off as we made out, it seemed that "Such Great Heights" was playing from the crappy corner stereo. This would be the soundtrack for my first orgasms and awkward first-time sex of 2003.
Truthfully, I don't remember the exact moment I lost my virginity because I was stoned or drunk or, maybe, it just wasn't eventful enough to stick out in my mind. What I do remember is all the nights in Skateboarder's bedroom learning and figuring out blow jobs, my first orgasm, and staying up goofing around together. I remember when his roommate walked in while Skateboarder's head was between my legs. I remember when that weird punk kid Craig was lighting off fire crackers inside the living room while we tried to make out in secret. I remember "The District Sleeps Alone Tonight" interrupting me as I tried to sleep.
I don't really think that losing one's virginity is a big deal. That's why I never told the Skateboarder he was my first until years later when we were running home after stealing cold hamburgers from a corner store. Every night in his bedroom that summer was about losing my virginity while slowly becoming a comfortable, sexual being. And that Postal Service album was there, on repeat, guiding me along every single Goddamn time.
Mish fronts the Vancouver punk band White Lung. She also lost her virginity to the Postal Service, so the least you could do is follow her on Twitter - @myszkaway