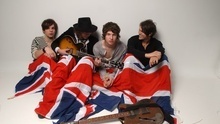 Because you don't work for success; it's a natural-born right.
It's really hard being a member of an indie band. As you grind your way through one Slug & Lettuce open mic night after another, your wallet starts to represent your jeans: tight and stained with the irreverence of playing too many shows for little more than "the exposure." You may be a hotly-tipped 90s-infused post-baggy expose from Bognor Regis, but unless you follow the rules, the dream of playing the SXSW Doritos Locos stage will be nothing but a reverb-soaked wet dream soundtracked by Foster the People.
Because we "can't all have solid gold houses and rocket cars" like proper musicians (The Vaccines), Angry Small Band are benevolently fighting the corner for all the bands who are third on the bill. Here's a few industry insider tips that we learned from following them.
EVERY OPPORTUNITY IS AN OPPORTUNITY FOR PROMO

All across the country, from Brooklyn to Echo Park, the country is in dire need of guitar music wielded by the gentrification forces of independent music. So, who's going to give it to them? You, that's who!
DON'T ACCEPT PIRACY

Remember, guys: piracy funds terrorism. So, if in the fight against piracy, we must glue CDRs into Discmans, then so be it.
AND MAKE EVERYONE PAY FOR EVERYTHING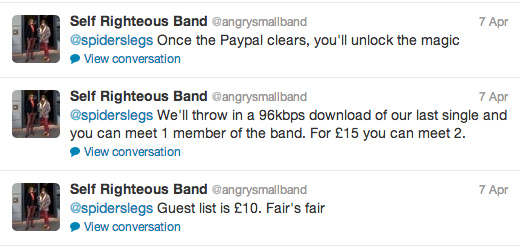 "People are willing to pay $4 for a cup of coffee that a) costs pennies to make, b) takes minutes to prepare, and c) is gone after one use. Yet millions of people won't pay $1 for a song they like that a) costs thousands to record, b) can be used over and over again, c) took years of practice to create, and d) lasts a lifetime."
BUT, PAYBACK THE DEDICATED FANS

If you don't have a recording advance, these poor little followers are your cash-infused lifeboat. But just as a life jacket is rewarded with a meaningless blast of air to fulfill its use, you should gift your fans with a ream of *exclusive* downloads.
DO NOT ACCEPT THE MINIMUM. REMEMBER: YOU'RE IN AN INDIE BAND!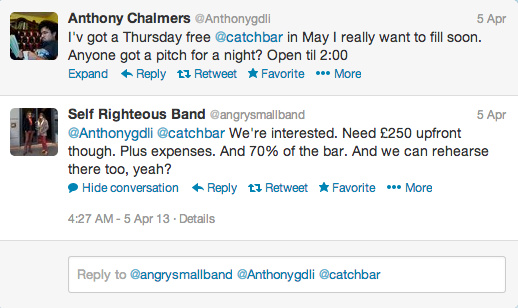 You know what the problem with our generation is? It's that we're willing to do everything for free with our only payment coming in the form of exposure. Have you tried paying your rent in references? It's fucking impossible. Instead, this generation needs to remember that we're owed something. Which means $250 upfront, expenses paid, and an auto indsutry rescue package-sized bar float.
REMEMBER THAT WE NO LONGER LIVE IN THE 60S

In case you didn't realize, it's not the 60s anymore. It's the 20-teens, which means social media. If you're not updating your socials with frequent updates, starting Twitter beef with rappers, and offering up livestreams of your rehearsal sessions sent via Vine, then you're dead to the world. Still, it's a shame. If we forgot about the internet, we'd probably have ten Beatleses by now.
CROWDSOURCING IS THE WAY FORWARD
Why pay for anything when you've got a dedicated ten-person following who can pay for everything for you?
ASSOCIATE WITH SEMI-FAMOUS PEOPLE

Because it's not what you know, it's who you know. And if who you know is a former 2004 Alternative Press cover star, then you might as well ink up the Domino records contract now. You're signed.
Follow Ryan on Twitter @RyanBassil