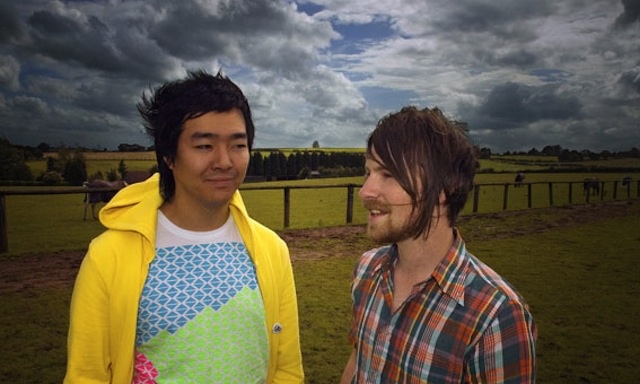 Before I started this interview, my three-year-old daughter asked me who was calling and I told her it was the "Fudge Buttons." So I started wondering how these guys talk to kids, and also what it was like to have a name like that featured in the 2012 Oly
Fuck Buttons: Andrew Hung and Benjamin John Power
In 2012, Benjamin John Power and Andrew Hung became the first and probably only ever artists with the word "Fuck" in their name to ever have their music in the Olympics' opening ceremony—face it, the likelihood of Fucked Up playing while the Dutch make their entrance is unlikely. The band had two tracks from their 2009 record Tarot Sport blasted into the homes of millions. Sure, you probably didn't notice it, thanks to Danny Boyle's flamboyant Britannia-boasting theatrics, but the possibility that some young child cried out, "Mummy, they're playing Fuck Buttons!" is very real.
But that was a year ago. Now, Power and Hung are celebrating the release of Slow Focus, a beast of a third album that runs the gamut of their wide lens sound, from undulating synth noise, creeping low-budget horror flick scores, industrial-steeped hip-hop, and bad-ass blasts of techno. It's an unpredictable, mind-melting symphony. Should the Russian Olympic committee have any brains, these guys will be causing a ruckus next year in Sochi.
Noisey called Mr. Power to discuss what he made of his Olympics triumph, why he wants you to feel all disoriented when you listen to his new album, how he pronounces his band's name to little kids, and which cold treat inspired his song "Brainfreeze": popsicles or slushies?
Noisey: My three-year-old daughter asked me who I was calling and I said it was a band called Fudge Buttons.
Benjamin Power: That's one variation of it, I guess.
How do you say your name to little kids?
Obviously I'm not gonna say it to a three-year-old, so it's usually just "Eff Buttons" or something. That's usually what DJs in the UK say because they're not allowed to swear.
Have you found the word "fuck" taking away any exposure and opportunities for you?
I'd be lying if I said there wasn't a slight element of that but they played our music at the Olympics and referred to us as F*** Buttons, and that happened. So it can be detrimental but it's not hopeless.
Yeah, so you guys had your music featured in the 2012 London Olympics during the Opening Ceremony. That must've felt pretty good. How did you score that?
It was one of those situations where you say, "Well, okay. We'll see if anything actually materializes." Rick Smith from Underworld approached us because he was in charge of a lot of the music with Danny Boyle for the opening ceremony. So we got the call and just assumed they'd asked 700 other people, but it ended up happening. We didn't know to what capacity, so it was kind of surprising to see it used to that scale.
They chose your song "Olympians" for the opening ceremony. Coincidence?
Possibly, but not from our end. We actually have no idea what a track's going to be called until it's finished. When we start to write we have a blank canvas and we don't know what the end product is going to be. And it's only when it's over that we talk about what it should be called. There is a very triumphant feel to that track and it sounded like pushing forward in some sort of momentum, so "Olympians" seemed like an apt title. There really wasn't another reason than that. It is more of a coincidence that this ended up happening.
Did you get to attend the ceremony?
We were invited to the full dress rehearsal, which happened a few days before. Andy, our manager and I actually went down and watched it without the whole fireworks spectacular. They obviously had to save all that stuff. But it was still amazing to see how they did that on such a grand scale.
Would you say this kind of exposure where millions, maybe even billions hearing your music has helped raise your profile? Like, say, groupies?
Not so much, because when the Olympics happened we were in recording mode in our studio, so it was a nice moment. But then right after our focus shifted back to getting this record made. It was an interlude. I'm sure it helped somewhat, but we haven't had any time to sit back and enjoy that.
They also played a song by your solo project, Blanck Mass, while they brought in the Union Jack. That's such a patriotic honor.
It felt like a real honor, especially bearing in mind that the London Symphony Orchestra actually played it. That was pretty amazing. But with Blanck Mass and Fuck Buttons, all around, it was just an amazing honor to be involved.
Were your families proud? It was probably a moment where you could say, "Hey ma, check me out!"
Yeah, of course. It was completely unexpected. I'm sure a lot of people found it hilarious and I'm sure a lot of people couldn't believe what they were hearing.
I'm guessing they didn't want to use anything off Street Horrrsing…
No.
So, you've described the new album Slow Focus as having an "alien landscape." What do you mean by that? Extra-terrestrial-type shit?
Well, I really didn't like the idea that we'd push any kind of mental imagery, because the whole thing is that there's no lyrical push behind anything that we do, suggesting an aesthetic or imagery in the first place. People get to create their own narrate and story for this music. It just so happens that when we were having one of these conversations when the album was near completion, for me, there was some mental imagery was like when your eyes try to adjust when you're waking up from a very deep sleep. Almost like you've been cryogenically frozen and you realize when you come to, that you're in a very alien place to you that might not be accommodating or welcoming.
Why do the two of you write everything together? Wouldn't that make the experience of making an album that much longer?
Well, I think that it's an important rule that we've had since we first started. If we're not together when we start to write, arguably it's not Fuck Buttons. One of us doesn't come with an idea to a writing session. I think it's just a rule we've always had. To be Fuck Buttons we need to be present in the same room at the same time. From the very first instance, it's something we've stuck to ever since.
So you have Blanck Mass, and Andrew has Dawn Hunger as a side-project. Do they ever cross over?
They're fairly separate really. I've been in bands since I was 14, and always had multiple bands on the go. So for me it's what I do in my spare time from Fuck Buttons. I always like to keep myself occupied and busy, this is what I enjoy doing the most with my time.
When I'm not completely busy with Fuck Buttons I work on Blanck Mass. I have plenty of material ready, but I'm not exactly sure what will happen with it because I'm in full Fuck Buttons mode at the moment. When that quiets down, I'll think about putting something else.
You haven't featured vocals since Street Horrrsing. Have you ever spoken about using guest vocals?
Me and Andy are happy to do everything ourselves. To add another person into the writing process might be difficult for them because we have a honed way of working. We're certainly happy keeping it just the two of us for the time being.
John Cummings from Mogwai produced Street Horrrsing and Andrew Weatherall produced Tarot Sport. That's pretty impressive. Why produce yourselves on this new album?
Well, even with Tarot Sport and Street Horrsing, by the time we ended up going into the studio the tracks were mostly finished anyway. So, in a sense the songwriting was done before stepping into the studio. The only difference this time was that we were working in our own studio space, so we could work on our own, to our own diary, in our own time. It seemed like a logical thing for us to try it on our own when we had the space.
Is it harder or easier to self-produce?
I think maybe it's harder in some aspects and maybe it's easier in some aspects. Sometimes a third person can confuse things, but sometimes it's nice to get an outside perspective. But the fact that we did it on our own, we could take time off and come back to it with a fresh perspective. There was no time limits. It is nice to get an opinion, but we were quite confident with what we could achieve by ourselves.
The opening drums on "Brainfreeze" are pretty massive. They literally made me jump when I first listened to the album on headphones.
That came around from how we've always written songs. That came from the way we've always approached the writing process, writing in a live capacity. We actually set up when we do when we play live: facing each other across the table in a sea of gadgetry that we re-patch and try all different kinds of combinations, use different, unconventional sounds from what you'd expect with the instruments used. Once we've found the textures, we build up the foundation. This time we played around with a lot more percussive elements, and then it just goes from there really.
So, where did the name of that song "Brainfreeze" come from? Eating ice cream, popsicles, slushies?
All of the titles are inspired by these periods where we sit around after a track or an album is finished and we discuss what color a track is or what mental imagery we get from it. The whole cryogenically frozen idea from the beginning is what led to "Brainfreeze."
No popsicles then?
No, not really.