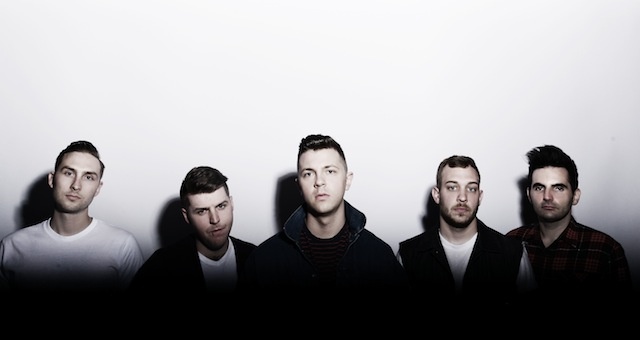 From their new album, 'Die on Stage.'
Connecticut's Hostage Calm has never been a band to rest easy creatively. Starting as a hardcore band in the vein of Turning Point with the politics of Trial, the band has undergone an evolution since 2010's album Hostage Calm that continued with Please Remain Calm. In their third record for Run For Cover, Die on Stage, the band has taken an even bigger leap. We saw the band's growing Britpop sensibilities on their first single, "Your Head/Your Heart," and on "A Thousand Miles Away From Here," the song channels, at different moments, late 90s post-hardcore like Rival Schools and maybe even some mainstream pop, yet still remains one of the most focused and direct tracks the band has ever written.
Listen to "A Thousand Miles Away From Here" below, and pre-order Die on Stage from Run For Cover here. Hostage Calm are heading out on tour this fall. Dates below.
09/12 - Pontiac, MI @ Crofoot Ballroom#
09/14 - Lawrence, KS @ Jackpot Music Hall*
09/15 - Denver, CO @ Marquis Theater*
09/16 - Salt Lake City, UT @ Shred Shed*
09/18 - Oakland, CA @ Oakland Metro*
09/19 - Anaheim, CA @ Chain Reaction*
09/20 - San Diego, CA @ House of Blues*
09/21 - Los Angeles, CA @ The Troubadour*
09/22 - Las Vegas, NV @ Eagle Hall*
09/23 - Mesa, AZ @ Nile Theater*
09/25 - Dallas, TX @ Sons of Herman Hall*
09/26 - St. Louis, MO @ The Demo%
09/27 - Birmingham, AL @ The Forge^
09/28 - Orlando, FL @ Backbooth^
09/29 - Tampa, FL @ Epic Problems^
09/30 - Lake Worth, FL @ Propaganda^
10/01 - Jacksonville, FL @ Underbelly^
10/02 - Atlanta, GA @ Masquerade^
10/03 - Greensboro, NC @ Greene Street Club^
10/04 - Richmond, VA @ The Broadberry^
10/05 - Baltimore, MD @ Ottobar^
10/07 - Poughkeepsie, NY @ The Loft^
10/08 - Asbury Park, NJ @ Asbury Lanes^
10/09 - Long Island, NY @ Revolution Music Hall^
10/10 - New York, NY @ Studio at Webster Hall^
10/11 - Philadelphia, PA @ First Unitarian Church^
10/12 - Boston, MA @ The Sinclair^
10/14 - Buffalo, NY @ Waiting Room^
10/15 - Cleveland, OH @ Grog Shop^
# = w/ Citizen, The World Is a Beautiful Place & I Am No Longer Afraid To Die, You Blew It!, Praise
* = w/ Citizen, You Blew It!, Praise
^ = w/ Citizen, You Blew It!, True Love
% = w/ Citizen, You Blew It!, Praise, True Love