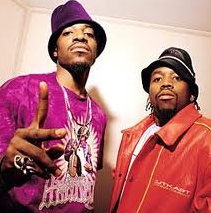 They're just doing remixes at this point, but still.
You could always count on OutKast to do things in pretty much the oddest way possible. Today it was announced that Big Boi would be joining André 3000 on the remixes to both Frank Ocean's "Pink Matter" and T.I.'s "Sorry." 3000's verse on "Sorry" pretty explicitly deals with the extended hiatus of the legendary duo, and "Pink Matter" is just a good song that could probably use 100% more OutKast on it. Allegedly, the "Pink Matter" remix is due out next week, while the date of the "Sorry" remix is still up in the air.
This will mark the first on-record appearance of André and Big Boi since 2010, when their track "Lookin' 4 Ya" was barred from inclusion on Big Boi's Sir Luscious Leftfoot album because of record label bullshit involving any recording with both Big Boi and André on the track technically being property of Epic Records but Big Boi being signed to Def Jam. Big has pretty much always stated his willingness to do an OutKast reunion whenever André felt up for it, so this bodes well for the future of the duo.