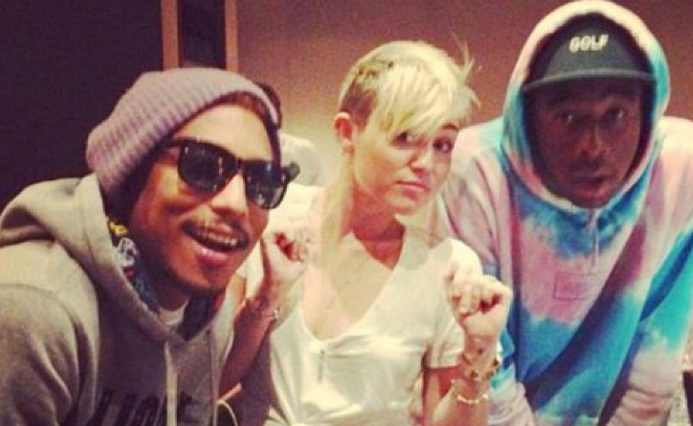 We're pretty excited about this song, and may god have mercy on our souls.
Holy Monday, Batman! In the most recent issue of Cosmo, Miley Cyrus off-handedly dropped that she's working with all of recorded music for her upcoming album, including Mary J. Blige, Pharrell, and Tyler, the Creator, all on a single song. Just check the quote, because it's low-key marvelous.
I wrote this song with Mary J. Blige, and Tyler the Creator heard it and said, "I am obsessed with this song, and I will guest on it if you promise me that you will keep it on the album." And he killed it! I really didn't want to make a hip-hop record, and I'm not trying at all to be a Rihanna or a Nicki [Minaj]....That's not my vibe. When I was growing up, my older brother would sneak me Nelly CDs, my dad had me listening to Dolly [Parton] and Johnny [Cash], and my mom is a complete metal head. So this record is a weird mixture of all that.
The thing about Miley Cyrus is she actually seems like she's pretty awesome? Like, she likes Nelly and he's pretty great, she likes to smoke the pot (go pot!), she made "Party In The USA" which is a song about the two best things in America (Partying and America, duh), and one time she tweeted out an article that Noisey contributor Dan Weiss wrote about her one time (nepotism!), which is cool.
Read the full interview over at Cosmopolitan, and may God have mercy on our souls.