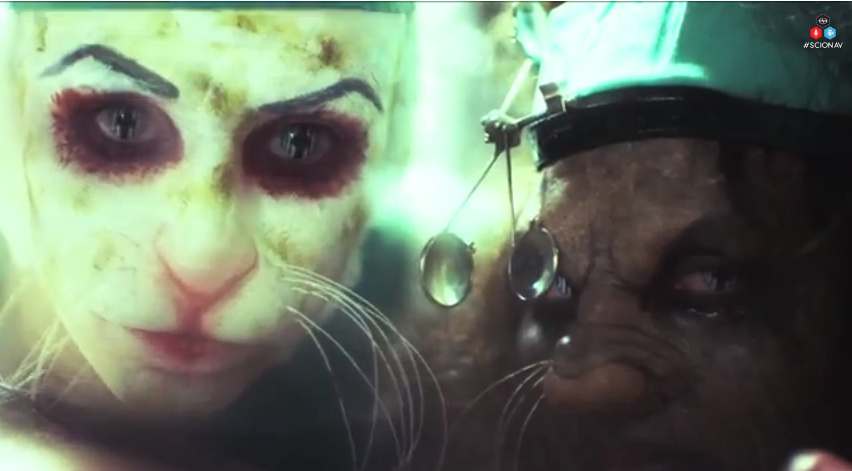 We talked to Matt Pike and Jeff Matz about how they are able to terrify us with their instruments.
High on Fire's new video "Slave the Hive" is like being in a fucking nightmare. It is insane. Seriously, what terrifies you in your dreams? Unnecessary surgery? Bunny people who are doctors in a creepy hospital? Matt Pike screaming in your face? This video has it all courtesy of our friends at Scion A/V. Check out the video above and catch the band at the dates below.
We recently sent our writer Joe Yanick to meet High on Fire and ask how they are so consistently able to terrify us with their instruments...

If you don't at least know the name High on Fire, there are only a few types of people you could be: either you don't listen to metal at all, you do listen to metal but the last new metal record you heard comes from a time when Metallica still had long hair, or you've been living under a rock for the last fifteen years since High on Fire formed. Consisting of members from bands like Sleep and Zeke, High on Fire have been pummeling out their own brand of sludge-influenced metal; releasing, at the time of this interview, six full length records. Recently, I got the opportunity to meet up with Matt Pike (guitarist) and Jeff Matz (bassist) before their latest NYC gig at Webster Hall.
Despite some initial road blocks, which include but are not limited to me embarrassingly staring at Matt silently for around ten minutes failing to introduce myself, less than perfect sound accommodations for recording the interview, and a few interruptions to allow either or both Matt or Jeff time to sound check, the conversation could not have gone better.
Both Matt and Jeff trace their roots in music back to their childhoods, in particular, their families' direct influence. Matt remembers being a kid and listening to both his grandfather and uncle "goofing around, playing sailor songs." He cites his first drive towards music through watching their fingers and learning the patterns, later transposing the patterns and teaching himself how to play. Matt continued down this line for a while, and it wasn't until much later that he had any musical lessons beyond what he could figure out himself. Likewise, Jeff inherited both his first bass and slew of inspirations through his father and his father's record collection, which included Led Zeppelin, Captain Beefheart, and Black Sabbath. Through the bass lines of Geezer Butler and John Paul Jones, Jeff began to slowly pick up intricate bass lines.
Being perpetually interested in the people who actively pursue bass (being a guitarist of course, despite my better judgment, I always have that assumption that bassists are just failed guitarists), I chime in that I always found that the best bass players happen to be the ones who start off playing bass. Almost cutting me off, Matt excitedly responded, "A lot of the bass players that I know are a lot more meticulous than guitar players, they practice more and get way more involved, really fine tuning things. Every bass player I know are really obsessed with bass, I don't think as many guitarists are as obsessed with guitar as bassists are."
Unfortunately, just as the conversation began to lighten up, both Matt and Jeff were called out to perform their sound check. In the spirit of investigating, I decided to follow them out to the stage and I got a first hand experience and in-depth look into the reality of High on Fire's live sound. The stage shook as they pounded out a few songs, tweaking settings for the Hall. After about twenty minutes, we all were able to head "backstage" (or rather, upstairs) to conclude the interview. I could see that the guys were getting fatigued, so I cut to straight to the point, trying my best to avoid meaningless conversation.
Struggling to remember, throwing out heads like the Laney AOR and a Fender Chorus, Matt finally rested on the realization that the first "worthwhile" amp he purchased was the Randall RG100 (or the "Jimmy Bower [Eyehategod] Special Randall" as he would describe it). "[The Randall RG100] was good for Asbestosdeath, I was just in this punk band, I just had this Randall and a combo and that was pretty loud for a punk band at the time." However, it was the previously mentioned Laney AOR that would become Matt's first tube head, in which he describes as the pivotal point in his purchasing career, that would lead to and endless search for new heads, including Green (Electric), Hiwatt, Marshall, and Soldanos. After years of playing, Matt has come to the conclusion that overall, he tends to prefer the Soldano, but is always open to different gear, stating, "I still like the Matamps and I would still use them in the right condition, and when I go overseas the Blackstars are perfect".
One vital aspect to High on Fire's sound is both Matt and Jeff's use of dual heads. While Matt uses two Soldano SLO heads, he runs the EQ on each slightly different; in order for his cab running on the bass side to be slightly more mid-ranged than the stack on his own side. Jeff on the other hand utilizes both a traditional bass rig as well as what would be a traditional guitar rig as well. Jeff is thus able to form his dirty tone from the combination of a cleaner bass rig and a crunchy guitar rig, without sacrificing the low end through the use of overdrive. To put it in layman's terms, Jeff describes his goal as trying "to get the Geezer tone out of the SVT, and the Lemmy tone out of the Blackstar." However, both Matt and Jeff warn of the dangers of "Frankenstein-ing" gear (as Matt describes it), mentioning that when you mix drastically different tones at loud volumes, it creates a ton of room for error in the clashing tones.
While, due to time restrictions, we didn't get as in-depth as I usually like, I feel that there is a genuine charm to both Matt and Jeff's approach to gear, which is less specific and meticulous but refreshingly simple. Summing up their approach in my own words, I see High on Fire as a band that is not ruled by their gear, but a band that rules their gear. As a final note Matt offers this apt advice: "Use your mid-range and you get what you pay for, that's the only two pieces of fucking advice I have to give (laughing)."
On this tour High on Fire are using:
Matt Pike
Guitar: Gibson Custom LP
Amp(s): (2) Soldano SLO 100
Cabinet(s): (4) Emperor 4x12s
Jeff Matz
Bass: Fender Jazz
Amp(s): Ampeg SVT and Blackstar Artistan 100
Cabinet(s): Ampeg 8x10, Blackstar 4x12 and Emperor 4x12
------
HIGH ON FIRE on tour:
Dec 04 Starlite Room w/ Kvelertak Edmonton, Canada
Dec 05 Republik w/ Kvelertak Calgary, Canada
Dec 07 Venue Vancouver, Canada
Dec 08 El Corazon w/ Kvelertak Seattle, WA
Dec 09 Hawthorne Theatre w/ Kvelertak Portland, OR
Dec 11 Regency Center Grand Ballroom w/ Kvelertak San Francisco, CA
Dec 12 El Rey Theatre Los Angeles, CA
Joe Yannick is using a keyboard to achieve his maximum writing quality. Follow him on Twitter - @JoeYanick