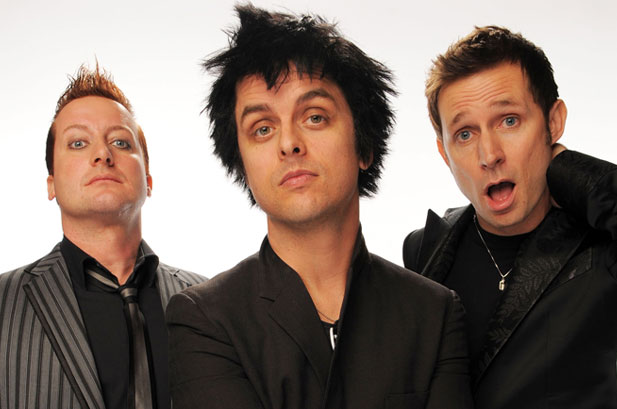 If you ever owned the 'Dookie' t-shirt, you owe it to yourself to check it out.

Green Day in 1992, before they were making rock operas and stuff.
Wow. Green Day. They're ambitious, huh? Did you read that recent Cometbus zine where Aaron went on tour with the 'Day in China? It documents one punk's relationship with some old buddies (Green Day) who started out smoking loose joints in the grungy confines of 924 Gilman and ended up with a hit Broadway rock opera, an anti-oil organization, and record sales that exceed 65 million worldwide.
They recently announced their latex endeavor: three consecutive studio records that will be released this fall and winter. The records are called ¡Uno!, ¡Dos!, and ¡Tré!, and each will have it's own vibe. Billie Joe Armstrong mentioned last week that "with the first album you're getting in the mood to party. On the second one, you're at the party. And the third album you're cleaning up the mess."
Here's the first single from ¡Uno! - it's called "Oh Love," and it sounds pretty good from where we're sitting, if you're into this sort of thing. The funnest fact about the track is that it was recorded by Rob Cavallo, who co-produced Green Day's 1994 major label debut, Dookie. Green Day had a tendency during the bulk of their career to veer off on some over-ambitious Townes Van Zandt territory, but on this track you're only hearing bass, drums, and guitar. The single is a nice return to some fundamentals, and if you ever owned the Dookie t-shirt, you owe it to yourself to check it out.