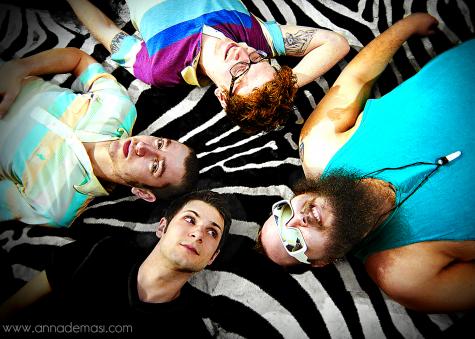 More giddy, pixie-stick electro-pop from our biggest band crush.

Photo by Ryan Pavlovich.
God, we are so in love with Stepdad. They just sent us a copy of their debut record "Wildlife Pop," which is coming out June 12 on Black Bell Records, the new label run by Ayad Al Adhamy from Passion Pit. The music is pitch-perfect pixie-stick electro-pop, the sort of thing you want blasting at every barbecue this summer. Just press that little orange play button down there and try not to get all wobbly and melty - OK, I'll stop gushing, just check it out:
Right? Right?
Stepdad picked up when Ryan McCarthy and ultramark dropped out of college in 2009. Three years later, they've hooked up with super-producer Chris Zane for this crushing debut - you may not know Zane's name, but you can hear the faint sound of him mouth-breathing on your favorite Asobi Seksu, Walkmen, and Passion Pit records. The result is the LP that you'll be blasting into eardrums with every day for, well, as long as it takes.
You can preorder the record right here. Plus, they're on the Warped Tour all summer! Throw on some checkerboard vans and check them out:
06/16 - Utah State Fairpark - Salt Lake City, UT
06/17 - Sports Authority Field At Mile High - Denver, CO
06/20 - Luxor Festival Lot - Las Vegas, NV
06/21 - Orange County Great Park - Irvine, CA
06/22 - Pomona Fairplex - Pomona, CA
06/23 - AT&T Park Lot A - San Francisco, CA
06/24 - Ventura County Fair Grounds - Ventura, CA
06/27 - Cricket Wireless Ampitheatre - Chula Vista, CA
06/28 - Camelback Park - Glendale, AZ
06/29 - N.M.S.U Practice Field - Las Cruces, NM
06/30 - AT&T Center - San Antonio, TX
07/01 - Reliant Park - Houston, TX
07/03 - Gexa Energy Pavillion - Dallas, TX
07/07 - First Midwest Bank Ampitheatre - Tinley Park, IL
07/08 - Canterbury Park - Shakopee, MN
07/09 - Sandstone Ampitheater - Kansas City, KS
07/10 - Klipsch Music Center - Noblesville, IN
07/11 - Blossom Music Center - Cuyahoga Falls, OH
07/12 - First Niagara Pavillion - Burgettstown, PA
07/13 - PNC Bank Arts Center - Holmdel, NJ
07/14 - Parc Jean Drapeau - Montreal, CA
07/15 - Molson Canadian Ampitheatre - Toronto, ON
07/17 - Darien Lake Performing Arts Center - Darien, NY
07/18 - Toyota Pavillion - Scranton, PA
07/19 - Comcast Center - Mansfield, MA
07/20 - Susquehanna Bank Center - Camden NJ
07/21 - Nassau Veterans Memorial Coliseum - Uniondale, NY
07/22 - The Comcast Theater - Hartford, CT
07/24 - Merriweather Post Pavillion - Columbia, MD
07/25 - Farm Bureau Live - Virginia Beach, VA
07/26 - Aarons Ampitheatre at Lakewood - Atlanta, GA
07/27 - Central Florida Fairgrounds - Orlando, FL
07/28 - Cruzan Ampitheater - Wellington, FL
07/29 - Vinoy Park - St. Petersburg, FL
07/30 - Charlotte Verizon Wireless Ampitheatre - Charlotte, NC
07/31 - Riverbend Music Center - Cincinnati, OH