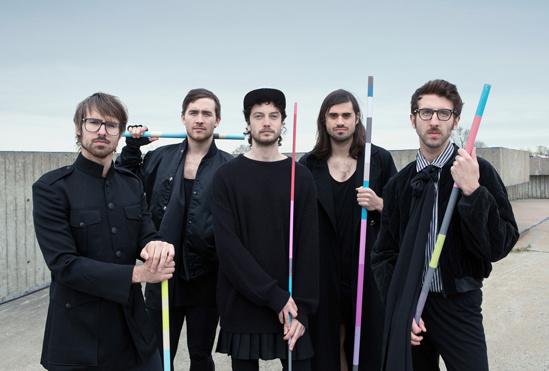 Former Das Racist dude Heems teams up with oddball, hip-hop, electro-weird group Misteur Valaire. Plus you can listen to their album, out next week, in full.
If you haven't heard of Misteur Valaire, here's the skinny: they're five dudes from Sherbrooke, Québec, who have been making music since 2004. Their output can best be described as jazz-dazzled, hip-hop, electro-pop weird. Live, they sometimes cast their instruments aside and break into choreographed dance routines. Members of the band have been known to fly out into audiences suspended by cables. They basically look like they're having a really great time, all the time, and sometimes they all decide to wear Lyrca.
They release their fourth record, Bellevue Avenue, next week and we've got it streaming in full. Plus Misteur Valaire have teamed up with former Das Racist dude Heems on the loose-limbed "Life Gets Brutal," which you can download for free, here.