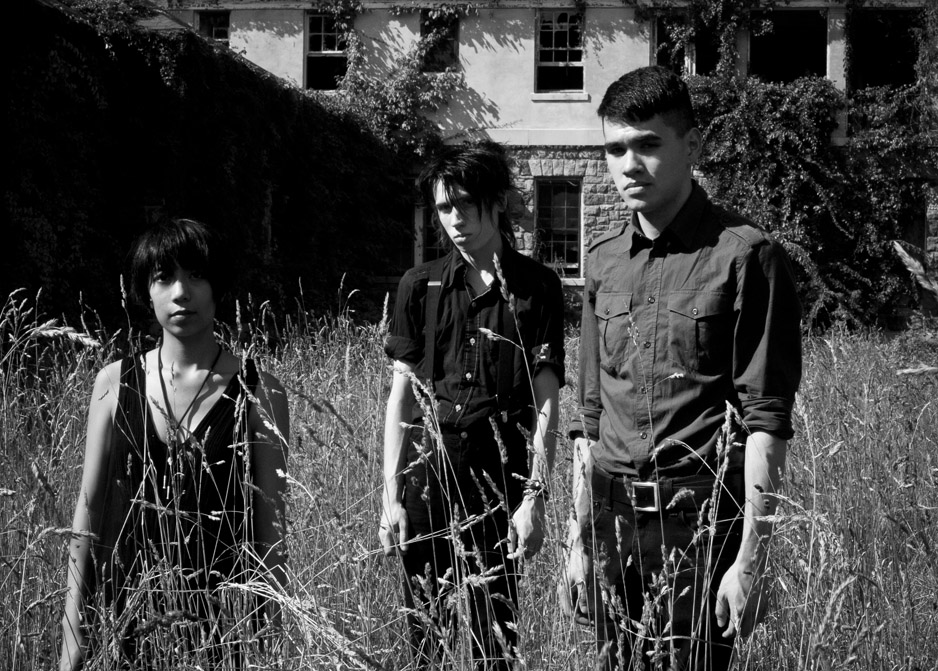 It's called "The Porter," and it's an austere, self-made fantasy, set in the ruins of Cold War East Germany.
Dream Affair is (L-R): Abby Echiverri (vox/synth/violin), Bryan Spoltore (bass), and Hayden Payne (vox/guitar/electronics)
Oh, to be so young but so, so cold… Meet post-punk trio Dream Affair, a Brooklyn-based trio that embodies the cultish cool of early 80s French darkwave with the resonance of a bleak, industrial backdrop. They make the kind of cool music that's cool without the biting sarcasm, the air quotes, scare quotes, whatever is implied in "wow, how cool" these days. I say this because whenever I tell people to check out Dream Affair, I'm like, "Listen to this, it's really, really cool." And I mean just that—cool, like the way you might describe an amazing rare record find not even your most music aficionado of friends know about. I've been to a bunch of their shows, and have often overheard attendees comparing them to the likes of the Killing Joke or Death In June and even once, "music that J.D. and Veronica would be into," which I totally get. It's the kind of music those gothy oddballs in cult films would be listening to while contemplating the sheer boredom of existence or whatever.
Even at their tender age, Dream Affair has a musical palette far beyond their years, which probably has to do with their early interest in obscure music, their obsessive record-collecting habits, and the experiences they picked up from their short but varied lives—like the summer they lived in Berlin and the European tour they played in support of their debut album, Endless Days, which came out last year. Taking those influences from their time spent in Europe, the band has recorded six new songs for a forthcoming cassette, Aborted State, out October 7th via Detroit label Nostilevo.
They also just released a video for their single, "The Porter", which we are premiering here today. It's an austere illustration of the desolate ruins of post-WWII Berlin after the Soviet takeover. The self-made video shows the band members in a loose interpretation of the story behind the song: a German woman who falls prey to her Soviet predator, only to realize that they are co-dependent on each other. A third character, a voyeur, lurks in the distance, both prey and predator unaware of his malignant intentions. It is creepy and unsettling and I absolutely love it. Check it out:
Can't get enough? The band will also be releasing a 12" of Aborted State on the Toronto label Artificial Records early next year. But first things first—they're playing a show tonight with Merchandise at Saint Vitus in Brooklyn, NY and it is not to be missed - you can get more info on that right here. I'll be there, so come say hi to me - I'll be the one wearing all black.
Make sure to check out some upcoming tour dates from Dream Affair. Tapes will be available to purchase at any of these shows, before the official release date:
Dream Affair Fall Dates
9/14 - Brooklyn, NY @ Saint Vitus Bar w/ Merchandise, Rosenkopf & Siamese Twins
10/1 – Allston, MA @ O'Brien's Pub w/ Timeghost & Amobriax
10/2 – Montreal, QC @ Thee Olde Silver Door w/ Police des moeurs & Chevalier Avant Garde
10/4 – Toronto, ON @ Party Time Punk House
10/5 – Detroit, MI @ Garden Bowl w/ Ritual Howls & Liable for Abuse
10/6 – Chicago, IL @ The Burlington w/ Staring Problem, Cemetery & Mines