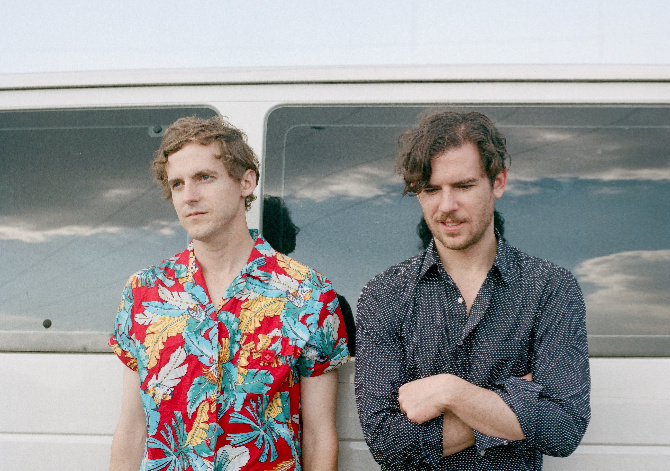 Keep your legs out—summer's not over yet!
I'm wearing pants right now. I haven't worn pants in months. My legs are sad. They're saying to one another: "Summer's over dude. We'll be locked up, encased in woolly tights or a denim prison for the next six months. SIGH."
Legs! It's OK! Summer's not over because every time you spin Generationals' new record Alix you'll want to throw on your shortest shorts (no underbutt though please), find the nearest bank of sand bordering a body of water (commonly known as a beach) and dance like it's the beginning of August and carefree days are still stretching out to a distant, shimmering horizon. Pass me that piña colada.
Out on 9/16 via Polyvinyl Records, the New Orleans duo's fourth album is a compendium of sparky, falsetto and synth-driven indie-pop. Like MGMT before they fell down a psych-K-hole, boys who could pass as girls never sounded so sweet. Please listen to "It Took a Minute" and "Reading Signs" for further evidence. So good.
Pals since high school Ted Joyner and Grant Widmer decided to rope in Richard Swift (The Shins, Tennis) on Alix production duties. They had this to say about the experience: "Going to work with Richard Swift was both terrifying and horrifying. Did he put us through the wringer? Yes. Had we ever worked harder in our lives? No. Did he force us—physically at times—to look inside ourselves and face the dark emptiness in our own hearts? Yes, he did that. So when you ask us did he teach us about life and show us our true selves? Fucking without question."
Damn. It's pretty awesome that Richard's operating as a therapist and record producer these days. BARGAIN. And if this is what the emptiness of their hearts sounds like, I'm packing up all my short-shorts and moving in.
Kim's bummed about September, although soon she'll remember how winter is a great excuse to eat a lot of mashed potatoes and watch a lot of movies. She'll be fine. She's on Twitter - @theKTB
---
More indie stuff to make you feel goooood:

Ariel Pink Releases New Song "Put Your Number in My Phone," Does His Best Drake Impression
"Nothing Clicks" by White Laces Is an Excellent Hangover Tune

Monogold's First New Tune in Two Years: "Holograms"