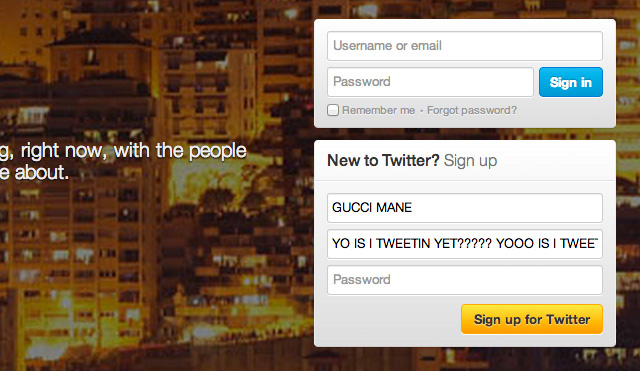 There really isn't much more to say beyond the headline.
Illustration by Alex Cook
This week, Havoc of seminal Queensbridge rap duo Mobb Deep got his Twitter hacked. This accounted for approximately 15 minutes of internet jokes before everyone forgot about it. At this point it's an incident that might as well have happened 10 million years ago, but because I'm currently responsible for the dumbest column in the universe, my editor immediately gchatted me and here we are. Nobody knows how Havoc's Twitter got hacked, but I would like to believe someone typed his name and "shookone" into the password field and grabbed access. So naturally, we figured it might be worth 10 seconds of your internet time to read our guesses ofwhat other musicians' Twitter passwords might be.
Rick Ross – wingstop
Noel Gallagher – 3hunna
Kanye West – headlikeahole666
Wale – e34dfm2od (never reset his password)
Paul McCartney – johnisdead
Nathan Williams – dothedew
John Maus - Thehumanunderstandingslowinitsadvancecouldnotstepatoncefromthetheologicalintothe positivephilosophythetwoaresoradicallyopposedthatanintermediatesystemofconceptionshasbeennecessarytorenderthetransitionpossible
Jay-Z – illmatic
Skrillex – mariasherman
How To Dress Well – boyzdontcry
Justin Bieber – girlskissingirls
AC/DC – acdctwitter11111
Ezra Koenig – Bilderberg4Life
Avicii – drewmillard
Taylor Swift – joandidion
Patrick Stickles – generationwuss
Baauer – boulevardofbrokendreams
Nas – madeulook
Drake – iamdrake
Peter Hook – seriouslyhowballerisageofconsent
Future – andiwilltry2fixU
Hunter Hunt-Hendrix – killemall
Trey Anastasio – noiseydotcom
Zachary Cole Smith – fuckitlol
Luke Winkie's Twitter password is something about living in Texas. He's on Twitter — @luke_winkie