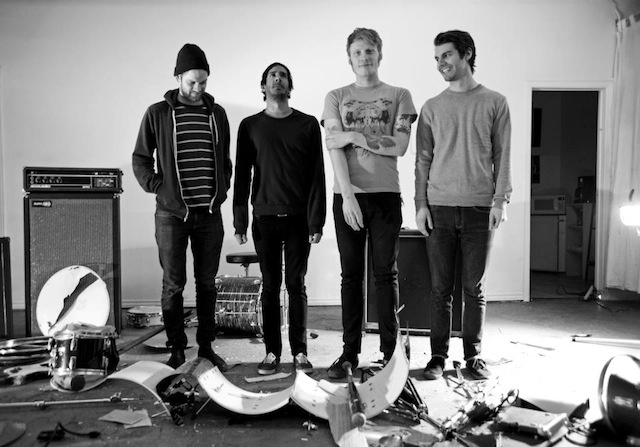 Check out the video where each band covers the other.
No matter what Almost Famous tells you, touring is fucking hard work and it's not all coke, sexy "band-aids" and mountains of beer. Most of the time you are cramped into a van, smelling farts that have baked into the upholstery from a week ago, and all you want to do is JUST. GET. OUT. AND. PLAY. Did I mention that you literally have to share everything and be OK with being bored out of your skull?
Sometimes sharing things is OK between tour mates though, like the case of Greys and Dirty Nil, who each swapped a song to cover in the studio. The video sees Greys covering "Nicotine" while Dirty Nil covers "Guy Picciotto" and both videos make their debut here today. Check them out below.
Maybe the two bands will swap songs on the road too? Catch them on tour at the dates below. And for god's sake, bring them some drugs, a kiss, a tray of lasagna, or some shit.
Greys - Nicotine from Amanda Fotes on Vimeo.
The Dirty Nil - Guy Picciotto from Amanda Fotes on Vimeo.
GREYS and DIRTY NIL on TOUR
8/14 Pittsburgh, PA @ Gooski's
8/15 Washington, DC @ Far Out House
8/16 Baltimore, MD @ Holy Underground
8/17 Philadelphia, PA @ Kung Fu Necktie
8/18 Brooklyn, NY @ Baby's All Right
8/19 Providence, RI @ AS220
8/20 Allston, MA @ O'Briens
8/21 Easthampton, MA @ Flywheel
8/22 Montreal, QC @ Turbohaus
8/23 Ottawa, ON @ Gabba Hey
9/6 Guelph, ON @ Van Gogh's Ear
9/12 Hamilton, ON @ Supercrawl
9/13 London, ON @ Call The Office