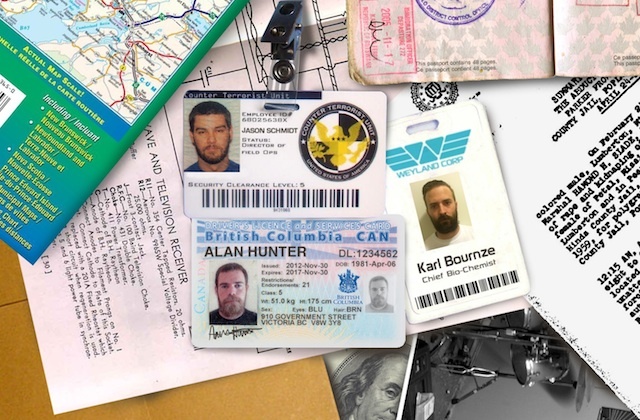 Check out the brutal new track, exclusively at Noisey
You know what there is way too much of in punk and metal? People who take themselves too seriously. Dude, I get it. Punk is catharsis. You're mad about not being able to buy those super rare Nikes at the mall and now you want to mosh it out. Life is hard.
You know what is way too little of? Bands that can poke fun of all of this seriousness, yet actually craft songs that make you want to pay attention. Bands like Hard Skin and Graf Orlock.
Graf Orlock are a serious band, crafting excellent release after excellent release with elements of grind, hardcore, and punk. The difference? Graf Orlock's songs are inspired by and written about ridiculous action movies of yesterday, cinematic achievements like Bad Boys 2, Terminator 2, Demolition Man. and Jurassic Park. In the tradition of their previous works is the Trailer seven-inch, the band's latest release due this month and a primer for the forthcoming Crime Traveler LP due this fall. Stream the new track "A Decent Proposal in a Shitty Alley" below for the first time and order yours via the label.
Catch them on the east coast in August at the dates below.
DANGERS / GRAF ORLOCK / HOLY on TOUR
Aug 9 - Washington, DC @ St Stephen's
Aug 10 - Columbia, SC @ Foxfield
Aug 12 - Atlanta, GA @ 529 Bar
Aug 13 - Nashville, TN @ Cafe Coco
Aug 14 - Louisville, KY @ Haymarket Whiskey Bar
Aug 15 - Detroit, MI @ Don't Call It A Fest
Aug 16 - Chicago, IL @ Mousetrap
Aug 17 - Erie, PA @ The Alamo (matinee)
Aug 17 - Pittsburgh, PA @ Mr Roboto Project
Aug 18 - Buffalo, NY @ 1239 Niagara St
Aug 19 - New Britain, CT @ Pulaski CLub
Aug 20 - Somerville, MA @ Cuisine en Locale
Aug 21 - Asbury Park, NJ @ Wunderloft
Aug 22 - Brooklyn, NY @ 538 Johnson
Aug 23 - New York, NY @ ABC No Rio (matinee)
Aug 23 - Philadelphia, PA @ Golden Tea House