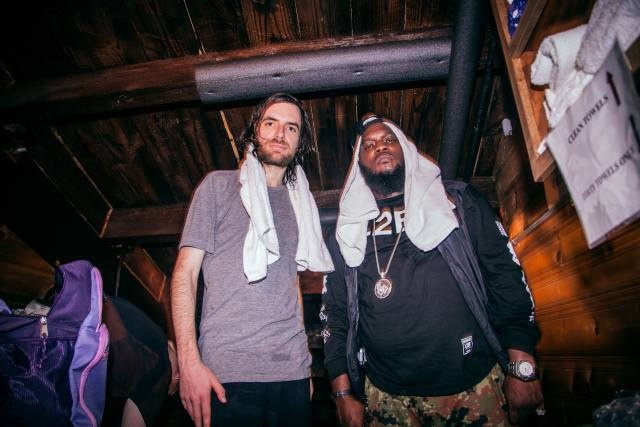 We talked about mashups, Ice Cube, and the weird state of rap labels.

Photo by Andrew Strasser
If you didn't already know Girl Talk was involved with Broken Ankles, you still wouldn't after listening. That is the best way for me to assuage your concerns that a Freeway EP produced by Girl Talk would find the strong-arm rapper riding beats made from sparsely flipped Iron and Wine samples. Instead, Girl Talk provides a satisfyingly live backdrop for Philly Freezer to attack the mic. His production isn't just capable; it actually evokes some of the bombast and pageantry that made early 2000s Just Blaze so amazing. With Young Chris and Jadakiss showing up for guest spots, Ankles is a decent approximation of golden age Roc-A-Fella.
Over lunch in Tribeca, Freeway and Girl Talk fleshed out their work process and explained how they decided on an EP as the final product. Girl Talk also clearly laid out the connection between his mashup days and the production on Broken Ankles, while Freeway opined on the future of State Property. (For those interested, he also ordered two types of cheese on his burger.)
How did you guys link up?
Girl Talk: I reached out to Freeway. Last year I only did a handful of shows, like 20 shows or something, and that was pretty light for me. Normally I'm working on stuff that's going to go towards the show, but I had some time off, and I started making beats. I had the idea to do something that was like one of my albums mixed with a rapper, and I thought Freeway and I would be a good fit. I didn't explain what I wanted to do because I thought it ended up turning out differently that what I thought it was going to be.
What did you think it was going to be?
Girl Talk: Initially the idea was to make it more of a breakneck pace where like the beat would change every 30 seconds and be linear and more experimental. I still want to do something like that with Freeway eventually.
Freeway: Every time you explain that I get excited because I'd love to do something like that.
Girl Talk: But at the time we started doing songs and just liking them. It was kind of like my normal style of work, where he recorded so much and I chopped it up and made a collage out of our body of work. But once we started making the songs I felt like I would be kind of ruining it if I sliced it up the way I initially thought I would.
That reminds me of old Bomb Squad, like Ice Cube's Amerikka's Most Wanted and stuff.
Girl Talk: That's like my favorite album! I was imagining it like that, just linear, blast through, but once we started recording it was taking shape differently than I thought it would. In a good way.
So you recorded the whole thing in Philly?
Girl Talk: Yeah, I did like a week out there, and then I was doing shows, and Freeway was doing shows. And he kept going back to the studio and recording, and we'd jump on the phone every night and talk it over. So we kept working even when we weren't together. Then we wrapped everything up with a day in New York where we kind of fine-tuned it. But we actually have about 30 full songs with at least two verses and a hook on it. We could have put out, like, a double album. I tried a bunch of variations, and what we ended up putting out is what I felt the most strongly about.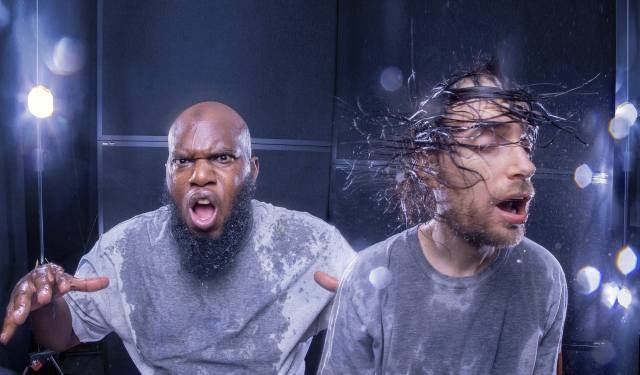 Photo by Andrew Strasser
An EP is an interesting choice of format.
Girl Talk: I like short albums, I like short shows, I like everything. A 40-minute LP is really tight to me.
What's your daily Adderall dosage?
Girl Talk: (Laughs) The funny thing is I feel like something like this is kind of ADD-ish, but at the same time it's intended to be like a 20-minute listen. It's the opposite of a record where people are going to skip through and pick tracks. It's 20 minutes that you want to listen to front to back.
Especially where rappers are putting out tapes with 30 tracks on them.
Girl Talk: Yeah I always get so lost in that. I end up knowing maybe the first six songs.
I think mashups are corny, but it really is interesting to hear you frame what you do in the context of hip-hop history.
Girl Talk: For me it's like… I like what I do, and I'm proud of my work. And I think it's really superficial to attach a label to something. It's very fashionable to not like a mashup in 2014. But at the same time, it's kind of like I'm more interested in the gradient of where that begins and ends. To me it's never like "mashups are cool" or "mashups aren't cool". To me, Amerikkka's Most Wanted is a mashup in certain ways.
It's something I've always had an issue with even dating back to the earliest Girl Talk work. That line is drawn because certain people who do mashups, it's all they do, and it can be put on at a novelty level. So I think with my albums I want to try to transcend that novelty and make something else out of it. I mean Endtroducing by DJ Shadow is a mashup album. So this is the next step. It's a gradient. It isn't in it's own box—it's connected.
Dudes have been making blends for 25 years.
Girl Talk: Yeah, the idea existed for 25 years before the word mashup even existed.
My beef was always going to hear you and seeing girls get naked to one-tenth of a song I love, then going somewhere else and hearing the whole song without the same reaction. It's like, why do you only like it when it's over Modest Mouse?
Girl Talk: I get it. Like, when I go out dancing I want to hear the full song. I've said this over and over again: I'm trying to make it its own entity. I'm not trying to play these songs. You're going [to see me play] to hear something else. I don't like the novelty of 'we don't like these songs on their own but now they're together!' I sample shit I like, and I always want it to be respectful to the original song.
I felt like this EP and working with Freeway was a really good way to be like 'This is what I do. This is the same thing I've always done. Freeway's here, and I've sampled Freeway's vocals before.' And it's funny because I think some of my fanbase is not into it on some level, but a lot of them are. And for me it's like… the actual technical side—using a sample, cutting it up. There's even a cut-up Biggie hook on [the EP]. That's a mashup on this record. It was good way to transcend that.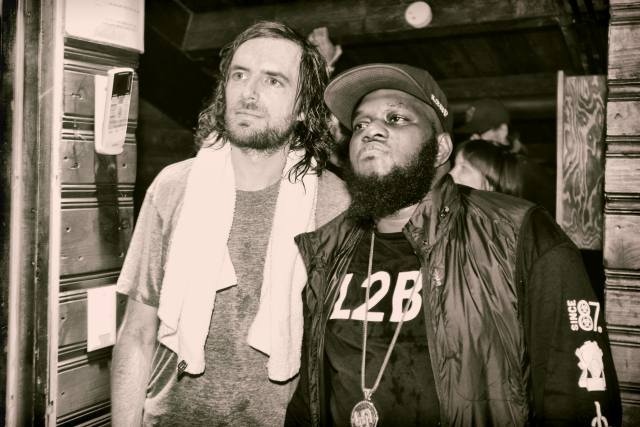 Photo by Jimmy Giambrone
Free, what was your opinion on mashups coming into this?
Freeway: I'm pretty open-minded. I was just excited to work. He sent me like 80 beats! I started going through the beats, picking out which ones I wanted to fuck with. Then we just went in and started knocking joints out.
Did he give you tracks with multiple beats woven together, or did he send individual loops with the idea of stitching them together later?
Freeway: It was actually separate tracks. When I went into it, I was just making songs like 'this would be a cool song, this would be a cool song.' Then when we actually got in the stu' and started working, that's when we actually figured out how it was gonna come out.
Are you just pretty much in the studio recording whatever and worrying about the release process after that?
Freeway: For the most part. Like right now I'm working on an album, but during the year I'm just in the studio working just seeing what I come up with.
What was it like to pivot from a level of commercial rap stardom to the indie world as the landscape changed?
Freeway: Well when everything happened with the breakup, with Roc-A-Fella and all that, it took me a couple months to get over that. But then I just went back to what I normally do, and that's work hard. Even before I got signed to Jay, that's what I was doing. Grinding, trying to get on.
You were in the studio anyway.
Freeway: Yeah, and I already had the name.
What happened with the rumored Cash Money deal?
Freeway: I never signed to Cash Money. They wanted to sign me, but I was doing a deal with Rhymesayers at the time.
Girl Talk: I love that.
That's so weird.
Freeway: I was just with Baby. We did a joint in Miami!
Fifteen years ago it would have been totally insane to not be able to work with Cash Money because you were signed to Rhymesayers.
Freeway: It was pretty insane, but you know I got Baby on the Rhymesayers album!
What's the status of State Property?
Freeway: We workin'. Me, Chris, Neef and Peedi are always working. Oschino just came home from jail Friday. Hopefully when Beans gets home we'll be ready to get some State Property stuff going.
Flocka was an interesting choice for a guest. It's interesting to hear him get out his lane.
Girl Talk: It's funny hearing him talk about the track because he's like, 'We invented a new style of music!' I think he's just not used to being on a beat like that. We had a few different ideas for that one, but Flocka was the one that fit the energy really well. He kept saying he was a fan of Freeway, and he knew he had to come with his rap shit.
Given that it's been a decade since you guys were beefing, I'm assuming it wasn't weird working with Jadakiss.
Freeway: Yeah, you know, we're grown men. Me and 'Kiss just had a party together at Myrtle Beach over Memorial Day weekend.
Do you have any good embarrassing Jay Z stories?
Freeway: I've never really seen him do anything embarrassing! I don't even think I'd seen him sleep until like three years after I was in with him.
Skinny Friedman's life is a mashup, if you think about it. He's on Twitter - @skinny412
--
Want more cool rap collaborations? Check these out:
Cocaine Cowboys: Freddie Gibbs and Madlib Ride the White Horse into the Sunset
G-Side Called Each Other on Their Birthdays and Decided to Make Music Again
Honestly, @Seinfeld2000 Intarviewed A-Trak About Cam'ron, Dipset, Kanye, and What Sienfeld Would Be Like If It Still on Televisien
My Friends Ducko McFli and SkySense Produced the New Drake Song, so I Called Them to Talk About It