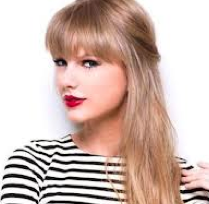 We've actually got a pretty good argument here.
Taylor Swift is the absolute best at having all of the feelings that other people also have and then writing pop-country songs about them and when she came out with Red she was the best at being the best. If thinking Taylor Swift wrote an album that reflects my own tragic legacy better than Japandroids is wrong, I don't want to be right. Dissolving into a quivering ball of frayed nerves is what pop music is meant to do. I'm not saying Red should be the consensus Album Of The Year, but I will say it makes a pretty good argument. Here's why.
50. She throws in little details in her phrasing. Like her southern drawl when she says the word "hipsters"
49. "State of Grace" kinda sounds like "Beautiful Day."
48. "Red" fools you into thinking that "loving him is like driving a new Maserati" is a compliment.
47. "Whe-EEE!"
46. The guitar wail after she yells, "Burnin' red!"
45. It's kinda like a Proclaimers album.
44. She says "uh-oh" before the chorus. You know which song I'm talking about.
43. "We Are Never Ever Getting Back Together" exists because Taylor Swift knew it would be giant and torture her ex, which is kinda like Michael Jordan destroying Isiah Thomas out of pure interpersonal hate.
42. Every song in the world should be called "Sad Beautiful Tragic."
41. It's kinda like a Passion Pit album.
40. Tasteful ukulele. Tasteful dubstep. Tasteful oversharing. Tasteful everything.
39. "I'm pretty sure we almost broke up last night" is exactly how it feels.
38. The world needs an album full of sad country songs about dating Jake Gyllenhaal.
37. "Every time I don't, I almost do."
36. It's really fun to pretend "I Knew You Were Trouble" is about Conor Oberst.
35. Jake Gyllenhaal, who "I Knew You Were Trouble" is actually about, is like ten years older than Taylor Swift and that's kind of fucked.
34. She lets Gary Lightbody get the first verse.
33. That "indie record that's much cooler than mine" line is way more tasteful than you'd ever expect.
32. It's kinda like an Alanis Morrisette album.
31. Being incredibly self-conscious about your relative hipness has never been articulated better.
30. It contains at least the third or fourth best song called "Starlight."
29. The word "duchess" doesn't really fit but hearing her force it is kind of adorable.
28. "I want to hang out with you for my whole life."
27. It's a way better album than Prince of Persia.
26. It might actually be better than the new Mountain Goats album.
25. "Your sweet disposition/My wide-eyed gaze" is the kind of couplet Taylor Swift was put on earth to write.
24. Best use of nylon-stringed guitars since the Trackmasters did it.
23. Taylor Swift has developed the smokiest voice in the known universe.
22. Taylor Swift might be a horrible, over-possessive girlfriend, but she writes really good songs about being a horrible, over-possessive girlfriend.
21. It's okay to cry sometimes.
20. "In my dreams you're touching my face" is a pretty heartbreaking thing to say in a song about reconsidering getting back with an ex.
19. Someone has definitely played "We Are Never Ever Getting Back Together" over speaker-phone to a shitty ex-boyfriend and that is a beautiful thing.
18. "22" is actually a philosophically horrifying song about fucking randos when you think about it hard enough.
17. It's kind of like a Jeff Buckley album.
16. "You always said you didn't get this song, but I do."
15. Everyone wishes they could write a song like "Begin Again" and use it to close their album.
14. It's not as long as Kill for Love.
13. Bruce Springsteen wishes he wrote "All To Well."
12. It's the great American 21st century heartland rock album written by a 22 year old blond girl.
11. Synthesizers.
10. Red has more in common with good kid, m.A.A.d city than you might initially expect.
9. Red has better bonus tracks than good kid, m.A.A.d city.
8. It's also one of the best roadtrip albums of all time.
7. It's also also at least partially responsible for the broken chair I'm sitting on.
6. "He was long gone, when he met me." Ouch.
5. It does not have a song about Tim McGraw.
4. Taylor Swift is willing to write uncomfortable lines specifically about crying in a bathroom.
3. "We blocked the noise with the sound of 'I Need You,' and for the first time I had something to lose."
2. Red makes me wish it came out when I was 16 so I would have known everything was going to be okay.
1. It's kinda like a Brand New album.