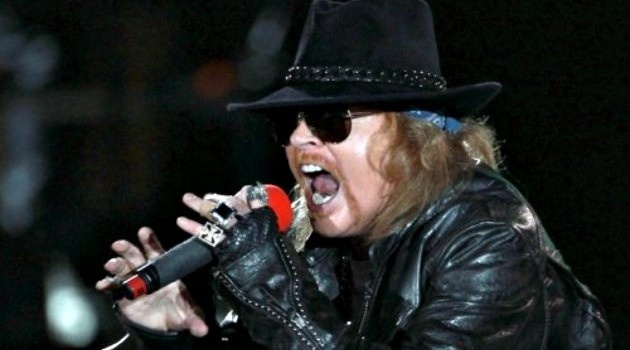 Luke Winkie has officially lost it.
Scene One
[A disheveled, unorganized practice space, somewhere
in downtown L.A. All five members of Guns N Roses are sprawled out
on the couches. A tired Axl Rose rubs his forehead.]
AXL
How about a zoo tour? Like, we'll play shows in all of the world's most famous zoos. I could ride an elephant on stage.
SLASH
Poison already did that.
[Slash finishes making his drink and sits down at the cigarette-burned coffee table, his tattered top hat in his hands.]
Besides, there ain't any money in zoology. Trust me, I would know.
IZZY
Plus, why do you always get to ride the fucking elephant?
[Izzy looks out the window into the audience, his face consumed with jealous contempt.]
SLASH
Maybe if you weren't such a jeans-wearing sissy-boy rhythm-guitarist, you'd get to ride the elephant.
IZZY
[Stands up, agitated.]
Fuck you, Slash. You think you can boss me around just because you wear that stupid top hat? I BOUGHT you that fucking top hat!
SLASH
[Stands up, breaks a bottle of whiskey into a shiv.]
THIS TOP HAT IS MY FUCKING BIRTHRIGHT.
DUFF
Woah, things are getting a little too real.
AXL
Guys! Guys! Guys! Calm down! We're a family here, remember?
[Slash and Izzy eye each other, and slowly sit back down.]
Geez, everyone has been so on-edge lately, what's been going on?
SLASH
I don't know, Axl, ever since Use Your Illusion dropped, we haven't had much direction as a band. I mean yeah, the record slayed, the shows have been rocking, the videos have been fuckin' poetry-
DUFF
[Interrupting] And there was that awesome illuminati thing!
SLASH
Shut up, Duff. Anyways, what I'm trying to say is I don't think we have the same juice anymore.
AXL
Juice?
SLASH
You know—the danger, the edge, the feeling that anything could happen. We don't party the way we used to. I go to bed when the sun is down.
DUFF
I was wearing a goddamn polo shirt yesterday. A polo shirt.
AXL
Oh come on, guys. We can still party like the old days! Let's get crazy right now!
SLASH
Hell yeah!
[Injects paint thinner into both eyeballs.]
[Does a vial of cocaine off his own inner thigh.]
[Puts on a crown of thorns.]
Somebody call Tracii Guns!
IZZY
Yo Steven, remember that night we had with that crazy chick in Monterrey?
STEVEN
How could I forget?
IZZY
Let's do to this VHS tape what we did to her!
[Sticks VHS Tape in blender, STEVEN gathers around, both inhale the fumes.]
AXL
Alright, guys! Look at us. This feels like the old days, right?
[Everyone in the room stops, looks down at the ground.]
[All band members start sobbing for 5 minutes.]
SLASH
[Wiping tears from eyes] It's just not the same, Axl. It's just not the same.
AXL
Oh don't worry, guys, I'll figure something out. But let's call practice for today. Good luck getting home, everyone.
[Exuent]
Scene Two
[A dusty old church, early in the morning
of the next day. It is, in fact, the same church
from the "November Rain" video. Axl is alone
sitting in the front pew, looking deep in thought.]
AXL
Why doesn't Clapton ever return my calls? Shit. I've got to think of something. Maybe Misfits covers? N,o that would never work…
[Axl puts his head in both hands.]
Are you there, God? It's me, Axl. I know we haven't talked in a while, but I need you right now.
[A figure mysteriously emerges from the shadows beneath the stained-glass fixture.]
DAVID BLAINE
Oh Axl, I knew you'd be back.
AXL
David! I thought you were dead!
DAVID
Axl, you should know by now to never believe what your eyes see.
AXL
You were literally on fire, you told us to go on without you.
DAVID
You know I'm very resourceful.
AXL
[Chuckling] Don't I ever! Anyways, it's great to see you David, but I was here because I wanted to talk to God.
DAVID
Oh really, [to the audience] isn't that a coincidence? But Axl, I'm sure I can still help.
AXL
Oh man, David, Guns N Roses is on the ropes. We're running out of ideas, Izzy and Slash are fighting every other week, the Illuminati cut us off. It's really bad. I don't know where else to turn. We just wrote the greatest double album in the history of mankind. How on earth do you top that?
DAVID
Axl, I think you know the answer, if you just try to be true to yourself.
AXL
What the Hell does that even mean?
DAVID
What have you always wanted to be, Axl?
AXL
The sexiest and most artistically-complete singer/playboy/actor/spaceman in the world, duh.
DAVID
Exactly, what have you always wanted to be?
[Axl ponders the question for a few moments, and suddenly looks up, stunned, eyes wide.]
AXL
…Bob Marley
[David smiles.]
David I… I have to go.
[Starts to exit stage left.]
DAVID
Do what you must do, my child.
Scene Three
[Back in the practice space, the members of
Guns N Roses look just as depressed as yesterday.
A manic Axl Rose bursts into the room.]
AXL
I've got it! I've got it! Guys, I figured it out!
SLASH
Woah calm down dude, what's going on?
AXL
I've finally figured out the next step! I know where we're taking Guns N Roses next!
STEVEN
Well, what is it?
AXL
Two words: Reggae!
SLASH
What?
DUFF
Um…
IZZY
Isn't that, you know, isn't that ethnic music.
AXL
Izzy!
IZZY
I'm just saying, guys, like—not that it's not good or anything, it's just, you know… I'm not necessarily comfortable… You guys, I'm not racist, okay?
AXL
Anyway… We're going to start doing reggae! Starting tonight! I just booked us a sold-out show at the Palladium.
SLASH
Woah woah woah woah! [Standing up] I thought this was supposed to be, you know, a band, man. You're being some reggae fascist, dude.
AXL
What do you mean, guys?
DUFF
We mean you can't just bust in here saying we're going to be a reggae band now! We're all supposed to be involved in the decision-making.
AXL
Duff, if it was up to you, that Toto cover would've ended up on Appetite for Destruction.
IZZY
That's besides the point. You can't just assume we want to give you some reggae.
AXL
What if I told you we got Slightly Stoopid as our opening act?!
[Everyone groans, Duff punches the wall.]
[Slash mutters something under his breath.]
What did you say, Slash?
SLASH
[Slash looks up, a flash of anger in his eyes.]
I said… I said I'll play reggae when China has a fucking democracy.
DUFF
Woah…
STEVEN
Dude…
IZZY
Low blow…
AXL
[Voice wavering, nearly in hysterics] F-F-FUCK YOU, SLASH. [Bursts into tears.]
SLASH
You heard what I fucking said.
AXL
I DON'T CARE WHAT ANY OF YOU SAY, I'M STARTING MY OWN REGGAE BAND, AND IT'S GONNA BE WAY BETTER THAN VELVET REVOLVER.
[Storms off stage left.]
IZZY
Well, I guess that's the end of that, then.
SLASH
Yeah… I guess so.
Scene Four
[A dusty office, replete with mahogany furniture,
a sign out front reads "BAND AUDITIONS."
Axl sits thoughtfully, reading glasses on, and a pen
in his mouth. His assistant Suzy sits quietly by the door.]
AXL
Okay, finish this line: "Take me down to the Paradise City where the grass is green and…
SCOTT PELLEY
And I feel real silly?
AXL
NO! Goddamnit, Scott Pelley. Okay, let's try this one more time. "Now and then when I see her face it takes me away to that special place…"
SCOTT PELLEY
I won a Peabody once.
AXL
GET OUT OF MY OFFICE.
[Trap door opens under Scott Pelley.]
Ugh, is there anyone else in line? Suzy?
SUZY
Besides Dee Snider?
AXL
Do I even need to answer that?
SUZY
Well, Chris Kristofferson was here, but he and Scott Pelley just left the building.
AXL
Goddamnit.
[Throws pen across room.]
I've got a show tonight and no band. What the hell am I going to do?
Scene Five
[Backstage at the Hollywood Palladium, Axl Rose
wrings his hands nervously.]
AXL
Is it too late for an "Axl Lion" joke? Shit.
STAGE MANAGER
Axl, you're on in five minutes.
AXL
Fuck! I guess it's time for those Misfit covers.
SLASH
Not so fast, Axl!
[Enters from stage right with the rest of the band, applause break.]
AXL
You guys! You came back!
SLASH
You know what, Axl? We realized that no matter what, Guns N Roses sticks together. If you think we should try and give 'em some reggae, then we'll give 'em some reggae.
AXL
Aw, guys! Do you really mean that?
STEVEN
You bet, buddy. After all, I'm a fucking rock star.
DUFF
My name is Duff, why would I give a fuck? I'm all in on reggae!
IZZY
I am, too. But Axl, there's just one thing…
AXL
What is it buddy?
IZZY
Can I… can I ride an elephant on stage?
[Everyone laughs.]
AXL
Of course you, can buddy. Of course you can.
[A single tear rolls down Izzy's rosy cheeks.]
Alright, guys. Let's get out there and give 'em some reggae!
[Curtains]
This is the most batshit insane thing we have ever had the honor of publishing. Follow Luke on Twitter - @luke_winkie
Previously - All the Songs I Listened to and What I Was Doing While Listening to Them Instead of Writing a Paper for My Southeast Europe in the 20th Century Class