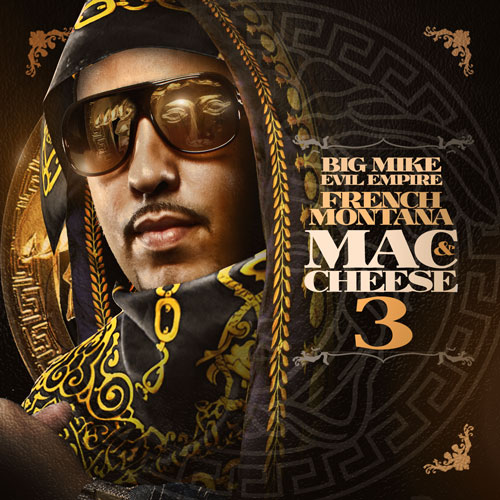 The "amuse-bouche" to French's debut album.
Now, I wouldn't say I was the biggest fan of French Montana, I've always sat around sour-faced thinking, "Jeez, ENUNCIATE YOUR WORDS FRENCH, C'MON" while everyone else bops along happily. But this latest mixtape Mac & Cheese 3 may have converted me, not least because the artwork is him airbrushed and sporting a Versace veil, but also because it's got a song that uses Chad Ochocinco's wife headbutting him as a metaphor for blowjobs and a random Ma$e guest spot. It really seems like ever since liking with Bad Boy Records French is stepping his game way the hell up. I mean he even bodies the same sample DJ Premier used to make Jay-Z's "D'evils," which is a pretty rad mission statement considering he got Harry Fraud, who's in many ways the Primo of this day and age, to do the beat.
Obviously, he's enlisted his producer BFF and my boo, "La Musica De Harry Fraud," who masterminds the super infectious track "Triple Double" with a little help from a sample of Ice Cube's "It Was A Good Day." But it also features some pretty heavy hitting production from Chicago teen Young Chop and seasoned veteran Swizz Beats.
Anyway, the mixtape is suppose to serve as an amuse-bouche (THAT'S FRENCH RIGHT, GEDDIT?) to Montana's debut album, Excuse My French due to drop early in 2013, which I'm really looking forward to now.