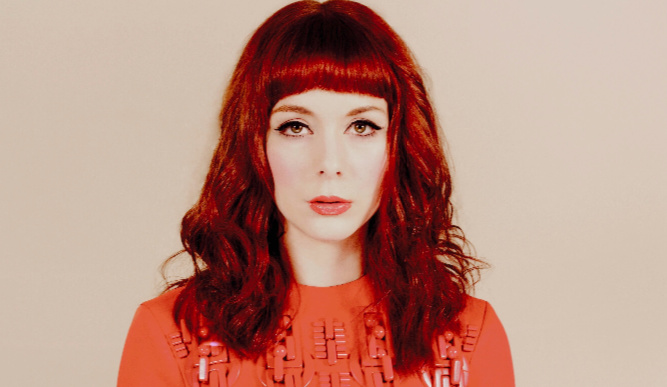 This feisty, forthright singer creates glorious noir-pop and her firsties and faves include a moment when she punched a lecherous boy in the face. Pow!
You can spot her in any crowd: alabaster skin and hair that flames red as a poppy blooming in the early summer. But it's when she opens her mouth that she truly holds attention. Catherine Anne Davies is The Anchoress, a London-based singer who drops her lit-infused, atmospheric pop record (with just the right amount of percentage of rock angles) Confessions of a Romance Novelist, today via Kscope. Think Shirley Manson meets Stefani meets Tori. Last month she released "You and Only You" featuring Philip Reach, which was a step way from the tunes she's been unleashing over the past few months: more ominous, more alluring, more glitchy overtures, plus this sleek video (below) which forces you to focus on the way a body can move to a beats. It's a video which she conceived and directed herself.
"I spent ten years training to be a dancer before an accident in which I broke my back and pelvis (and a few ribs) put an end to that particular dream for me," she explains. "And so I began to pursue another and started writing my own songs. It was bittersweet to make this video and put those pointe shoes back on for the first time, combining my two passions to make the video with the very talented Tom Payne and Martin Jarrett. My elevation and turnout is majorly restricted since the accident so although my ballet technique isn't up to much anymore, it felt good to find a new way to express myself through dance. As with all things in life, it's good to find a way to be ok with our imperfections."
To celebrate the release of her record, we asked the brainiac singer (she's got a PhD, FYI) about her surprisingly explosive firsties and faves.
First kiss:
My first kiss was with a shy boy called Robert who had a beautiful bowl cut. We were hiding under the table at my first school. I was a barely five. As with all things, I was an early adopter and then decided to leave it there for a good long while.
Favorite accomplishment:
Not murdering one of the several men who definitely deserved it? But seriously, it's probably being the first person in my family to go to university and then somehow forging an academic "career" from that that meant I could carry on making music in London. Being a smart kid isn't the most fun thing so it's nice to feel like it's been good for something in the long haul.
First fist fight:
Same school… it was rough as hell and character building in the way that it completely unraveled my character from myself, left me incredibly traumatized, hollowed out, and lacking faith in the world. But on the bright side it left me very thick-skinned. This really weird older boy, who must have been about 12, kept lifting up girls skirts and pulling down their pants in the playground. No one was doing anything about it. My early feminist rage boiled up and I punched him in the face. I got suspended for a few days but he sure as hell didn't do it to anyone again.
Favorite taste:
"You're my favorite flavor..." If we're talking foodstuffs here, my whole relationship with food and taste centers around being one of three people in my family with coeliac disease (an autoimmune condition that is treated with a strictly gluten free diet). After a period of my life dominated by being very unwell and severely underweight, followed by panic attacks about being accidently poisoned by a stray crumb by waiters who think I'm on a "fad diet," I'm slowly getting back to enjoying the food that I can. My favorite thing right now is the pure cacao dairy free hot chocolate they only serve off the menu at Wahaca. It's like doing four espresso shots in one go. Amazing.
First disappointment:
The moment the school suspended me for punching the school pervert I realized that my sense of justice was not going to be upheld in what my parents referred to as the "real world." I was raised by them to have a strong sense of fairness that I quickly realised was not how the world actually worked. From here on in I decided I preferred books to both real life and real people. My mother prepared me at regular intervals for this so-called "real world" epic let down by telling me how disappointed I would be when I grew up to find that life "was not all one long party" full of music. You could say that I subsequently made it my life mission to prove her wrong and this year posted as many tour pictures on Facebook as possible whilst playing 80 shows in 12 different countries, basically having "one long party" full of music (with far less alcohol than I'd imagined though…). Unfortunately my mum isn't all that adept at using Facebook though, so it's somewhat lost on her.
First fictional crush:
In real life I have tended to crush hard on those displaying traits on the narcissistic to sociopathic spectrum. Early foundations were most definitely laid for this by Mr Rochester of Jane Eyre fame. When I wasn't daydreaming about being declared mentally unfit and being locked in the attic, I was planning on cornering Nicky Wire in the local library. Fiction has no place in the world of a girl with big plans.
First fashion faux pas:
The brown trousers they wanted us to wear at the aptly named weekend Brownie camp. I left shortly before I would have been forced to wear this abomination, citing irreparable emotional distress to my mum. These days I steer clear of sartorial trauma by sticking to my uniform of black leggings and vests underneath everything I throw on top. I also own five pairs of the same boots... JUST IN CASE.
First book published:
My debut album was supposed to come out first but due to a run of disastrous luck that left the album process spiralling onwards, I ended up publishing my book first. Bloomsbury approached me during the writing of my PhD on American epic poetry saying that they were interested in turning it into a book so I had the unenviable task of toning down 100,000 word treatise on sacrificial theory and the history of homosexuality into something a little easier to swallow. I realize how obnoxious that might sound but doing my PhD was actually how I managed to finance staying in London and making the album (as I happened upon the four leaf clover of my research interests being somewhat unploughed terrain). The book is called Whitman's Queer Children and has a lovely pink cover designed by my friend and talented photographer Roberto Foddai.
Favorite female you look up to:
My sister. She's always been taller than me. Anais Nin for forging her own way to live her life fully and richly whilst simultaneously writing the hell out of it. Shirley Manson for providing me with my first hair goals, as well as making me think I should pick up a guitar. And my mum, for weathering more trauma, loss and tragedy in her life than you could begin to imagine one person could take.
Favorite formative record:
The Holy Bible by the Manic Street Preachers. It turned me into a bookworm and literary reference hunter that changed the entire course that my life would take.'Faster' was the first Manics songs I ever clapped my ears on. I can still remember how it just completely stopped me in my tracks with its litany of literary name-dropping. There was no hope for me after that, and I was straight down to the public library ordering books by the armful and seeking out every old interview I could find of theirs.
First feminist moment:
Punching the school pervert aged nine?
Favorite dance move:
Entrechat quatre.
Favorite sensation
There's obviously only one honest answer to this, so in lieu of embarrassing my mum further I'll say the sensation that moves up from your solar plexus when you've spent 12 hours in the studio and you take a moment and realise you've just conjured something from nothing. There's no feeling like it. In fact, that actually might be better than sex.
Confessions of a Romance Novelist is out today via Kscope on all digital platforms and as a 22-page gatefold deluxe CD.