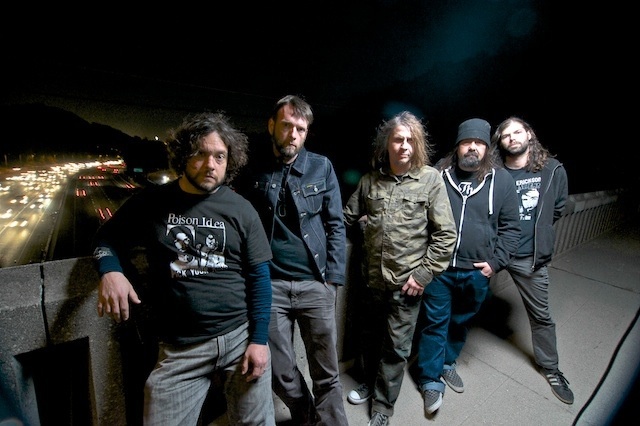 And yes, it totally RIPS.
Is there a single band that brings the pissed-off together quite like Eyehategod? Punks. Crusties. The bullet-belted. Dudes with Koi-tattoos. Dudes in leathers and high-tops. Even the khakis-and-baseball-hat set, basically anyone with even a spark of hatred in their heart have an undying love for the unadulterated nihilism of the New Orleans sludge-punk legends.

It's been a long, cold 14 years since we last saw an LP from the five-piece, having undergone their fair share of turmoil and disaster (natural and otherwise) since Confederacy of Ruined Lives. But now, in the wake of yet another tragedy from the band (RIP Joey LaCaze) comes another major triumph, the release of their new self-titled LP. The release, due via Phil Anselmo's Housecore Records on May 27, is the record that EHG fans have been waiting for, a stomping and venomous set of 11 tracks that reignite the band's amazing propensity for down-trodden, electric blues and with their late drummer LaCaze behind the kit. Check out a new track, "Robitussin and Rejection" below, but watch out for the whiplash. It's coming, we promise.
Pre-order the damn thing here.
Tour dates:
4/15/2014 Rock City Studios – Camarillo, CA w/ Bastard Noise
4/16/2014 Constellation Room – Santa Ana, CA
4/22/2014 Rock Shop – San Jose, CA
4/23/2014 Midtown Barfly – Sacramento, CA
4/24/2014 Branx – Portland, OR
4/25/2014 Rock Shop – San Jose, CA
4/26/2014 Dark Lord Day Festival – Munster, IN
4/27/2014 Ottobar – Baltimore, MD w/ High On Fire, Corrosion Of Conformity, Magrudergrind, Strong Intention, Ilsa