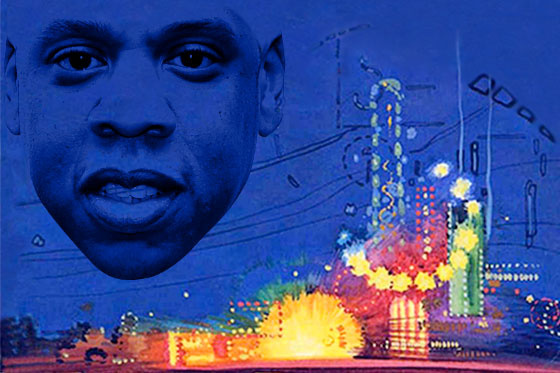 Imagine if Waka Flocka directed a horror film and Lex Luger scored it. WOULDN'T THAT BE PERFECT???
The last few years it seems ever up-and-coming rapper has at least one producer rise up alongside them pushing rap's sonic boundaries. Clams Casino getting major label credits with A$AP Rocky after working for years with Lil B or Young Chop working with some of the biggest rap stars after producing Chief Keef's breakthrough hit "I Don't Like". This increased prominence of rap producers will probably result in some rapper beginning to branch out beyond the rap world. Jay-Z helping with the soundtrack of The Great Gatsby movie makes one wonder about what other potential projects should be graced with Fruity loop beats and crushing 808s. Here are a few projects that some of rap hottest producers should try to get their names on:
Araabmuzik—NBA Games
Sample Listening - "Salute (Instrumental)"/"Streetz Tonight"
Araabmuzik started out producing for Dipset then moved to playing small live shows and is on the verge of being an EDM star while still producing for rappers like A$AP Rocky, 50 Cent and Swizz Beatz. Watching any video of Araabmuzik using an MPC shows the talent he possesses for live performance. Though some NBA teams still recycle through classic Jock Jams CDs, more modern sound engineers could give people another reason to go to a game besides plates of seven-dollar cardboardtastic nachos by hooking up Araabmuzik's MPC to the stadium sound system. Chopping up dubstep drops at intense dunks or maybe playing an off-note when the home team commits a turnover could be some is some of the simple stuff he could do. His breakthrough release Electronic Dream featured a lot of samples from House songs that were contemporaries of the shit that was on the original Jock Jams, so Araabmuzik could even remix "Pump Up the Jam" or "Everybody Dance Now" to spice up the next Blake Griffin dunk.
Cardo—Boyz N Da Hood (The Inevitable Remake)
Sample Listening - "Cardo's Groove"/"Mary 3x"/ Ban.n.e.d"
In 2010 with the release of Kush and OJ, Wiz Khalifa rose above his initial fall from major label graces and the failed ahead time single "Say Yeah." One of the highlights of that mixtape was "Mezmorized," a stoned track that was a piece of classic G-Funk for the Pittsburg rapper. The track was produced by Cardo, who has gone on to release an EP with Fools Gold and produce for Snoop Dogg, Domo Genesis, Freddie Gibbs and nearly every rapper that has a song devoted to weed.
Boyz N The Hood is over 20 years old and has never left the public's consciousness. Though if there were to happen a Will Smith progeny would probably end up in the movie and people would write it off, some people would still care about the music in the film. A lot of great West Coast producers (Dr. Dre, DJ Quik, Dam Funk, etc.) could do strong things with the opportunity; Cardo displays a sensibility that mixes classic West Coast tropes while stepping into EDM-ish fields, which would be a good update for a movie coming out two decades later.
DJ Mustard—Need For Speed: Underground 3
Sample Listening- "Make It Clap"/"I'm Different"/"R.I.P."
DJ Mustard has only been producing for a few years; before that he was a DJ and who worked mostly with Los Angeles rapper YG. The success of Tyga's Mustard-produced "Rack City" not only resulted in DJ Mustard having his presumably condiment-ruddy fingers in one of the biggest rap songs of 2012, but got his number on speed-dial for countless major-label rappers. His production has primarily struck to the rolling minimalism of "Rack City," but with each release it seems that his style and palate is expanding.
The Need For Speed video game series has been around for nearly two decades, but the last release in the Underground series back was in 2005. That soundtrack was a mix of popular rap, underground metal, punk and a little bit of House thrown in for good measure. Not awful, but certainly not as memorable as the heavy stomp of DJ Mustard's tracks could be great for the high speed neon races of this spinoff of the series is known for. Even if this cannot happen then at least put any instrumental from YG's latest mixtape on an action movie trailer—that what the "Rack City" video was and it was fucking perfect.
Lex Luger—Some Waka Flocka Flame-Directed Horror Film
Sample Listening- "No Romance"/"Live By The Gun"/"Everything Bricksquad"
Waka Flocka Flame has not directed a movie or music video, so this would be a first time effort for a rapper. Waka's recent videos are not close to anything like a horror movie, a few years ago some of his early videos like "Same Shit" or "Love Dem Gun Sounds" have a menace encapsulated his aggressive and adlib-stuffed music.
Those songs were not produced by Lex Luger, but they came out when Luger was working exclusively with 1017 Bricksquad. Luger's trademark looming dark synths created hits for Ace Hood, Rick Ross and even gave Waka Flocka a surprising second hit in "Hard in the Paint". It's highly unlikely anyone would probably give a movie budget to Waka Flocka Flame—though he and Gucci were in talks for a reality show—if the opportunity were to arise he should give a call to his old collaborator that knows how to use a haunting synth or two.
Nguzunguzu—Suburban Mall Department Stores
Sample Listening- Fact Mix/ "Timesup"/ "Warn-U (Nguzunguzu Megamix)"
The aforementioned producers are primarily known for their rap work, but that isn't the case with Nguzunguzu. They've DJ'ed for M.I.A., produced for rapper Le1f and have one of the best R&B releases of the last few years in their Perfect Lullaby mix, so it's not like they're not not rap producers. The duo breaks all genre boundaries and is not afraid to find the middle ground between Nicki Minaj and Night Slugs, making them perfect candidates to provide music for teens buying their fourth pair of Colombia pants despite never having gone hiking in their lives.
Lots of department store music ends up being either being a "Lite FM" station that resembles a Colbie Calliat Pandora station, peppered with the occasional cosmetics section misguidedly bumping techno. Neither of those options would be as good as hearing Nguzunguzu remix Kingdom or having them find the Cumbia in R. Kelly.
David Turner only attaches himself to seven-figure extravaganzas. Find him on Twitter - @dalatudalatu