London's Ebony Bones is part Santigold, part Bow Wow Wow. She writes and produces all her own stuff and dresses like the kind of crazy person you wanna get to know.
Photo: Tim Bret-Day.

South London's Ebony Bones first came to our attention back in 2009, when she released her debut album and proceeded to appear on "Influential Londoners" lists everywhere, while drawing comparisons to the likes of M.I.A. and Santigold, as well as Grace Jones and Björk.
She has since remained pretty hard to ignore with her outlandish stage shows/massive blonde afro/homemade costumes/cockney accent. Bones recently showed us her dark side with the release of her follow up record, Behold, A Pale Horse, an album of two acts, which she showcased in Brooklyn this week, wearing an outfit made entirely out of white hair. Obviously.
Noisey: Ebony Bones, you've got a new album out, what does it sound like?
Ebony Bones: It's a bit of everything actually, which I think is the quintessential London sound, it's a real mix of all the genres I grew up with. It's also much darker than the first album. It's a departure and tells a different story.
It is pretty dark. It's pretty epic actually…
The new album always sounds epic in my head, but I don't know how epic it sounds on tape. Although, on this record, it was amazing to have the freedom to grow and travel and do my own thing. I'm actually looking forward to the next generation of girls making music who aren't afraid to get behind the mic, but also to get behind the decks and produce. Music needs more of that.
So you do it all yourself?
Yeah, everything. I actually went to India on my own where I recorded part of the album in Mumbai, including the album opener ("Behold, A Pale Horse") with the Symphony Orchestra of India. I'd never been to India, never worked with an orchestra, but you learn through doing! Between that and recording with the London Children's Choir, this album was a real adventure.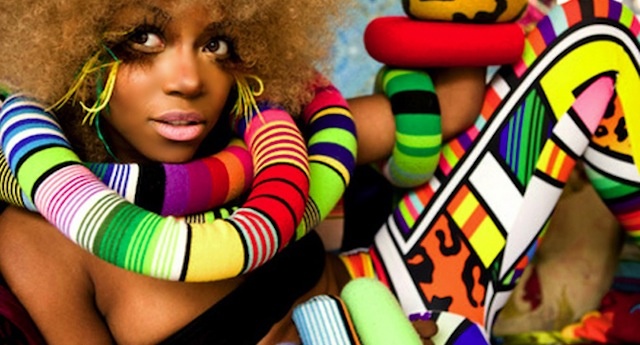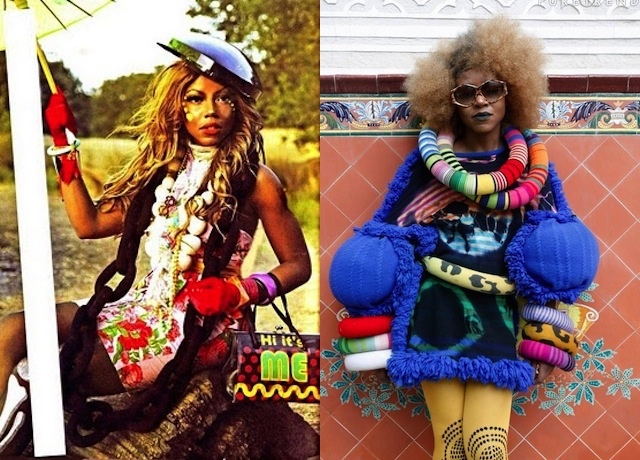 Some old shots of Ebony.

When you're not busy jetting around the world making an album, you're busy always looking incredible. How do you decide what to put on in the morning?
These days it's honestly whatever's the most comfortable. But most of the costumes I wear on stage I make myself. The new album is quite a departure from the aesthetics of my debut. The first album and first shows were before the time of Gaga and Katy Perry so there wasn't much cartoon couture going around, and I was, in my own way, rebelling against the perpetuated stereotype of women of color always being half clothed and running around the stage in basically swimwear. So the aesthetic was based on silhouettes, but it was also clownish in some ways, I love clowns. And that look worked with my hair too.
I can't imagine that cartoon clown look working as well with this album though?
This album is somewhat darker so the show is more about mystery. There are a lot of lasers and dark stages. We are living in a time where everything is out there in the open, and so you lose a lot of mystery. I like the idea of bringing that back. To be honest, I didn't have a bloody clue what I was doing on the first album, it was very much trial and error. But I was trying to escape the stereotype of the R&B Diva at the time, and put the fun back into live shows.
Plenty of people are paying attention to you these days, are you still making your own clothes or do people do it for you now?
Recently Alexander Wang debuted his new collection to a couple of songs from the album at fashion week which was amazing, and some of the costumes for the artwork on the album were created by an amazing Dutch designer called Iris van Herpen who does a lot of Björk's stage costumes. She's phenomenal—she creates sculptures rather than just clothes. Also I have quite wild hair so I wanted to be able to keep the wild hair, but then not play the clown anymore and still manage to reflect the mood of the album.
So no more making your own stuff?
Oh yeah I was making something on the flight over to New York just this week, I really enjoy the individual putting themselves into every part of something. I can't say I know a lot about fashion because I really don't. My mum spent twenty years working for designers like Yves Saint Laurent and Moschino, but I really just throw on whatever is comfortable at the time and make whatever I feel like.


Ebony now, shot by Tim Bret-Day.
Have you ever made something and thought, "This is actually too much"?
Oh yeah all the time, I cringle when I look back at pictures and think, "What the f**k was I thinking?"
Any particular car crashes?
I literally do it all the time, there has many a time where I've totally lost the plot and thought, "This is the one, this is the look!" Then six months later I looked back at a picture and gone, "Why didn't anyone say anything about this to me at the time?" But on stage you can get away with being quite theatrica,l so I guess that's part of it too.
It could have all been so different though, weren't you a child star before the music took over?
I was in a TV show called
Family Affairs
for seven years in the UK, day in, day out, from the age of fifteen. I also did bit parts on [classic British TV show]
Grange Hill
. They gave you a day off school and gave you forty or fifty quid to film, but you had to do schoolwork too, a certain amount of hours during the filming day. So everyone would bring all this schoolwork to set and then not do it.
You're heading back to the UK imminently, what's next for Ebony Bones?
Working on the live show for the new album, and then early next year I'm headlining a festival in Australia alongside Public Enemy, which is pretty exciting.
Yes it is. Ebony Bones' album, Behold, A Pale Horse, is available now. You should listen to it.
Unlike Ebony, Georgie's head is completely shorn of hair and she still looks ridiculously good. Apart from looking good with a shaved head she also hosts her show Pop Goes The Future on EVR every Friday at noon. She's on Twitter - @GeorgieOkell.
Style Stage is an ongoing partnership between Noisey & Garnier Fructis celebrating music, hair, and style.