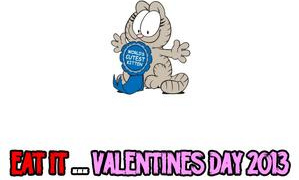 What does your favorite song on this mix say about you?
Eat It!: Valentine's Day 2013 by Skinny412 on Mixcloud
[Editor's Note: You might have noticed that we published a mix about doing sexy sex things literally like ten minutes ago. But it's Valentine's Day, so fuck it.]
WHAT YOUR FAVORITE RAP/R&B SONG ON THIS MIX SAYS ABOUT YOU:

Khia - "My Neck My Back"
You are often the coolest girl in the sports bar (in a real way, not in a "saddest clown in the circus" way).
Trillville + Kandi - "Eat It Up"
You have made love to a man who unironically owns a pimp cup.
HWA - "Eat This"
You have had erotic dreams about Eric Dickerson.
Ju'C - "Eat the Cat"
You rep your ward.
Trey Songz - "Eat It Up"
You want a man who can quote Will Ferrell.
N.O.R.E. + Tru Life + Peedi Crakk - "Eat Pussy"
You have a rooting interest in the World Baseball Classic.
Lil Wayne - "Pussy Monster"
You are 14 years old.
Rasheeda + Princess + Diamond - "Got That Good (My Bubblegum) (Remix)"
You have a favorite strip club.
SWV - "Downtown"
You take personal days to mourn Aaliyah.
Yelawolf + Diamond - "Lick the Cat"
You have a favorite stripper.
Danny Brown - "I Will"
You have a favorite porn Tumblr.
Kelly Rowland - "Kisses Down Low"
We should hang out.
Skinny Friedman will be celebrating his Valentine's Day by weeping softly and dabbing his tears with the sleeves of old So So Def singles. He's on Twitter - @skinny412