The Screaming Females Get Ugly
It's almost impossible to get promo copies from Don Giovanni, but i got the new Screaming Females record right here.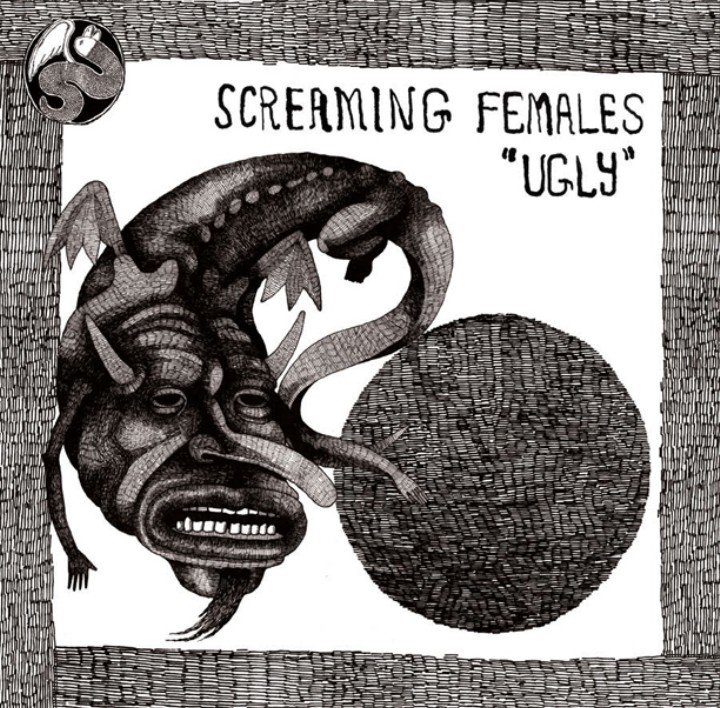 Since it's nearly impossible to snag any promotional or advanced copies from Don Giovanni Records, I had to hassle three of my best dudes to "do whatever you have to do to get me a copy of the new Screaming Females record before this Tuesday". This past Friday evening, the package was delivered.
I've been a great admirer and fan of the NJ trio since first experiencing them in one of many dingy, crowded New Brunswick basements. The "Screamales" were the perfect compliment to secondhand smoke and a warm forty. After just a few shows, I was certain that this group's performances would quickly outgrow their subterranean residency.
Years back, while hustling records in central Jersey, I was able to acquire a copy of their first record, Baby Teeth. The black and white artwork and simplistic, minimalist layout screamed DIY - the general vibe was a positive and proactive one. I'd end up enjoying the album and catching the group at various shows over the course of the next couple of years and Screaming Females would go on to blast out three more rousing albums and appear on more than half a dozen other various records.
Although I never really engaged in heavy conversation with any member, I've felt like I've known them in a sense:
"King Mike"Abbate - The towering bass player who gravitates toward the nearest couch at all times, and might grumble in your general direction if you're lucky enough to witness him break his public displays of silence.
Jarrett Dougherty - The happy-go-lucky business-oriented and humble drummer who sports a 24/7 smile and always seems to be on the move.
Marissa Paternoster - The illustrator and singer/guitarist whom, after witnessing her shred live for the first time, became responsible for about half an inch of dust that accumulated on my Telecaster.
One of the things that makes Screaming Females what they are is the difficulty people have in describing their unique sound. Their instrumentation has always indicated a heavy post punk and 90's influence, while Marissa's quivering vibrato vocals have reminded me of something musically older, such as late 60's/early 70's aggressive female folk. This attractive combination brought them to today, the day their 5th album Ugly was made available.
Here's the official video for "It All Means Nothing," the opening track on Ugly:
The band has expressed in recent interviews that they've got no interest in discussing what happened while in the studio with Chicago's infamous hothead technician, Steve Albini, so I won't speculate. What I can say is that Albini is a producer that Screaming Females fit well with. The group's songs both live and recorded have historically been guitar heavy, leaving the rhythm section as a secondary attraction. Mr. Albini would never have that and his production on Ugly proves just that.
The album opens with "It All Means Nothing," A track that doesn't hesitate to instantly take on an alternative rock identity (think of something that would have aroused David Geffin in 1994). The album then swings into a more melodic mood with "Rotten Apple" and "Extinction". Found within are bright single note lead guitars as well as a more classic indie feel throughout both tracks. "Red Hand" finishes off side A sounding like a suspenseful and meandering horror soundtrack lead by vocals that come off as a convincing wiccan narrative. Side B begins with "High", a song riddled with impressive but gratuitous guitar licks, followed by "Expire" (which in my opinion is one of the strongest songs on the entire album -- Perfect, percussively energetic, memorable).
"Crow's Nest" left me feeling emotionally reeled in and apathetic before abruptly catapulting me into "Tell Me No", the most manic of songs on Ugly. "Leave it All to Me" kicks of side C with chuggy guitars, poppy vocals, and stand-out bass chops. "Doom 84", a hard rock jam that finished up the C side parades riffs that remind me something between moments on Black Sabbath's Paranoid and Smashing Pumpkin's Gish. Gibby Haynes of Butthole Surfers fame walked into my shop as "Help Me" was playing and he b-lined for the turntable and said "Wow. Is this new music". We chatted about the group and the album and somehow the conversation turned to J. Mascais and Dinosaur Jr. "Something Ugly" the almost titular track (I love when that happens) is a speedy show of frantic staccato alongside an unapologetic and somewhat visual spewing of lyrical anxiety. "Slow Birth" begins to slow the album toward the perfect finale, "It's Nice", the folky departure track laced with sleepy violins.
Screaming Females are a band to be proud of. Regardless of their success and countless opportunities, the group has always found ways to maintain close relationships with bands and friends from their hometown and there's nothing worse than roots-forsaken rock stars. It's the sort of thing that makes one understand why they ended up working with the legend who produced the third and final Nirvana album.
You can buy Ugly right here.
Previously - A Blast-Off Mix For The Heaven's Gate Crew
If you live in New York, you can go bother Jeff at Black Gold Records in Carroll Gardens, Brooklyn.