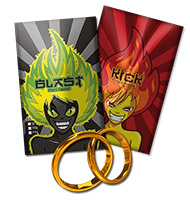 Kilbourne's multimedia meltdown mix.
We really don't know even what to say about this mega mix, but one look at the tracklist below is more than enough of a reason to head on over to Dis to stream the 35 minute musical meltdown.
Heaven 7 – Dance Me
Force & Jack Speed [ft. Lisa Abott] – Welcome [Dougal & Gammers Rmx]
DJ Exclusive & DJ 2-Raw – Vibrate Wit It 2K12
Sketch Droniic – You Make Me Feel So
Martillo Vago – Que Es la Vida
DJ Jock – Break It Down for Me 2K12
Refresh – A Step Too Far
Scooter – Nessaja
DJ Sammy – We're in Heaven
Deejay Haze – Bye Bye Bye
DJ Kush – Chris Brown Joint
DJ Furax – Shake It
De Schuurman – Nu Ga Je Dansen
DJ Shocker – Heart Attack
DJ Sega – Reminisce
Mary J Blige – We Rie [Fantasy Thrilla's Refix]
+Hirs+ – Chipquirrel
Scott Brown – Capital Murder
DJ Get Em – I Like Bass
Stu Allan – On the Sun
Fred the Godson – Daddy Gettin Money
DJ Herm Ft. Ra-Eazy – 1 Gun 2 Gun 3 Gun
Lightskin Will Ft. DJskorne – Snapback & Tats
DJ Exclusive & DJ Jock – Beez in the Trap
Schwarz – Beez in the Ha [ft. Kevin Jz Prodigy]
Zutzut – World to You
DJ Dee Black [ft. Hit Em] – Beautiful People
DJ Swizzymack – Beautiful People
John Dahlback – Life
WARNING: Do not attempt to take bath salts during the span of this mix. Trust us.