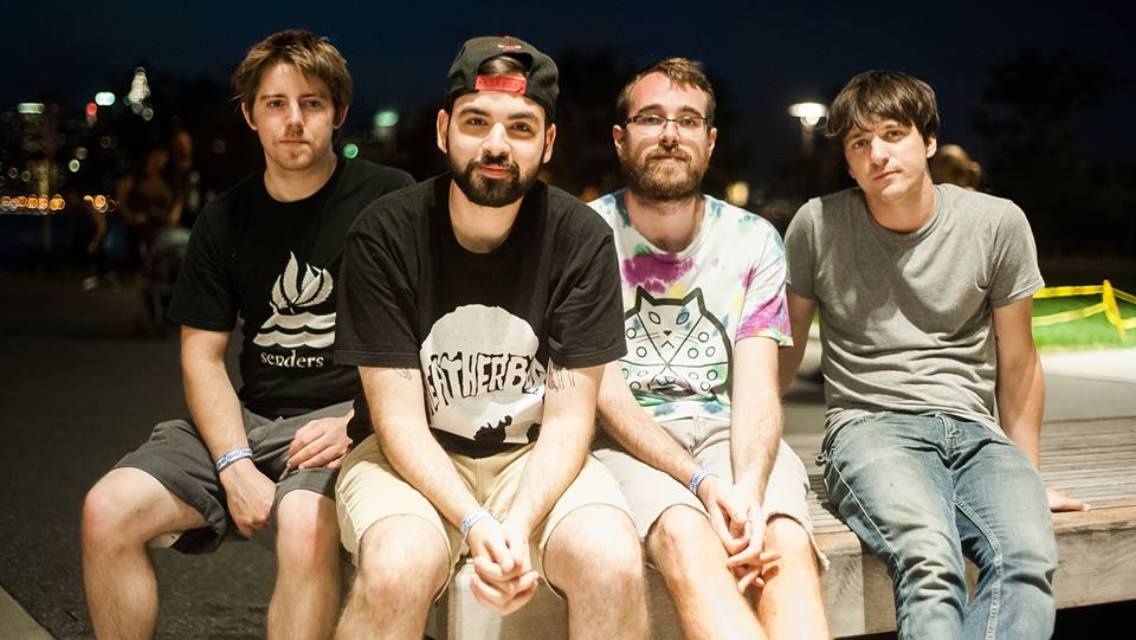 (Hood rat stuff = Play Magic: The Gathering and listen to Pearl Jam)
When Gainesville, Florida's Dikembe burst onto the scene a few years ago with the weed-and-basketball themed EP Chicago Bowls, they stood out as one of the first non-Pennsylvania-or-Midwest bands born during this wave of emo to really gain traction in the national scene. The band's first full-length, Broad Shoulders in 2012, leaned more indie rock than anything, but used the same formula for ten well-crafted punk songs and a fine debut.
By the end of Broad Shoulders, however, and even with "Keys To The Jeep," a track off a 2013 split with the IIOI/Dowsing project Pet Symmetry, the band gave off the vibe that they were ready for something drastically different. And whereas the first record pushed the boundaries of "emo revival," Mediumship takes a baseball bat to them; "Las Vegas Weather" is a dark and downtrodden track that throws both musical and lyrical references back to Jesse Lacey and Brand New, the new version of an old split track "Donuts In A Six Speed" sounds like a completely different band decided to cover the original and blow it out of the water, and "Hood Rat Messiah" blends mathy post-rock with the atmosphere of bands like Manchester Orchestra with dramatic transitions and gut-wrenching lyrics like "I can't find a better way to be."
Noisey had a chance to speak with guitarist and vocalist Steven Gray about the new record, and you can listen to an exclusive premiere of "Hood Rat Messiah" below.
Noisey: So there's something going on in Florida that makes people start great punk bands and drive four wheelers into Walmart. What is it?
Steven Gray: It probably has something to do with the fact that this state is sort of shitty aside from the few small pockets of really cool DIY scenes. You find solace in people who feel the same way you do, and that amplifies when there are just a few of those people. Whether that be punk music or driving four wheelers through retail tyrants.
"Donuts In A Six Speed" is a completely different, and better, song on this record than the version that was on the split with Hightide Hotel, Monument, and Jet Set Sail. What was the reasoning for that?
It wasn't fun to play live. When we first wrote that song, we were just really stoked to work with Keith because we all love Empire! Empire!, and Hightide Hotel is one of my all-time favorite bands. We hadn't been a band for that long, so we were still writing bad songs. We threw that one together really quickly. Upon playing it live, we realized how bad it was and went back to the drawing board. One of our other main goals with the LP was to make a record where every song was fun to play live, so the new version fit really well in that mold.
This record as a whole is definitely far darker and moodier than Broad Shoulder or the Chicago Bowls EP. What influenced you guys to take Dikembe in this direction?
I think when we started making Mediumship there was a conscious decision to make a record we felt more attached to. What I mean by that is we wanted the record to sound more like the records we loved when we were growing up. We also added Randy to the band on bass, and he was really encouraging when we started shifting the sound a bit.
What were those records that you drew influence from?
For me it was Brand New's Devil and God, and Manchester Orchestra's Mean Everything to Nothing. Those records came out when I had already been playing guitar for a while, so they really influenced the way I play. I know David has always been really into Pearl Jam and Nirvana and such, and Ryan really likes bands like Karate. Randy just likes bangers. I think all of that meshes really well on this record, and I'm proud of that.
Yeah, when I was trying to figure out what this reminded me of all of those things came to mind.
I just got to name drop Karate and Pearl Jam in the same paragraph. I'm checking that off my bucket list.
What's your favorite Pearl Jam song?
"Why Go." Do you see how fast I answered that? That whole record is incredible though.
Dude, "Jeremy." Banger for days on end. I don't even listen to Versus or anything else but Ten is truly great.
Ten really is a seminal record that I think gets overlooked by punk dudes. It just rips. Versus is definitely worth giving a listen to as well though. Go from that record might be my second favorite PJ song.
Hell yeah, I love that we just talked about Pearl Jam.
I am also way OK with that.
When you started this band, you all lived in Gainesville but I know you've since moved to Orlando, which is roughly two hours away. How has that changed how the band works logistically?
I think that it is both awful and great for writing. It tends to be someone will write something, we will send the demo, all meet up once a month and then demo it out full band. This sounds like a huge pain in the ass, but I think it is really helpful to step away from songs for a bit before finishing them. When we meet up later on down the line, we all (mostly David) have things that we want to change about the song. Practice is almost non-existent though. I can't think of a tour these past two years that we haven't gotten together day of to decide what songs we are playing. My sincerest apologies to anyone who requests we play something. Chances are we cannot play our own song.
Has it ever gotten to a point where you thought about stopping?
Not for me. The guys in this band are my best friends, and I have a blast any time we are doing anything. It's just icing on the cake that for some reason there are people who enjoy what we do. Plus all the dudes play Magic: The Gathering, which is what I would be doing anyway. So making music is a big bonus.
Speaking of Magic: The Gathering, are there any plans for Donor to do any touring or another record?
I wish. Touring with that band would be hilarious because everyone is really weird. That band is a full of band dads who don't want to be band dads, so nothing ever gets done. Plus one of the dudes is really into CrossFit, so we'd all be really ripped by the end of it. There is talk of writing an LP though. It's just hard to do anything because Tanner Jones is Billboard famous.
So you've got Tanner, who is Billboard famous, and Jason, who is Tumblr famous... what are you famous for?
I'm famous for not being allowed to cuss in songs or interviews because my students will probably end up reading it and I'll get fired.
So are there any touring plans yet?
There are definitely tour plans for the record this summer. I don't think I'm allowed to talk about it, but we are going to see everyone this summer. Like, everyone. This question actually just reminded me that I have to get a passport today. Crucially timed question.
If you're getting a passport, you should go all out and go to some real weird, scary spots. Like Eastern Europe or something.
Europe didn't work out, which is unfortunate. I wanted Nai Harvest to show me all of the seedy underbellies of everything. It all worked out though, because I'm going to have the opportunity to watch one of my all-time favorite bands every night. Plus there is a chance I'll get to rap at some point, so I'm stoked.
Mediumship is due out this August via Tiny Engines. Pre-order it here and catch them on the road with Weatherbox:
7/11/2014 Atlanta @ Drunken Unicorn
7/12/2014 Charlotte, NC @ Area 15
7/14/2014 Baltimore @ Metro Gallery
7/15/2014 New Jersey @ Asbury Lanes
7/16/2014 Philadelphia @ The Fire
7/17/2014 Brooklyn @ St. Vitus
7/18/2014 Albany @ The Ice House
7/19/2014 Long Island @ The Woodshop
7/20/2014 Boston @ Great Scott
7/22/2014 Buffalo, NY @ Waiting Room
7/23/2014 Toronto, ON @ The Cave at Lee's Palace
7/24/2014 Cleveland, OH @ Mahall's
7/25/2014 Lansing, MI @ TBD
7/26/2014 Chicago, IL @Township
7/27/2014 St. Louis, MO @ The Demo
7/29/2014 Kansas CIty, MO @ Art Closet Studio
7/30/2014 Denver, CO @ Marquis Theater
7/31/2014 Salt Lake City, UT @ Shred Shed
8/2/2014 San Fran, CA @ TBD
8/3/2014 Pomona, CA @ Growing Up is Dumb Fest
8/5/2014 Anaheim, CA @ TBD
8/6/2014 San Diego, CA @ TBD
8/7/2014 Mesa, AZ @ 51West