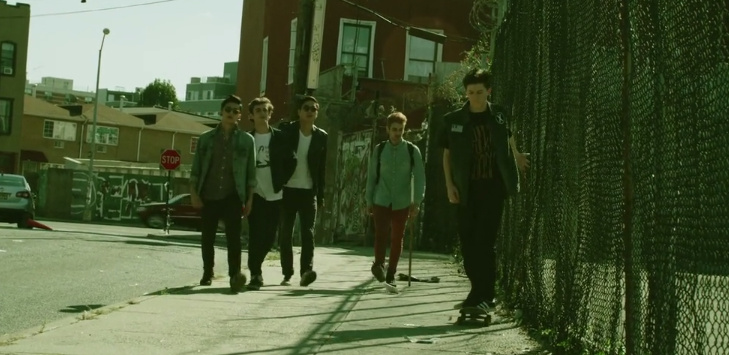 From current Foxygen drummer and former Disney Channel actor.
What makes Diane Coffee's video for "Green" so enjoyable is that captures the youthful mischief of the 60s and sticks it into a modern context. Kids are seen shoplifting, flipping through Playboys, and bird-dogging while wearing gang jackets, unlike the youthful mischief of today which probably includes doing Molly and Snapchatting pictures of your junk. The song is kind of the same. It captures the doo-wop sounds of the 60s with a modern pop spin.
Diane Coffee is the project from current Foxygen drummer and former Disney Channel child actor, Shaun Fleming. You may have heard his voice on things like Kim Possible, The Lion King, and other shows you were pretending not to watch while babysitting your little cousins but TOTALLY WERE.
Diane Coffee's album, My Friend Fish, is out today and you can buy it digitally here or stay true to the 60s theme and buy it on vinyl here.
Oct 29 – New York, NY • Pianos w/ Deradoorian
Nov 2 – Austin, TX • Red 7 w/ Those Darlins
Nov 5 – Phoenix, AZ • the Rhythm Room w/ Those Darlins
Nov 6 San Diego, CA • The Void w/ Those Darlin
Nov 7 – Los Angeles, CA • the Echo w/ Those Darlins
Nov 8 – Santa Ana, CA • the Constellation Room w/ Those Darlins
Nov 9 Santa Barbara, CA • Muddy Waters
Nov 13 – San Francisco, CA • the Chapel w/ Those Darlins
Nov 15 – Seattle, WA • Barboza w/ Those Darlins
Nov 16 – Portland, OR • Bunk Bar w/ Those Darlins
Nov 19 – Denver, CO • Hi-Dive w/ Those Darlins
Nov 21 – Kansas City, MO • the Record Bar w/ Those Darlins
Nov 22 – Carbondale, IL • Hangar 9 w/ Those Darlins
Nov 23 – Louisville, KY • the Zanzabar w/ Those Darlins