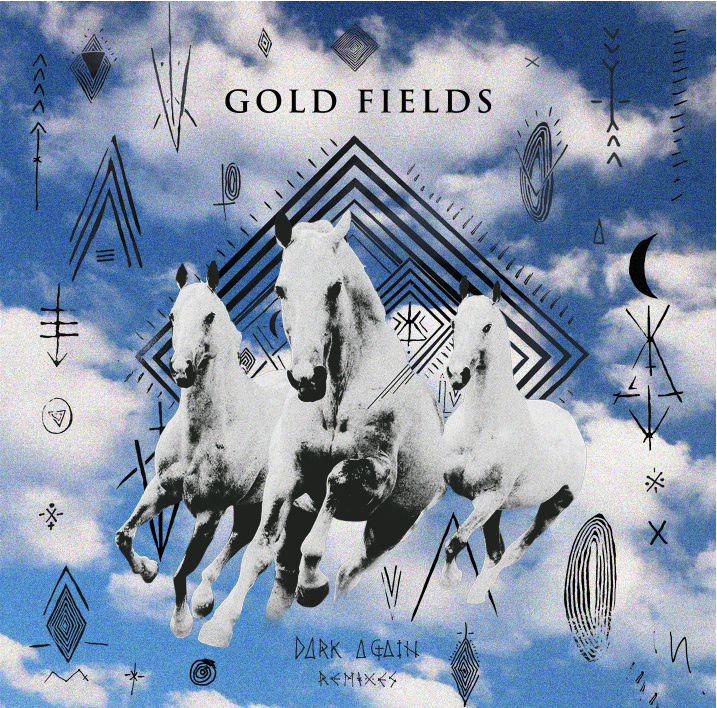 New wave inflected electro-pop, as reimagined by our synth-pop megacrush John O'Regan, AKA Diamond Rings.
If you don't know Gold Fields by now, you should probably reconsider a few things about your life. This Australian electro-rock quintet is getting ready to drop its debut full-length, Black Sun, on February 26 in the US and March 8 in their native Australia, and it's going to be a doozy. So the other day when they sent us a remix of their recent single "Dark Again," reimagined as a by our synth-pop megacrush John O'Regan, AKA Diamond Rings, we jumped at the chance.
We were going to write something gushy about the revolutionary politics of neo-new wave dance music, but John from Diamond Rings sent us a little note about what the song means to him and it's about a million times more appropriate:
"After hearing "Dark Again" so many times on tour (always a good thing) it was a real challenge to try and re-imagine the song as a remix. Working in the tour van between shows on a laptop isn't always ideal but that's how I ended up putting everything together. When I listen back to the mix it takes me back to all of the sights and sounds that I soaked up while traveling across America with the Diamond Rings band and those amiable Australians."
You can pre-order Black Sun right here, and be sure to check Gold Fields on their massive tour this spring, which includes US dates for all you non-Australians. Download the original version of "Dark Again" here, and scroll down to watch the video.
Gold Fields On Tour
Jan 19 - Ballarat Beer Festival, Ballarat, VIC
Feb 04 - U Street Music Hall, Washington, DC
Feb 05 - Rams Head Live, Baltimore, MD
Feb 06 - The Bowery Ballroom, New York, NY
Feb 07 - Theater of the Living Arts, Philadelphia, PA
Feb 08 - Brighton Music Hall, Allston, MA
Feb 09 - The Met, Pawtucket, RI
Feb 11 - The Drake Hotel, Toronto, ON
Feb 12 - The Shelter, Detroit, MI
Feb 13 - The Basement, Columbus, OH
Feb 14 - Beachland Tavern, Cleveland, OH
Feb 15 - Lincoln Hall, Chicago, IL
Feb 17 - Triple Rock Social Club, Minneapolis, MN
Feb 19 - Black Sheep, Colorado Springs, CO
Feb 20 - Larimer Lounge, Denver, CO
Feb 22 - In The Venue, Salt Lake City, UT
Feb 23 - Elks Live, Missoula, MT
Feb 24 - The Crocodile, Seattle, WA
Feb 25 - Mississippi Studios, Portland, OR
Feb 27 - Slim's, San Francisco, CA
Feb 28 - Troubadour, West Hollywood, CA
Mar 02 - The Observatory, Santa Ana, CA