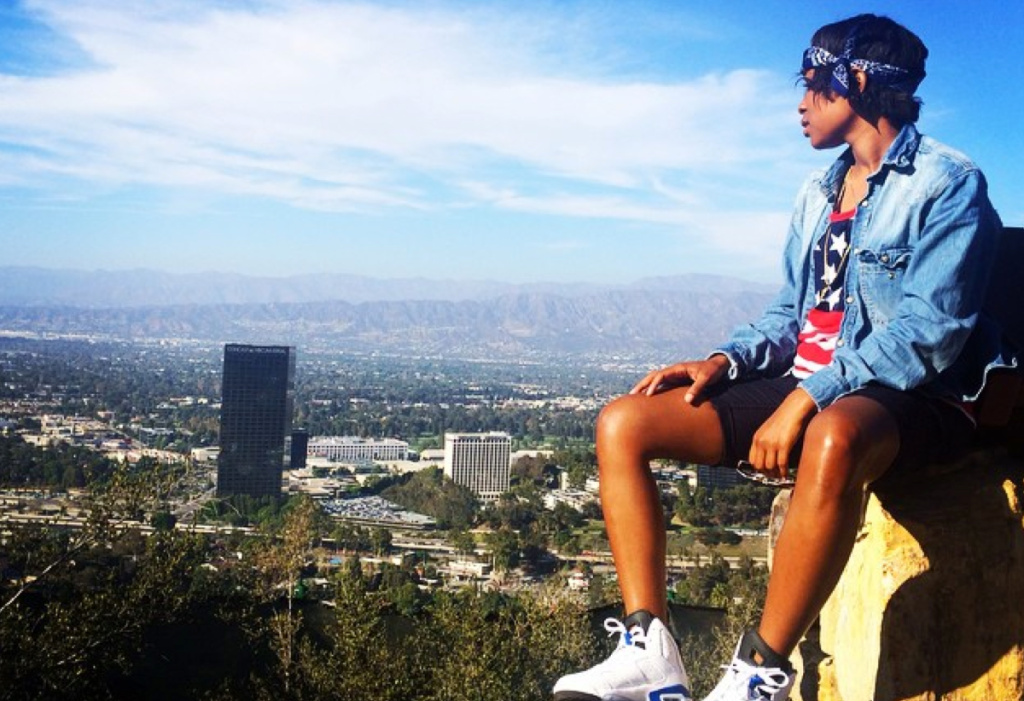 The buzzing MC takes destiny into her own hands.
The operative mode of 2014 networked rap culture mimics medieval feudalism. Indulgent philosopher-kings—Drake, Wiz Khalifa, Kanye, etc—control vast tracts of internet territory, and grant titles and property to exceptionally productive peasants by remixing hot songs, or quoting lyrics on Instagram. The latter is all Drake had to do to flip the narrative of Detroit rapper DeJ Loaf's song "Try Me" from "buzzing regional content" to some shit your cousin just posted, from "wtf" to "omg." Drake's empire claimed a few more acres of uncharted buzzland and DeJ acquired the emerald shield of knighthood. And the people did feast and rejoice in the mentions of the king.
One person who's not bothered by this Machiavellian symbiosis of success and access is Dej Loaf herself. Over the phone she's soft-spoken yet brimming with confidence: "My range is ridiculous, man. I know what the people want to hear, and I've got it all." She perceives a divine element in her muse: when she's on a roll with songwriting she calls it "catching the holy ghost." Makes sense; in 2014 I wouldn't put it past the Lord to browse Datpiff for new prophets.
Yesterday DeJ released videos for "Try Me" and the sultry, acidic "We Good." The latter finds her grabbing her destiny by the horns and fucking it in the ass: she tells Interscope and Def Jam that "if they ain't talking a couple mill, they can just forget it, fam." DeJ might recline at your round table, but she's eating off her own plate. In her words, "We good over here."
What kind of environment did you find yourself in growing up in Detroit?
DeJ Loaf: In Detroit it was crazy man. You see a lot of crazy things at a young age. I was raised in the projects, on the east side. It was crazy. And I was the type of kid that stayed to myself, I didn't go out a lot or get involved in a lot of the bad stuff I could have gotten into. That's why I do music, always writing a lot, stayed to myself a lot.
When did you start with music?
9 or 10, just writing. But I just put out my first mixtape in 2012, called Just Do It.
You made a video, "College", about your college experience. How did that work out for you?
I went to college after high school in 2010, I went to Saginaw State University, it's like an hour and a half away from Detroit. I went there for three semesters, and it didn't really work out. I wanted to work on my music more so than school, so it wasn't really helping me get to where I needed to be. I wasn't focused enough, so I left school. The story was real, everything in that song was real, and then I did my mixtape. I left school to do my music, tell my story.
What's the scene like in Detroit these days?
It's getting better. I mean Detroit has a lot of talent, it's unbelievable. My people look at it different, I don't know why we haven't excelled. But Detroit is the place, man. We have a lot of people here who are on the rise. What's the deal with your crew, IGBM? That stands for "I've Been Gettin Money," that's me, SAYITAINTTONE, Oba Rowland, DJ Limelightz, DDS, my manager Tears of Joy. A lot of people think it's about getting money, but it's not bragging or boasting or anything. We've been doing this, and we don't mind helping out the next person get to where they need to be. It's about helping others.
So who's ["Try Me" producer] DDS?
DDS used to send packs of beats months ago, and was the only producer consistently sending me stuff. Because I was in a hole with my music, I was down and I didn't have beats and was like, "Man, what am I gonna do?" So he was always hitting me up, sending me beats and I had no choice but to write him. I met him back in April, and we recorded and now he's a part of IGBM.
When you heard the "Try Me" instrumental, did you immediately think, like, "this is the one?"
I didn't think it was like "the one," but I was hyper about the song. I wrote the song in my room and I was antsy. I was "catching the holy ghost," which is what I like to say. I was just hyped, and needed to record it ASAP. Something about the song made me like, "No, I have to record this song tomorrow, asap." But honestly I didn't think it would go as big as it did. I like it, and I hope everyone else likes it.
What was going through your mind while writing it?
With a lot of my music, like I said, it's like catching the holy ghost. Just hyper, like "Wow, this is sweet. Damn, you're really good." Not to toot my own horn, but I know good music when I hear it or make it, and I have other songs that I like and it'll be "oh this is it, I like it." There's just something about it that's crazy.
I first heard "Try Me" from [Bay Area rapper] Kafani's remix. It seems like the song made a big impact in the Bay before it snapped everywhere else. How did that happen?
Yeah. Well, another one of my fellow artists from Detroit, Pablo Skywalkin, has a following in the Bay. He posted a video of him dancing to "Try Me," and got me another hundred followers, many from the Bay. Do you listen to a lot of Bay Area rap? I hear something of a Bay Area vibe in "Try Me." I like E-40, he's my favorite from that area, and I like his style and have been listening since I was a baby. But I never really listened to a lot of artists from the Bay, but a lot of people always say "you sound like you're from the Bay." And I'm like, really?
What's your favorite E-40 song?
"Sprinkle Me." [laughs] My dad used to play that a lot when I was little. Either "Captain Save a Ho," or "Sprinkle Me." Literally my dad used to sit me on his lap and play that song. And I think there's a female rapper on that song too, her name's Suga T. It stood out to me that she was on it, female rapping was a thing for me then.
Your lines about wearing all white and all black connected with a lot of people, Drake included. When did you first start dressing like that?
I've always had just a different style about myself. I put on white and I feel clean. It's pure, and it's free. So that's the thing with the white. And I look good in all black so I'm used to it now. That's all I would wear, just black and white. I have other clothes but you have to style it.
So what's next for you?
I'm gonna be one of the best to ever do it. I just want to be different man, I don't think the music industry has anybody like me. It's just like if rap was to start today, or music in general I would be me just so I can set myself apart from others.
What sets you apart?
I don't know, my passion for it. I love it, and I'm not afraid to go in different lanes for it. I hope people don't think "Try Me" is just going to be the record that represents me. It is the record that set things off for me, but it's deeper than that. So I'm just going to show them music like "hey this is me and my best song," so I can make them be like "wow, how did I not notice this?" Definitely have a lot to look forward to. Gonna put together an album, EP, and a mixtape. I don't like to just lock myself up and stay still with the music.
Are there aspects of your talent that people haven't seen yet?
Yeah definitely. My range is ridiculous, man. I know what the people want to hear, and I've got it all.
Ezra Marcus is always blowing up the king's mentions—@ezra_marc