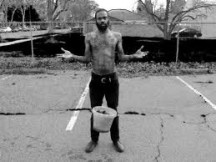 They got dropped by their label, which is (probably) what they wanted in the first place.
After a couple of rounds of telling their label to go fuck off and boil themselves in hot lava, Death Grips have finally heard back from Epic, their label. In a statement issued today, Epic Records announced that they were summarily dropping the band from the team. Read the full statement from the band:
Epic Records is a music first company that breaks new artists. That is our mission and our mandate. Unfortunately, when marketing and publicity stunts trump the actual music, we must remind ourselves of our core values. To that end, effective immediately, we are working to dissolve our relationship with Death Grips. We wish them well.
The narrative goes something like this:
—In a move that came absolutely out of nowhere, Death Grips, probably the punkest, loudest, most aggressive band out right now, signed with Epic, an imprint of Sony Music that has also put out records by Jennifer Lopez, Shakira, and The Fray.
—Death Grips canceled their tour so that they could record No Love Deep Web, their next album, with Epic's money. They wanted to put a penis on the cover.
—For whatever reason (probably sample clearance issues or the penis) Epic told Death Grips they were pushing No Love Deep Web back a few months.
—Death Grips freaked out on their (now non-existent) Twitter account and then leaked the record themselves.
—Yesterday, Death Grips leaked internal e-mails regarding the leak of their record in which Epic made a bunch of threats. They also contained the phone number of an Epic Records executive.
—Today, Death Grips are no longer on Epic Records.
Welp, his pretty much clears up the idea that this was a publicity stunt. It looks like Death Grips really wanted out of their record contract, and now they've gotten what they want. What happens next is pretty much anyone's guess, but the Death Grips dudes might want to consider hiring a lawyer.