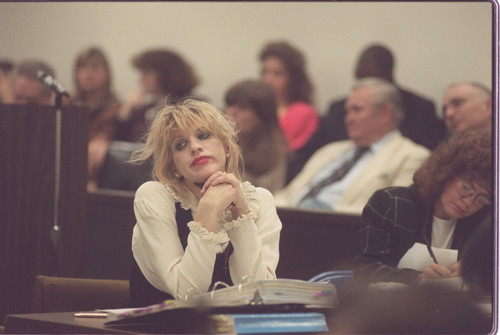 But really, Jessica LaBrie. You didn't see that coming?
For what feels like the millionth time in her life, Courtney Love was summoned by the Los Angeles Superior Court. Jessica LaBrie, a Canadian-born Hole fan who Love hired as her assistant for one year, is upset about a lot of things, alleging that her employment involved "humiliation" in "a work environment rife with harassment, retaliation, and discrimination" which damaged her mental and physical health. LaBrie also claims Love asked her to "hire a computer hacker and send fake legal correspondence" which, in LaBrie's eyes, was some illegal behavior she did not want a part of. Love also filled LaBrie with empty promises like "a full-ride" scholarship to Yale and "a position on set of a Nirvana biopic." But, most importantly, LaBrie claims that Love still owes her $30,000 in unpaid wages. While most might feel sorry for LaBrie, I say (with a hint of head-cheerleader-snobbery) "Um, what were you thinking?"
Courtney Love has cried in Los Angeles Supreme Court more times than Lindsay Lohan. Love has been all over the bench since the mid-90's. In her early days, the lawsuits mostly involved opportunistic fans suing her for so-called injuries at shows (I'm sorry, but if you go to a punk show and get hit with a microphone, you can't be upset about that), but post-Celebrity Skin and pre-Nobody's Daughter (otherwise known as "The Letterman Years" or the crack-cocaine phase), most of Love's legal troubles had to do with drug charges and professionals she owed money too. In fact, Love currently has no legal representation. Her most recent lawyer, Pryor Cashman, dropped her as a client in April because she owed him so much money. Her previous lawyer, Keith A. Fink also sued her for $66,000 in unpaid services, costs and attorney fees. Enough said.
Of course, at the time of her hire, LaBrie was a young, innocent Hole fan who approached Love on the Internet. They developed a very public Twitter relationship before Love hired LaBrie. In interviews Love would talk graciously about LaBrie and the work she was doing, often referring to her as a "genius." Of course, a fan would get wrapped up in a glamorous promises that Love made, but I imagine that a true fan would also have enough encyclopedia-freak in her to know Love's history. It's not like it's a secret.
So, Jessica LaBrie, I hope you get your money you are owed. I'm sure dealing with Love wasn't as fun as you had imagined, but as a person with the ability to watch television and read gossip blogs, you should have known better. It's not fair to work for free, but when your boss is Courtney Love, didn't you expect things to go less-than-smooth?