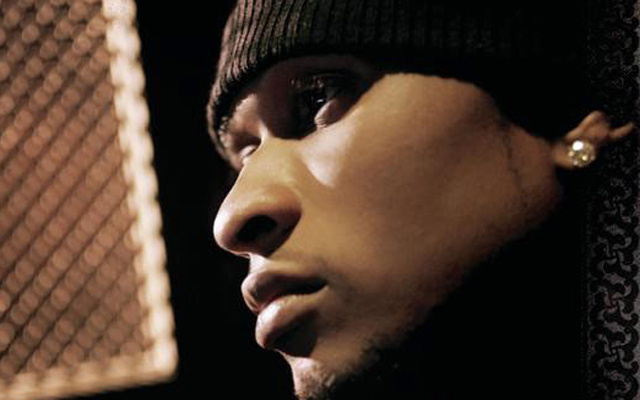 Therein lies the beauty of Confessions: it bucks binaries of old and new, traditional and innovative.
A synth two-step drove the world crazy once upon a time.
By early 2004, crunk had already arrived in the upper reaches of the Billboard Hot 100, but it was "Yeah!" that married Lil Jon's aggressive finger-snapping with R&B sensibilities. And Americans lapped up the new musical flavor: the track, leaked to DJ's as a teaser for Confessions, grew so popular across the United States that it became the album's first single, bumping "Burn" to second-single status. From there Confessions went platinum seven times over, spawned four chart-topping singles, and garnered a handful of Grammy's for Usher. Yet, ten years later, such a mega-smash—it held the record for most weeks atop the Billboard 200 in the new millennium until Taylor Swift's Fearless did it two better—remains, for the most part, memorialized in fan-created YouTube videos alone. A Google search of "Confessions album review" speaks for itself.
Perhaps this dearth of online writing about Confessions is emblematic of R&B criticism from that era. According to Rodney Greene, the rise of poptimism as a guiding ideology in the music blogosphere did not really take hold until the later aughts. If this, indeed, was the case, then blog coverage of music outside the rockist purview did not hit its stride until a couple years after Confessions debuted. Still, as much as those of us who care about R&B and its continuity as a genre try to explain why the current state of things is what it is, the fact remains that an album capable of speaking to such a large audience—killer PR campaigns and washboard abs only explain part of the story behind astronomical sales—has been short-shrifted on the Internet.
***
In an interview with MTV News, Usher laid out the premise of Confessions: "All of us have our Pandora's boxes or skeletons in our closets...I let a few of them out, you know. I've got a lot to say. I've got a lot of things and stuff built in me that I just want to let go of." It was a shrewd marketing move. As Usher's former A&R rep Kawan "KP" Prather noted, "The music has never been the question, but people tend to buy into the artist. The more they know about you, the more they feel like they're there with you." And it's true. While Usher can dole out big globs of charm on command, his public persona as he constructs it in interviews, appearances, and music does not match the intrigue of a Prince or a Janet Jackson. There are specifics about his life to which Usher refuses to grant the public access. Confessions was supposed to break from that mold, but even then Usher has always been evasive about the philandering and accidental impregnating on "Confessions" and "Confessions Part II." In fact, in recent years Chilli has recanted on her previous confirmation that she is the girl Usher addresses on "Confessions" while Jermaine Dupri has claimed that the storyline about having a child with another woman was his. As far as Confessions is concerned, Usher's personal smokescreen remains thick.
Sonically speaking, Confessions is not a revolutionary album save for that neat crunk&B innovation, "Yeah!". ("Red Light" falls into that category too but it does not come close to matching "Yeah!" in impact or quality.) It excels at "seizing on dominant trends" of R&B without straying too far outside the genre's pale. That's not a knock against the album. To listen to Confessions is to hear an artist exult in the pleasures that existing strains of a genre have to offer.
One of Usher's strengths is his ability to direct his voice across a variety of R&B landscapes. On "Yeah!" he slinks through a dancefloor darkness illuminated by menacing, clean synths--a tact that dovetails nicely with Lil Jon's ecstatic gruffness and Luda's charismatic smirk to make for a compelling trio of fellas looking for love in this club. Throughout the duration of Jimmy Jam and Terry Lewis's jiggling base and rousing handclaps on "Bad Girl," Usher performs an intricate vocal dance of titillation by half-rapping, leaping into falsettos, receding into growling come-ons, and sighing through the words "bad girl." Later in the album, amidst the plinking keyboards and sumptuous kickdrums of "Do It To Me," a "The Beautiful Ones" rework, Usher suggestively undulates his voice on lines like "tell me how you like it when you want it when you all up on it."
To some, this versatility when it comes to servicing beats or narratives reads as sheer mastery, a well-choreographed performance that sacrifices the messiness of in-the-flesh experiences for the sake of perfect execution. But that's ultimately a tough line to take, because accounting for the listener in this evaluation means appreciating a multitude of reactions, too. "How does this make the audience feel?" is a valid question, even if the answer might be frustrating. As one of these listeners, those whimpering "hoo hoo hoo"s on the bridge of "Burn" sure sound like they're coming from a person facing the brutal finality of a break-up. I'm sold. What about the shameless cheesiness on "That's What It's Made For?" Dude's singing about his dick and sex--"that" and "na na," respectively-- with a grinding eroticism that seems too explicit for the clumsy lyrical prudishness. Closer listening, however, reveals an earnest representation of both sides of the sex coin—the awkwardness and the glee. And sure, "Superstar" is a cliché writ large that cruises on an ostensibly "boringly smooth" production, but I have listened to that song countless times and let it fill my head with a breezy, "Overnight Celebrity" depiction of my latest crush. At its most basic, with all the factors of 808's, timbre, collaborators, and public personas stripped away, this is what music should do. I want my music to make me feel some type of way.
***
That Usher and his A&R team marketed Confessions, despite its sly anonymity, as a window into Usher's private life reflects on Usher's calculated image, but it also reveals how much has changed since 2004. Over a year after Confessions dropped, TMZ made its debut, establishing itself as one of the most invasive and abusive celebrity news organizations online. Twitter went live not soon after. It is an interesting, if ugly, game to wonder how consumers of music, in the age of listicles, click-bait, and social media, would digest the content of Confessions. After all, sharing one's life and thoughts with the public is less a confession nowadays than it is, increasingly, a given. It's hard to imagine how someone so committed to professionalism would react in the current environment. (The public was given a taste when Usher said some things he maybe should not have said on TRL in response to rumors about his relationship with then-wife Tameka Foster and his mother, whom he had just fired as his manager.) In typical Usher fashion, Confessions provided a sufficient taste of the private to entice without risking his reputation or sanity. Would that seem intimate or relatable nowadays? At any rate, it's a moot point: Usher's Twitter timeline is a catalogue of tweets about The Voice. Kanye West makes a music video with his wife; Usher sings a song about Diplo's heartbreak.
Its position as a piece of gossip fodder aside, Confessions also holds a mirror up to the current state of R&B. The conversation surrounding contemporary R&B intensified around the time that a large proportion of music writers turned their attention to the likes of Frank Ocean and Miguel. Those two, though not of a part in their perspectives, can be grouped as "not like what preceded them." Usher, in contrast, has never been one for experimentation unless that was what prevailing trends dictated. And even then, Diplo is not exactly a beacon of innovation himself. Yet Usher is also one to set the bar of accomplishment high for himself--to the point that he can hone the content of his work into fine points of pleasure. That he has worked with an array of top-tier producers like The-Dream, Jermaine Dupri, Jimmy Jam and Terry Lewis, and Bryan-Michael Cox says as much. Is there room for artists who may not push against the boundaries of R&B but are the best at working with what already exists?
Therein lies the beauty of Confessions: it bucks binaries of old and new, traditional and innovative. Michelle Myers once noted, "R&B music can be a lot of things, but I especially love that it can be corny, sentimental, middle-brow, Broadway-levels of theatrical, melodically obvious, sexually vulgar, needlessly virtuosic, effeminate, overtly Christian, grown & sexy, and often deeply uncool. It has adult contemporary leanings, and it's music for regular people." Confessions encompasses many of these adjectives. It suggests an R&B spectrum that embraces all iterations of the form.
Confessions never really does pull back the curtains concealing Usher's personal life, but it does offer an extensive exhibit of his talents as a singer. Even if all the tortuous heartbreak and fluttery love is an elaborate performance, Usher sells it—even 10 years later.
David Lehmann is on Twitter, waiting for you to tweet with him about your favorite Usher songs. Follow him - @dtownsteez