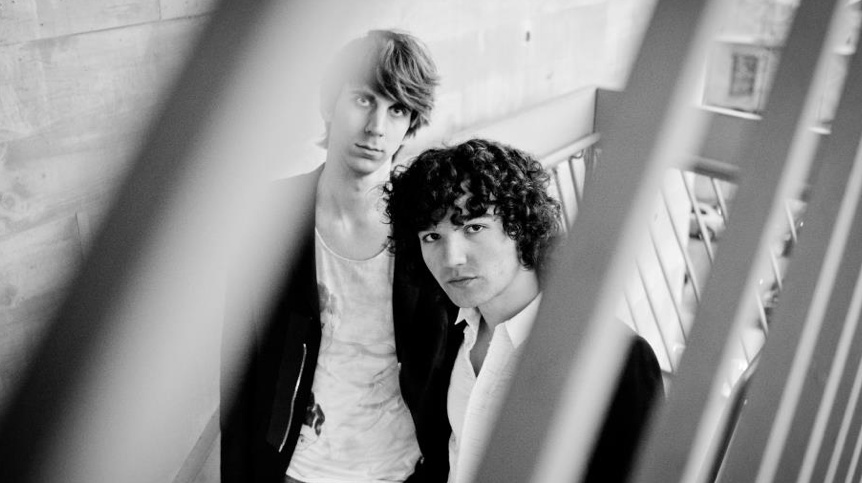 And check out our interview with a pair of musicians like no other.
Fashion house En Noir turned heads last year with a line of leather sweatpants that quickly became a staple in several Illuminati wardrobes. They've just released a video of their 2013 presentation at New York Fashion Week complete with an original score, a collaboration between Dancefloor Diplomacy and Zomby titled "Hall Of Mirrors." The track presents an intriguing intersection of the known and unknown—Zomby's made waves with an abstract, space-age vision of jungle and garage, not to mention his ever-present mask and incendiary, delusional, occasionally genius twitter, while Dancefloor Diplomacy are dark horses with one other song to their name. It's quite a song, though—in 2012 they released "We are Ready," an eight minute "collage" arranged entirely from "quotes," elements of dozens of songs they recorded live with a host of musicians. Dancefloor's use of wide-ranging source material and live recreation (as opposed to sampling, a distinction they take pains to maintain) pushes them beyond the realm of Biggie vs. Flux Pavilion frat-bait "mash-up," while implicitly addressing the complex relationship between influence and originality. In other words, big boy shit. Their contribution to "Hall Of Mirrors" draws from sources diverse as noise legends Yellow Swans, musique concrete innovator Vladimir Ussachevsky, and Kanye West, juxtaposing evocative choral vocals and distant industrial clanks with Zomby's frank airhorn and gunshot moves. Check out the full list of songs they've quoted on their Soundcloud, and check out our Q&A with the project's creative masterminds, Jakob Dorof and KJ Rothweiler.
Noisey: How did you become involved with En Noir? How did your collab with Zomby come about? How did he contribute to the song?
Dancefloor Diplomacy: We met Rob and the En Noir crew through their brand director Curtains, who saw the video for our first demo, "We Are Ready." He was into that and kept us in mind. KJ crossed paths with Zomby after a DJ set of his this past winter, and it wasn't long before things fell into place. We started off by writing and recording a full 8-minute song using our usual collage method over a few days in the studio, but Zomby wound up contributing a beat drop after our build that fit the presentation's vibe and aesthetic perfectly.
We layered some of our collage elements over his drop section and that was that.
Your only other song on the internet was also "collage music," which the Huffington Post called "a new genre of music."
It's really cool to us that people can think of what we do in those terms, but collage probably isn't really a genre—to us it's more a process than anything else. Basically, we write songs strictly by quoting little individual elements from pre-existing ones -- we transcribe these "quotes," by ear, into sheet music, and use them as a bricolage of building blocks to make something we hope can stand on its own as "original" music. That then gets performed, produced and recorded in the studio without the crutch of actually sampling anything—it's pretty unwieldy, occasionally involving as many as 20 musicians.
"Hall of Mirrors" was relatively simple: before Zomby added his beat, it was built from around 22 quotations, and took six musicians to make. Sometimes we aspire for a quotation to be recognizable, and very resemblant of the source material, and sometimes we really abstract it—whatever best suits the song we're making. That's how we came to think of Dancefloor Diplomacy as "collage"—it's kinda like cutting things out of their original contexts, playing with juxtapositions, but striving to make something that stands alone, something that's more about the whole than its individual parts. Just like a collage, we're free to manipulate the sources however we want—just like a collagist might tear up an iconic image and scatter it, we can take a classic chord progression and arpeggiate it, or gate it and splice in chords from a completely different decade and genre. Or if you were to take a black and white image and dip it in water colors, we might take a melody and soak it in reverb, or EQ it to sound unnaturally bright...The only real difference is that we're recreating things by hand and voice, never sampling.
Why do you insist on recreating instead of sampling?
It just affords us way greater flexibility. For example, we can bring three completely unrelated basslines together into one key, create a single composite line out of them, and, by actually playing it, have it feel completely seamless and natural. We can also isolate, say, a synthline that happens only in the middle of a song, when things are really dense—something you couldn't do via sampling unless you had the multi-tracks. And we could put that synthline on a guitar, or drop it three octaves and make it a bass, etc. etc. Plus, once we're finished our EP and actually playing out live, it'll be way more fun for us and our audience to have everything be played live, rather than just looped or triggered.
How do you choose these songs?
Do you think of a sound you want and search for a fitting song, or do the songs provide the original spark? We try to choose the songs we're quoting from while paying very close attention to the overarching theme of the collage we're writing. A source's title, lyrics (if it has any), and overall vibe all play directly into whatever feeling or narrative we're trying to convey. If a beat pattern or snatch of a lyric fits a collage really well musically, but not conceptually, we have to discard it. This was already true to an extent with the "We Are Ready" demo, but we've become much stricter about it recently. Sometimes it's for a really sincere purpose, but it can also be just a little wink at the listener.
For example, in this En Noir track, we quoted a synth line from the Aphex Twin song "Curtains"—it sounds deadly serious in our context musically, but we like that it's also a little joking nod to Curtains, En Noir's brand director. The first time he heard the track he was playing along to that specific line, like, playing the air-keys—Curtains was pretending to play "Curtains" and he didn't even know it.